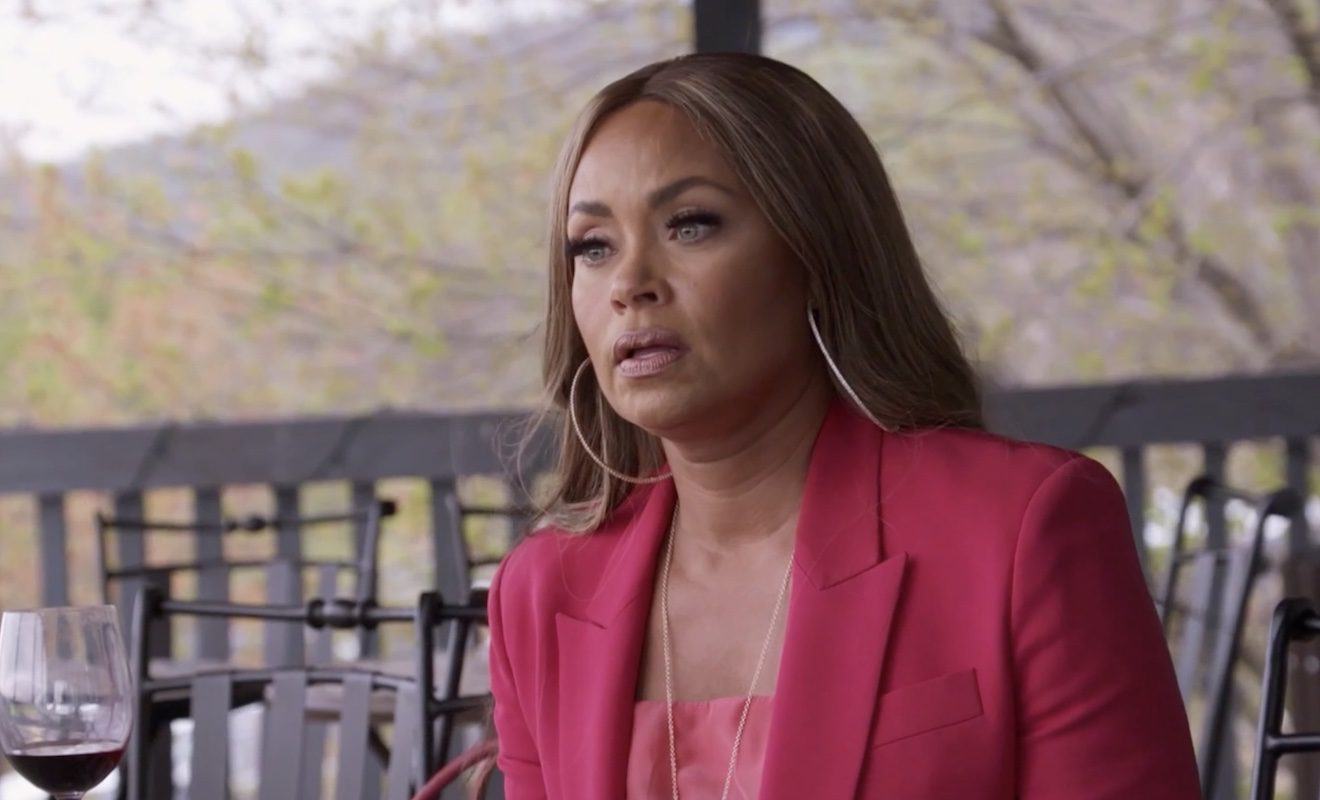 The peace between Ashley Darby and Candiace Dillard Bassett didn't last long.
Candiace Dillard Bassett and Ashley Darby had another explosive moment on the recent episode of "Real Housewives of Potomac." Amid the accusations Gizelle Bryant made about Chris Bassett, Ashley decided to drop another bomb on Candiace at Wendy Osefo's burn party. And Ashley alleged that one of her friends alleged that Chris was flirty with her. She then proceeded to also accuse Chris of sending inappropriate DMs to other women as well. Well, in a preview for the next episode, Candiace gets even. She makes some fresh accusations about Michael Darby.
In the preview, Candiace tells Ashley, "Ashley, your husband likes to leave you and go to a man named [censored] house and suck his ****." Ashley then asks, "Are you veering off the path? Is this deflection?" Candiace continues, "So let's not because Chris ain't sucking no *****."
Candiace elaborated in a green screen interview, "I was not supposed to talk about this person but he says Michael Darby is a client of his. That's what yo *** get cause I was holding on to that. You wanted smoke. So here."
Ashley believes that Candiace is just deflecting and she refuses to process the things she's hearing about Chris, "See, this is the problem. I hear everything about Michael. I process, I deal. You're not hearing."
Candiace has her theory, "Because you come from a decrepit, disrespectful, marriage…"
Ashley thinks that time will prove her right, "Just remember the pendulum always swings the other way, okay?"
Gizelle Bryant and Candiace Dillard Bassett attempt another conversation.
After Candiace and Ashley's messy conversation ends, Candiace and Gizelle talk in private. And Candiace asks Gizelle what Chris allegedly did to make her uncomfortable. Gizelle answers, "I'm in a room with a man that doesn't belong to me. And the door is closed. And so I asked him to go outside. And he immediately did. That's it and I thought you should know."
Candiace responds with Chris' version of the story, "You're saying that he suggested that you all go talk in your room? Cause he said he asked you to talk and you suggested that you go to your room?"
Gizelle denies that things happened this way. Candiace continues with another question, "And then when you got to the room, he said should we leave the door open?" And Gizelle remains firm, "I don't recall him saying…if he said that, then he knew this was inappropriate."
Candiace then makes her point, "That there implies something some sort of mal intent for you to say, 'Well Chris knew that no one was in the room and he still lured me.'"
Gizelle says she didn't say Chris lured her anywhere. While Candiace believes that is Gizelle's intent, Gizelle once again says she didn't use that word. And when Candiace asks Gizelle if she thinks Chris had malicious intent, Gizelle says, "I don't know Candiace. It is as simple as I do not want to be in a room with a married man. Chris is maybe doing things that he feels comfortable with, but the ladies don't."
Candiace Dillard Bassett is fed up but Gizelle Bryant stands firm.
Candiace becomes emotional and breaks down in tears, "You could have called me and you didn't because you wanted to wait for an opportunity to do it on a platform that would cause the most hurt to somebody who hasn't been anything but kind to you. And that is what's ******* up."
Gizelle says it's not true that she waited to talk to Candiace on television to be messy.
Fed up at this point, Candiace tells Gizelle, "You are the reason that people cannot come forward with ****** assault allegations."
Gizelle thinks Candiace is being ridiculous, but Candiace continues, "Because you say things that have no basis and no fact." And Gizelle responds, "So what I just said – you said you understand. Now it has no basis? Are you kidding?"
In a green screen interview, Gizelle doesn't back down from her perspective, "I'm the reason why women don't come forward? Absolutely not. If anything I'm being an advocate for women to come forward with their truth because I ain't lying."