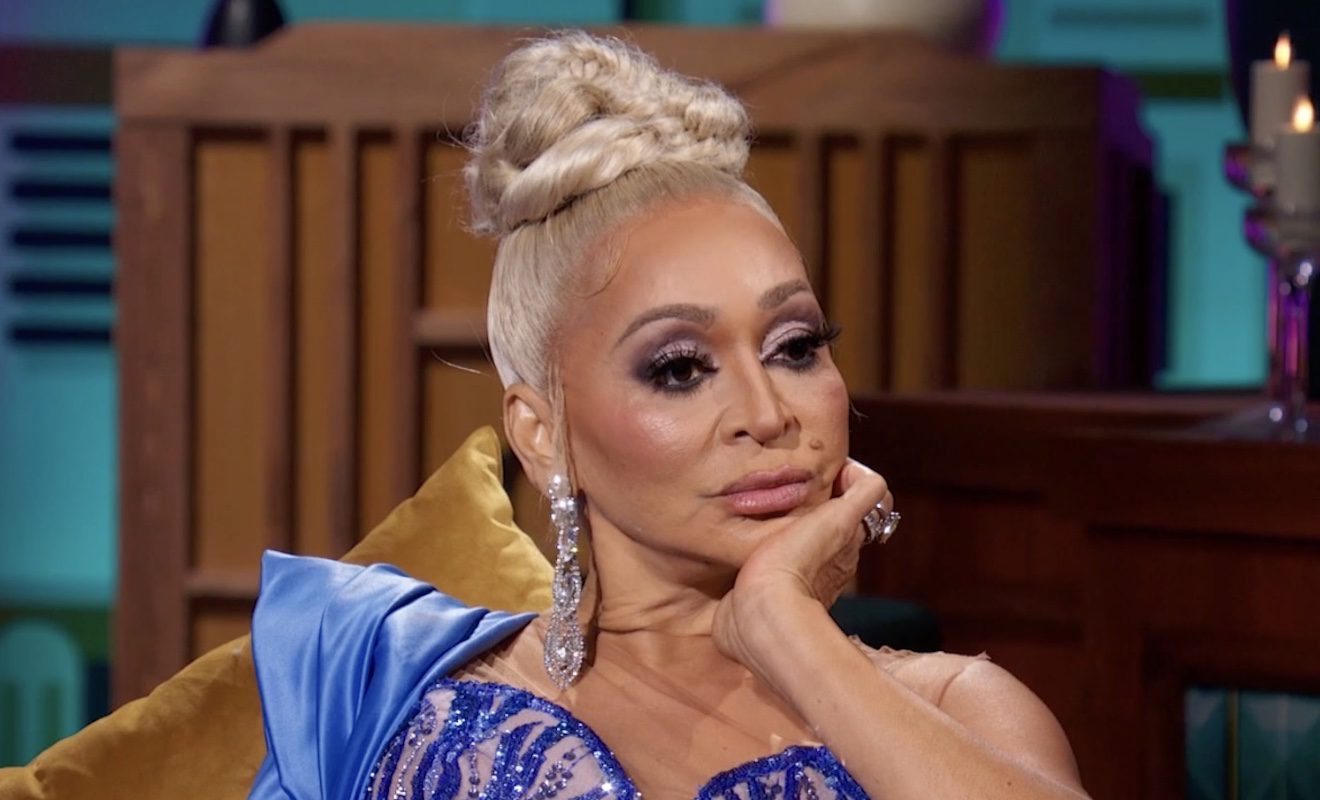 Karen Huger addressed messy rumors at the RHOP reunion.
"Real Housewives of Potomac" stars Karen Huger and Mia Thornton fell out while filming the current season. Things kicked off after Karen found out about some of the accusations made by Charrisse Jackson-Jordan. Charrisse alleged that Karen has a drinking problem. And she allegedly hooked up with strangers in public restrooms. Gizelle Bryant made accusations as well. She alleged that Karen's driver's license was suspended due to alcoholism. So Ray Huger had to allegedly drive her around everywhere. Karen denied the accusations on her YouTube channel. In fact, she also alleged that Charrisse is the one with the drinking problem. Karen also denied that her license was ever suspended.
Interestingly enough, Karen was hit with even more accusations during the season finale. During a conversation, Mia told Karen that a man alleged that she had an affair with him. In a green screen interview, Karen said that Mia's actions were the last straw. And there is no truth to what has been alleged.
This comes up again during Part 3 of the reunion. Andy Cohen has Charrisse join the stage to ask about those messy rumors she discussed regarding Karen. In the preview, Karen says, "These horrible things you said about me, not true at all, Charrisse. You've never seen me do anything like that."
Karen Huger is ready to sue over accusations made by Mia Thornton.
Charrisse admits she was getting even, "And the reason that I said it was because you were spewing out all these things that people were telling you about me. I've never said anything about you until this season."
Karen just feels like certain lines shouldn't be crossed, "But I've never said one rumor about you being inappropriate s*xually because you have children. And I have heard many about you and I never have said it and never will I."
Andy then asks Mia to address the accusations that she made about Karen. Mia responds, "So the person who allegedly was out of town with Karen was…yeah, they're family. I don't wanna incriminate someone."
Karen didn't back down though, "Well, Mia. I want his name, I want his phone number and I want you to give it to Andy because I'm gonna sue him. You don't have to give it to me. Give it to Andy so he can call. I want Andy to call since he's asking the questions, Andy."
She continues, "None of this is true, Mia."
Mia responds, "If you say it's not true, it's not true."
Karen wants Mia to understand she went too far, "It's not true but you can't say rumors like that about me Mia, and then say, 'Oh if you say it's not true, it's not true.'"
At the end of the clip, Wendy Osefo made an interesting observation about the group, "One thing about this group, everybody gets mad when there's a rumor about them but they're quick to say a rumor about somebody else."