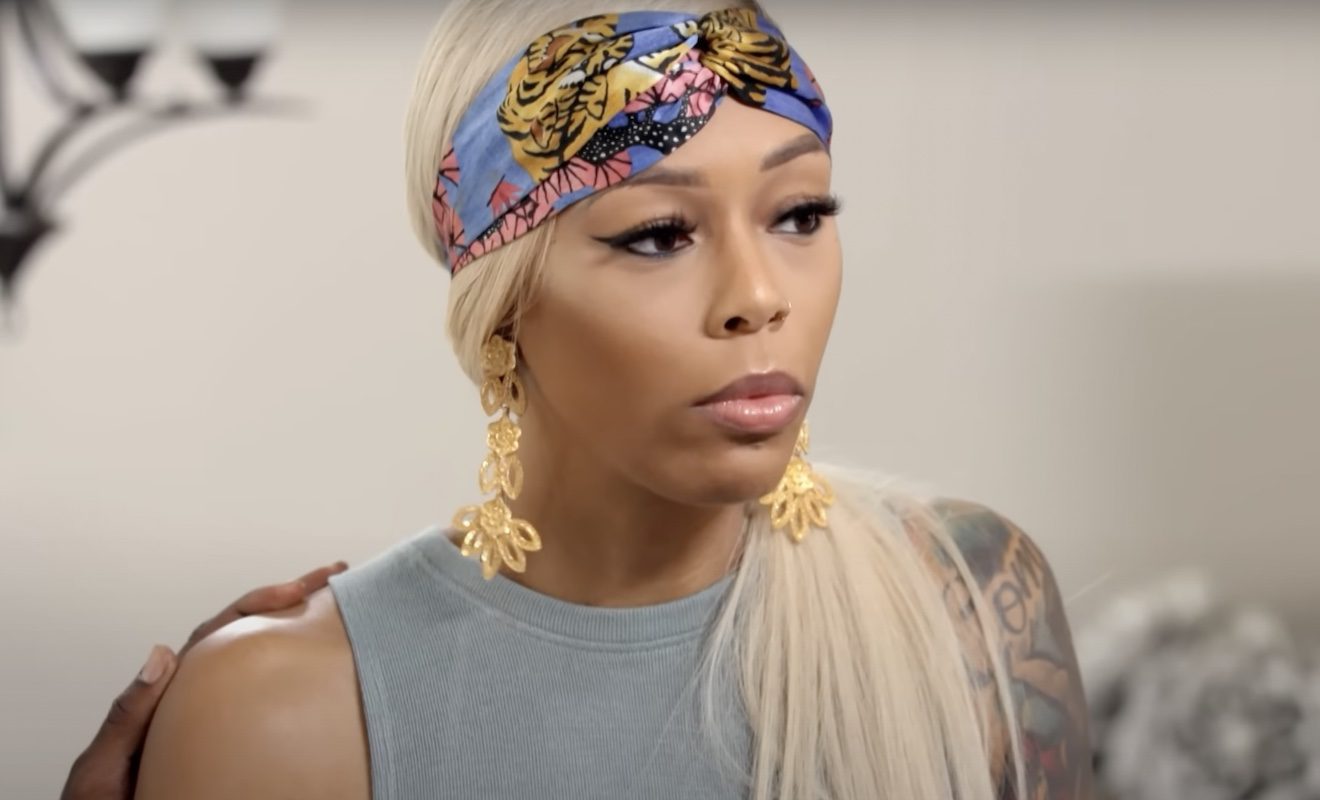 Diamond's appearances on LHHATL have led to social media drama.
There has been a lot of drama unfolding on the current season of "Love And Hip Hop Atlanta." Scrappy and Bambi are getting a divorce. They struggled a lot for multiple reasons, including Momma Dee's constant interference. However, Bambi clarified that she filed for divorce because Scrappy had been having inappropriate communication with his ex-girlfriend Diamond. She suspects they slept together while they were both on the Millennium Tour. In fact, she discovered text messages from Scrappy telling Diamond to meet him in his hotel room. Although Scrappy has denied sleeping with Diamond, he did say that he now realizes that even being in communication with his ex was wrong. So he now does see the communication between them as a form of being unfaithful to Bambi.
Well, one person who doesn't think it was inappropriate at all is Diamond herself. On the recent episode of LHHATL, Sierra Gates attempted to talk to Diamond about the situation. Diamond spent most of the time coming for Sierra and Bambi's looks. But she also said that she wasn't wrong at all because Scrappy cheated on her with Bambi when they were together years ago. Sierra said this was false. And she pointed out Diamond actually dumped Scrappy for Soulja Boy well before Bambi was in the picture. Regardless, this is the story Diamond is sticking to. So she really hates Bambi.
Regardless, Bambi talked about the divorce process on the latest episode as well. She alleged that Scrappy called Diamond in to be a witness in order to prove that he didn't cheat with her. And Bambi feels like this is ludicrous. So she was considering suing Diamond for alienation of affection. In her eyes, Diamond is a mistress and she labeled her as such.
Bambi clapped back.
Well, Diamond appears to have an issue with the mistress label. After the episode aired, she took to Instagram Live with fresh accusations and the same insults about Sierra and Bambi's looks.
She said, "I could never be a mistress to a ***** that was my *****. And when we were going through our issues, you was in my house, in my bed ******* him. You think I give a **** about you? You need to worry about not putting those credit cards in your son's name. That's what you need to worry about because now I'm about to start talking. Y'all ain't gonna want me to talk."
Diamond added, "All that crying you were doing to Scrapp, horsey, Bambi, about me…paranoid about me when I wasn't even putting the ***** on him yet you was paranoid. So baby girl, horsey, new face, y'all got the right one. So I was waiting on this moment to start talking. I just wanted to see what time y'all **** were on."
Bambi took to Instagram herself to respond to the claims made by Diamond. She posted a photo of the new book her children just published.
In the caption, Bambi wrote, "This is very bare minimum and basic info BUT… all of my children have their own bank accounts 🫶🏾. They are brand ambassadors for their own hair products, they're authorssssssssss too! Open up a Roth IRA for your kid AND contribute at least 6k per year before you ever mention mine 😉."
She continued, "We just released our book a week ago! Thanks for all of the support. Click the link in my bio to order your copy. Write a review also 🫶🏾."