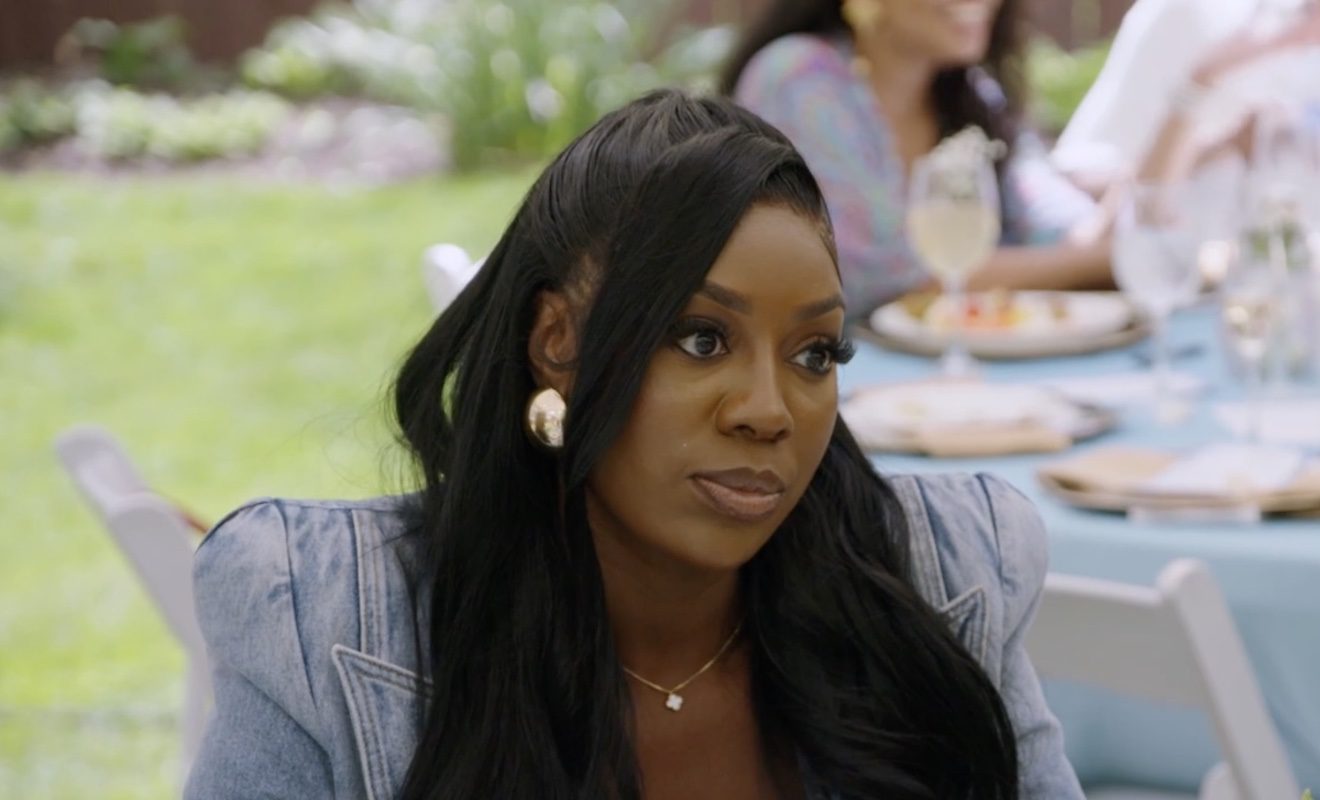 Wendy Osefo and Nneka Ihim are clashing amid the new season of RHOP.
"Real Housewives of Potomac" fans have a lot to say about the recent episode on social media amid the introduction of Nneka Ihim. Ashley Darby kicked the drama off by meddling. As we reported, Ashley told Wendy Osefo that Nneka approached her to discuss rumors. However, the producers showed that it was Ashley who brought up the rumors to Nneka. She questioned if Nneka knew anything about the reports that were alleging Wendy's family was Osu. Nneka said that the Osu were looked at as the outcasts in the Nigerian community. And she had no idea if Wendy and her family were Osu or not.
Ashley also told Wendy that Nneka shaded her about her PhD. However, producers showed that Nneka asked what Wendy had a doctorate in. She then repeated that Wendy is a Doctor of Philosophy. She didn't intend it as a dig.
After Ashley realized she totally misconstrued Nneka's words, she went to Wendy to attempt to set things straight. And she explained that Nneka didn't say anything shady about Wendy at all. One too many drinks made Ashley "misremember" what was said. While Ashley insists she was messy on accident, Candiace Dillard Bassett thinks her actions were intentional.
Well, Nneka did have some messy words to say about Wendy during a conversation with Robyn Dixon. She alleged that she was told that Wendy told people that Nneka was using her name to get into the group. And Wendy's mom allegedly told people that she was going to curse Nneka with her "shrine."
Wendy Osefo is disappointed.
Some RHOP fans accused Nneka of encouraging ignorance and xenophobia with her comments. It turns out Wendy shared the same perspective in an interview with TV Line.
The reporter asked, "So in the trailer, Wendy, the new cast member Nneka is coming for your mom and said that she's submitting names to shrines."
She continued, "Can you unpack this for us?"
Wendy answered, "No, I can't because I pray to my Lord and Savior Jesus Christ and so does my mom. And if you get a copy of my memoir which I released last year, 'Tears of My Mother: The Story of My Legacy, Nigerian,' I talk about how growing up my mother didn't have much to give us as a single mother. But what she did give us is the power of prayer. And as a woman who is so devout in her faith, her Catholic upbringing…to have such malicious accusations accused of her really is disheartening."
She added, "And it's sad that it's coming from someone who is a fellow Nigerian to use what I call Xenophobic tropes that as immigrants we often grew up with when we were younger. It's hurtful. And I wish her well. I hope she got the attention she was craving."
Candiace said she's trying to stay open-minded about Nneka.
"I don't like to jump the gun. I had a lot of issues with the way she came for Wendy, especially when she came for Wendy's mother. But I don't really know her. So I'm over here on the side just watching. And I would really want to see her properly reconcile with Wendy."