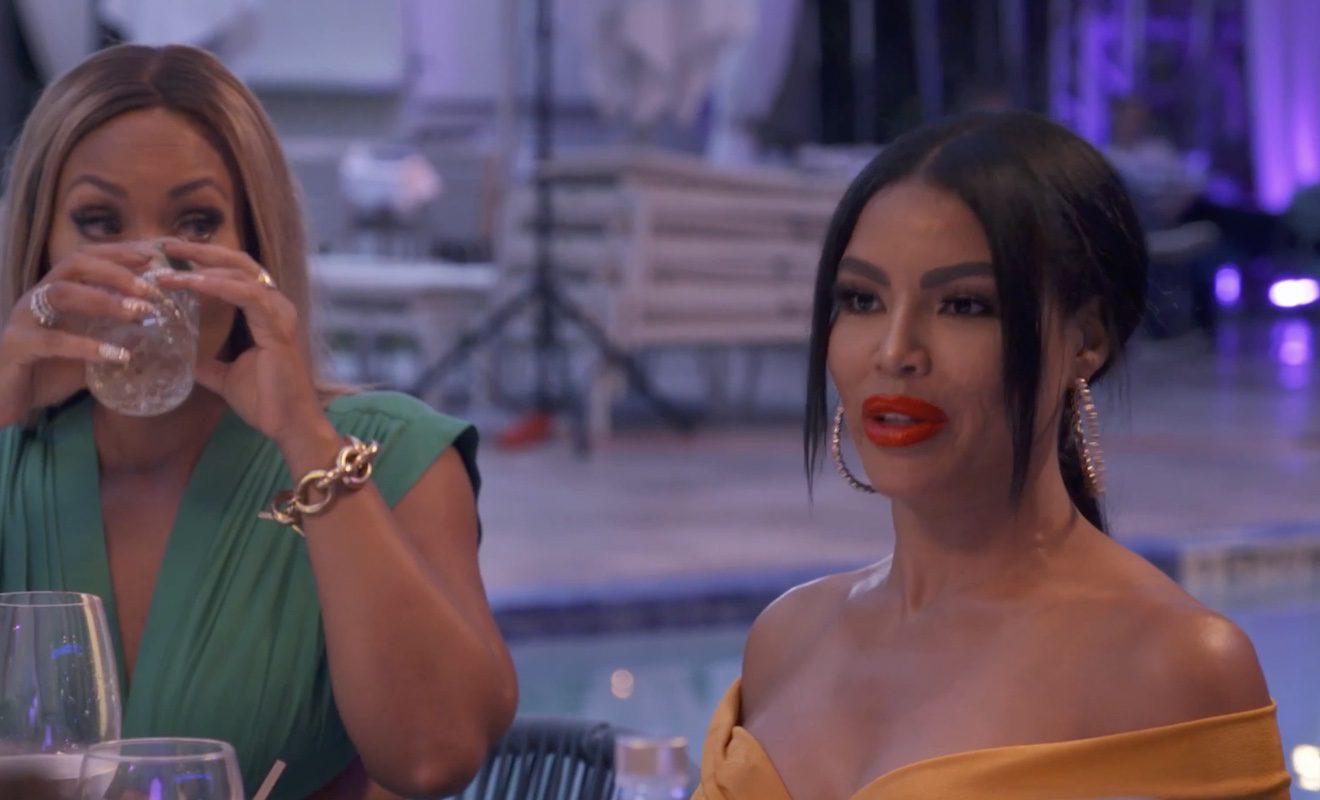 Mia Thornton and Peter Thomas have been receiving backlash from RHOP fans.
"Real Housewives of Potomac" star Mia Thornton is currently in the hot seat thanks to her actions from the current season. She hasn't been able to get along with Wendy Osefo since her first season on the show. The issue then was Wendy felt like Mia was most likely a fake friend to Karen Huger. At the time, Karen and Gizelle Bryant were in a bad place. So Wendy thought it was shady for Mia to try to get Gizelle's number after first meeting her. Wendy called Mia out about this. And they have had tension ever since. However, fans didn't anticipate that the drama between them would turn violent.
Wendy's potential business deal with Peter Thomas didn't pan out. Peter told Mia that he had "beef" with Wendy after Mia brought the ladies to Bar One for their first night in Miami. Since Mia considers Peter a "family friend," she decided to confront Wendy about this. And it didn't take long for the conversation to go left. Before the night was over, Mia threw her drink at Wendy. She also assaulted Wendy with her purse.
A lot of fans were outraged by Mia's treatment of Wendy. They have been coming for her quite a bit on social media as well.
Wendy Osefo's mother is fed up.
Interestingly enough, none of the fans are more outraged than Wendy's mother. She recently dragged Mia and Peter, too. And Mia clapped back.
As we reported, some fans and certain cast members think what Mia did to Wendy was completely wrong and unnecessary. Wendy completely agrees. And she couldn't understand why Mia escalated things to throwing a drink and assaulting Wendy with her purse. To no surprise, Wendy's mother isn't happy about this either. In fact, she recently slammed Mia and Peter on social media.
She posted a photo of Mia on Instagram and penned the following caption:
Well, well well! Ugly inside out !! CRATER face Mia!! A bombastic, ignorant, nonsensical, baseless, wanna be CEO troublemaker! You've bitten more than you can chew! You just messed with a "wrong" Naija 🇳🇬 🇳🇬 MamaBear baby. Oh yes, Mia you assaulted my baby Dr. Wendy #rhop.

Iyanga dey sleep trouble go wake am" "na wahala you dey find." Remember, he/she who fights and run away lives to fight another day. To **** with Mia and Peter! Oh, Yeeessss, I say HOLY GHOST FIRE 🔥🔥on Mia and Peter, and Thunderous amen 🔥🔥QED.
When Mia was made aware of the post, she responded. She wrote, "Nigeria 🇳🇬 Yes, I can wave the flag because it's in my DNA, MAMA 'na wahala you.' But sis too busy trying to defend she never once took the time to find out we from the same land. So take your Thunderous self on to the Holy Ghost Fire and repent. P.S. – My family KNOWS your family. So Tic Tok Mama, WE don't receive threats kindly."
Wendy's mother didn't back down. She responded, "@mrsmiathornton Apparently you do not understand the definition of a threat! Uneducated classless crater face! You should be worried about physically assaulting my daughter and issue a genuine apology! As I mentioned on my earlier post; the prosecution is watching."
She continued, "@mrsmiathornton you should shut up and genuinely apologize! You have a mouth, you should use it and NOT physically attack my daughter! FREE SPEECH Mia! Who do you think you are assaulting my daughter? Your action was seen all over the world!! Holy Ghost fire 🔥🔥 on you and Peter!"