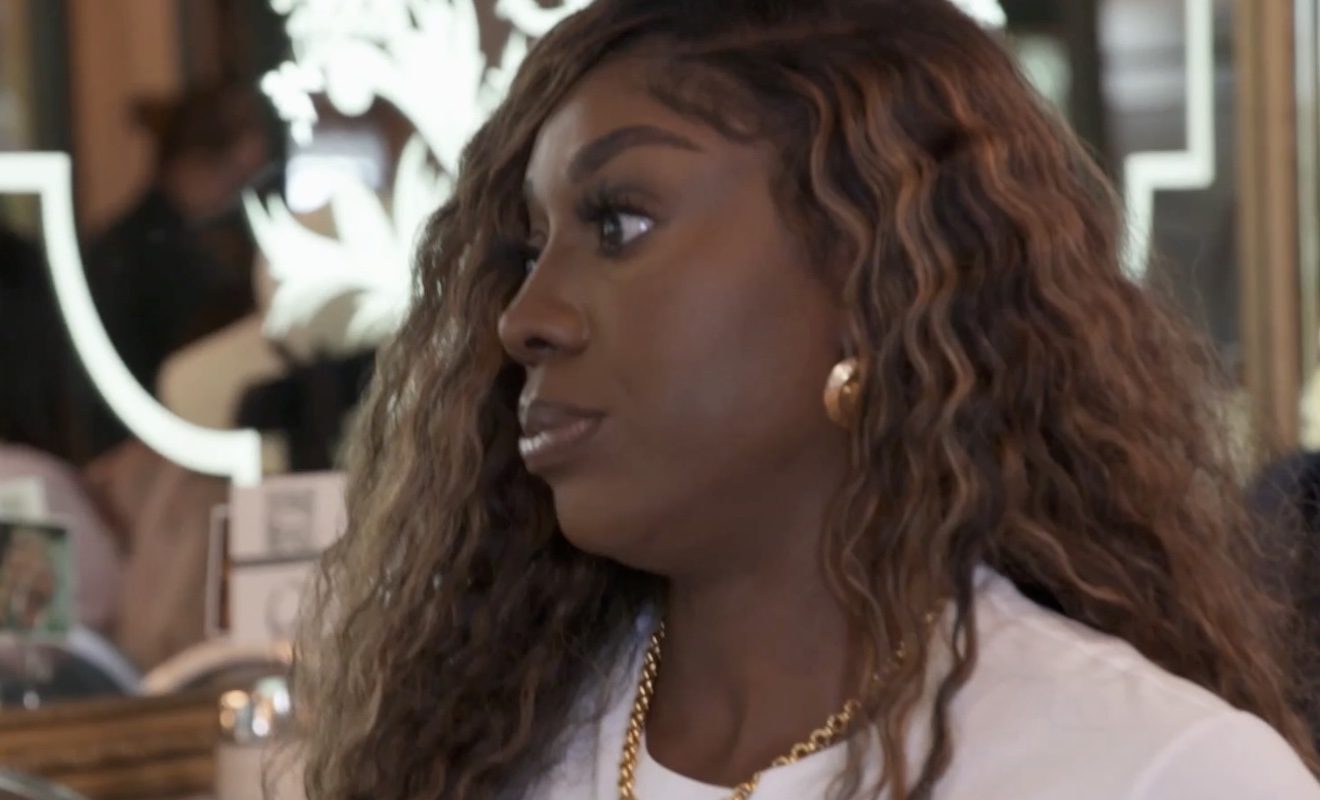 Wendy Osefo and RHOP Newbie Nneka Ihim do not get along.
"Real Housewives of Potomac" returns this November and Bravo has released the first look at the upcoming season. As we reported months ago, a new housewife was brought on board. Nneka Ihim, like Wendy Osefo, is Nigerian. While some fans figured Nneka and Wendy would probably form a friendship from this alone, the two women actually clashed while filming. Before the trailer dropped moments ago, fans couldn't understand what would cause the two Nigerian Americans to have issues. The cause of their tension may have been revealed in the Season 8 trailer. Turns out, some messy accusations were made about Wendy's mother. These accusations got back to Wendy and the rest of the group.
While talking to Robyn Dixon, Nneka says, "Wendy's mom started saying that she has a shrine and that…"
Robyn interjects, "She's doing voodoo on you?"
In another scene, Wendy responds to the accusations. She says her mother is actually Christian.
"My mom worships our Lord and Savior, Jesus Christ." Nneka responds, "At day, by night she's submitting names to shrines."
Karen Huger and Mia Thornton may not be on good terms either.
Wendy and Nneka won't be the only two to have tension, of course. Later on in the trailer, Mia Thornton and Karen Huger have a heated exchange.
Mia tells Karen, "Old dog that needs to go find some new tricks, okay?"
Karen claps back, "You are the trick!"
Mia ends up trying Ashley Darby, too about Michael Darby. While the ladies are out for the evening catching up, Mia tells Ashley, "I most definitely think that you married Michael for his money."
Ashley matches her energy and brings up Gordon Thornton, "Did you marry Gordon for his money?"
Mia answers, "I might have."
Speaking of Ashley, Candiace Dillard Bassett feels it's weird being around Ashley since Michael is suing her.
She tells Karen, "The ************ who is suing me is still married to the woman sitting in there."
The bad blood between Candiace and Ashley continues.
Another interesting moment from the trailer is Juan Dixon's lack of concern about the constant rumors involving him.
Gizelle Bryant thinks Robyn needs to pay attention to what she's hearing. But Juan tells Robyn, "People always got something to say. I don't care."
As for Robyn, she breaks down in tears over the backlash she received for not discussing Juan's inappropriate communication with another woman last season.
Season 8 of "Real Housewives of Potomac" premieres November 5th at 8/7c on Bravo.