By: Amanda Anderson-Niles
Is Fantasia Barrino pregnant again? The rumors continues to be a hot topic on the urban gossip blogs. One of the biggest controversies involving the singer was the romantic relationship she initiated with a very married man, which eventually led to another pregnancy. Despite a nasty situation that involved a very angry wife who took every step to file suit against Fantasia for involving herself in an extramarital affair with her T-mobile representative husband, Fantasia and Antwaun continued their relationship. No one heard any reports of a break up between the two, so it was a surprise (not really) to see the T-Mobile rep boo'ed up with Bad Girls Club star Kendra all over Instagram and Twitter.
Although Fantasia always cries during her performances, after the pictures of Kendra and Antwaun were splattered all over the gossip blogs, many began to think Fantasia was having a breakdown because her man was cheating on her with a former Bad Girl. And recent pictures that cite Fantasia's obvious weight gain only fueled rumors that the singer was pregnant again with her third child and second one with Antwaun.
Not so fast says Fantasia, as she took to her new Instagram account to let people know that not only is she NOT pregnant, but she's not being cheated on: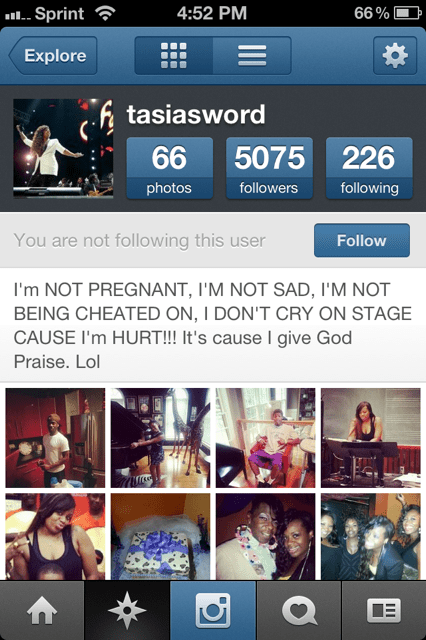 Contrary to what the blogs are saying, Fantasia insists she's happy and not being cheated on. So if Antwaun running around with Kendra is not considered cheating to Fantasia, one can only assume they aren't together anymore. And that's probably best as dude has already shown that he has very questionable character. We're just glad she's happy.
Good luck with THAT one though, Kendra.