By: Amanda Anderson-Niles
R&B singer and American Idol winner Fantasia Barrino has had a crazy 48 hours. Instagram hasn't been too kind to Fantasia, especially since it's been the place of choice for her to express her mind about the criticism she has received over dating a married man (Antwaun Cook) and arguing with the family of said married man on Thanksgiving Day via the comment section of her Instagram photos. Regardless, Fantasia claims she is done attempting to please her critics, and living her life out in the open, as the singer even posted pictures that somewhat confirmed that he's back in her life even though reports last year suggested the two had ended their romance.
Though Fantasia claims that she no longer cares about what people think of her relationship with Antwaun Cook, she did rant again the other day because she once again is feeling some kind of way about people labeling her a homewrecker.
In rant, in which the singer reminded her followers about the many different sins that have "been accepted" in our current society, the singer then went on to say that she didn't understand why people were judging her so harshly: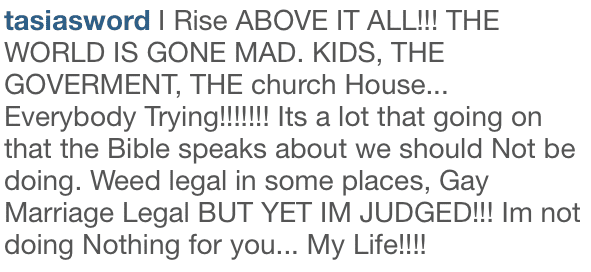 In just a matter of minutes, Fantasia's followers began to accuse her of putting down the gay community. It didn't take to long for her comments to make their way to the gossip blogs and her mentions were slaughtered by those who were angered by Fantasia's rant.
Well Fantasia's camp reached out to Urban Belle exclusively, and wanted to make it clear that Fantasia feels her words were taken out of context. They sent us the following public statement:
"Comments made by Ms. Barrino through her Instragram account were recently taken far out of context, and the purpose of this release is to set the record straight. Ms. Barrino is not now, nor has she ever been an opponent of the LGBT community. She has supported and performed at numerous events that are sponsored by the LGBT community. Whether it's through a live performance or placement on social media, Ms. Barrino uses every opportunity to reach out and connect with her fans, all of her fans."
Fantasia also posted a response and told her fans on Instagram that she was taken out of context by bloggers, but the singer quickly deleted the post.