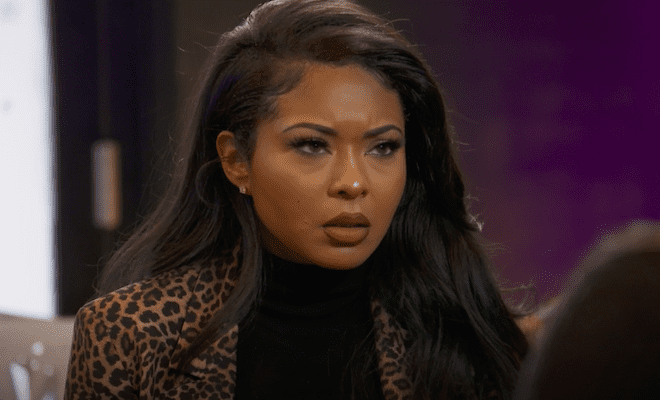 Miss Kitty updates Ryan.
Ryan links up with Miss Kitty after the funeral. They are both still in New Orleans. Both discuss the drama in the New York shop and Kitty says the shop is "raggedy" and all her friends turned against her. Ryan says he doesn't think Ceaser should have an issue with them having a friendship if he's not dating her. Regardless, Kitty says she's open to relocating to 2nd City Ink. Ryan says this would be a good move for her.
Prince and Fly Tatted catch up. They talk about Prince's baby momma and he says that he's back on great terms with her. He's happy they seem to be rekindling things. He has a court date coming up after he was arrested two years ago. His court dates kept getting postponed. But he feels good about his case. Although the cops found a gun in his car, his lawyer says they had no right to search his vehicle. So he's hoping the charges will be dropped.
Iyanah's mother clashes with Don.
Don and Phor decide to meet up with Iyanah and her mother Nashauna . It's the first time that Don has met them. Don tells INashauna that he doesn't trust her. He doesn't like that Phor wasn't contacted a long time ago.
Don pulls out a DNA test and says that they should just take it. Nashauna gets upset and says Don is being disrespectful. But Don says Phor is his brother and he's going to have his back. After they argue back and forth, Nashauna  storms off with her daughter.
After they leave, Phor calls out Don for how he handled things. But Don says the fact that she didn't take the test from him shows that she's not telling the truth.
The producers tell Nashauna that the DNA test will actually be mailed into an actual DNA testing lab so she should take it. After she calms down, she agrees to take the test. She later walks back into the restaurant with Iyanah. Swabs are used to take spit samples.
Jessica updates Plug and Draya.
While still in the rental house in New Orleans, Jessica tells Plug and Draya that Kitty may be coming to work at 2nd City Ink. Draya asks what Kitty will actually be doing at the shop. Jessica has a hard time remembering Kitty's title at Black Ink and the trio all laugh.
Charmaine and Neek arrive back to the house.
She tells everyone she's still grieving but she wants all the others to go out in the city and have a good time. She's going back home to be with her dad.
Kitty gets upset with Jessica.
So the others go to Bourbon Street to drink and hang out in the bars. It doesn't take long for Jessica to have too many drinks. And Kitty is irritated by her. When Jessica jokes about showing her breasts to Ryan, Kitty calls her desperate in a green screen interview. Kitty tells Ryan she's ready to leave and she tells Ryan they are going back to her hotel.
The next morning at the rental house, Jessica and the others realize Ryan never came back to the house. He spent the night with Kitty in her hotel room.
Draya says that Kitty was cold towards her when they first met and acted like she barely wanted to hug her. But she thinks they just don't know her that well yet. Jessica gets the sense that Kitty thinks she's better than all of them.
Not too long after, Ryan returns. He says he had fun.
Kitty complains about Jessica.
Prince hangs out with his son and baby momma. He ends up calling her his girlfriend and this makes her smile.
Charmaine and Kitty grab a bite to eat. Kitty tells her that she's going to take her offer to work at 2nd City Ink. Kitty tells Charmaine that Jessica put her titties on Ryan. In a green screen interview, Charmaine says she doesn't understand why Kitty is singling out Jessica.
When Don calls Ryan to catch up, Ryan tells him it was weird to see Danielle, Kat, Kitty, and Ariel there, grouping Kitty with all the other women he slept with who are connected to Charmaine. He says he has "done well" for himself in life. Don laughs about this.
Things don't go well for Prince.
Prince meets with his lawyer. Although the police didn't have the authorization to search his car, a gun was still found. He could take a plea deal for two years. It's the best offer they are going to get in his situation.
2nd City Ink gets an update from Kitty.
Kitty tells Draya, Jessica, and Plug that she's coming to work at the shop to be the manager. And she's just trying to feel them out. And she wants to make sure that they are the right artists to be working there. Kitty says they shouldn't be nervous if they are doing what they are supposed to do. Jessica says she needs to talk to Charmaine ASAP.
What are your thoughts on the episode?
View this post on Instagram
I have nightmares seeing this many exes ?

Would y'all be cool with this? #BlackInkCHI pic.twitter.com/PR6WAVq961

— Black Ink Crew (@BlackInkCrew) January 23, 2020
View this post on Instagram