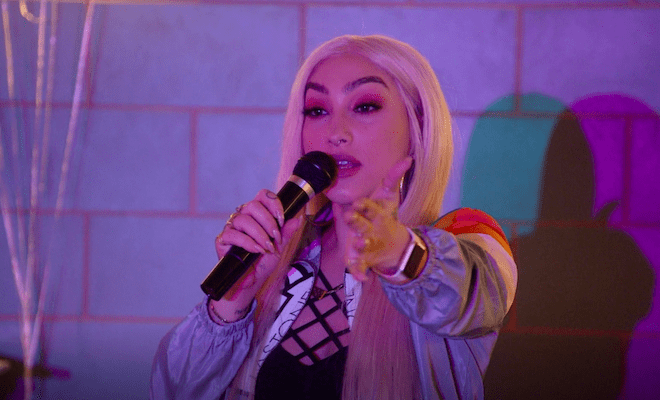 Jessica wants to slow things down.
Walt and Jess look at possible wedding venues. He says he wants to tie the knot in a few months, while Jess wants to at least wait a year. She knows that planning a wedding won't be easy. So she doesn't want to rush things.
Young Bae gets some advice.
Puma goes with Bae to talk to a matchmaker. She's been having a hard time getting back into dating after her divorce from Rob. Bae wants a man who makes his own money and will be there for her. But her biggest issue is she doesn't really care about herself and her first priority is her son. She doesn't want to end up in another bad relationship that will affect him.
So the matchmaker and Puma tell Bae to just be open.
Ceaser updates the gang about Ryan.
After Tati decides to take the day off from being the receptionist at the shop, Puma says she's going to end up in the unemployment line. Minutes later, Ceaser walks in with a new dog. He named him Bed-Stuy.
He shows the gang the video of Ryan and Kitty getting cozy at the club. Everyone thinks this was foul of Kitty and Ryan to do. Donna tells Cease not to worry because she heard Ryan has a little d*ck anyway. Regardless, Cease wants to get even. He doesn't like that Ryan would do that because they had a friendship. And he believes he gave Ryan the advice he needed to have a successful shop. So he believes he made him and they were brothers who talked about everything.
So Cease plans to hit Ryan where it hurts.
Rok and Bae connect.
Bae goes on a date. In a green screen interview, Bae says she's attracted to the man. She has Rok at the bar waiting just in case the date doesn't work out, so he can rescue her. Rok previously asked Bae out on a date as well.
Bae's date isn't interested in eating any meat and says that he brought Bae to the restaurant because Asian people like seafood.
It doesn't take long for Bae to lose interest. But Rok comes over to join them after she gives him the sign to come over. This upsets her date and he storms off.
Rok and Bae start talking. He just had a major breakup with his longtime girlfriend, so he had to find somewhere else to live. He's been through a lot in life like being homeless. Bae says she's been there and this shocks Rok.
Rok says he was on his own a lot and had to take care of his little brother because their mother was on drugs. His stories of hard times bring Bae to tears because she can relate so much.
Puma angers Walt.
Walt tells the gang that he's having an engagement party at a skating rink. He's hoping that if he plans this well, just maybe Jess will be open to getting married earlier.
After Puma asks Walt if he's going to invite all his baby mommas, this angers Walt. So he walks out the shop.
Redemption is on Donna's mind.
Donna has some important plans. She has gotten in touch with the past client who was upset because Donna misspelled her tattoo. She's going to make things right by doing a cover-up.
Not too long after, the client returns to the shop.
Donna ends up tattooing an elaborate cross in the middle of the misspelled version of perseverance. Cease and Puma say the cover-up isn't the disaster they thought it would be. But she still has more work to do in order to no longer be Bae's apprentice. This angers Donna and she leaves the shop after telling Puma and Cease to clean up her station.
Bae gives Rok something to think about.
Rok takes Bae to the spot he used to stay when he and his brother were homeless. She's hoping it will be therapeutic for him.
When they discuss Rok's mother, he says he hasn't spoken to her in a year and a half. He has no idea where she is and he's not really sure he even wants to talk to her.
Bae says Rok should talk to her so he can move on from the past.
But it's tough for Rok because he believes she loved drugs more than her kids.
Donna and Tati discuss their relationship.
Tati meets Donna at a fabric store. Donna wants to get back into making clothes. And she's upset about what's been going on at the shop. She doesn't feel like Cease takes her seriously. Tati feels the same way after her demotion to the receptionist.
The women get flirty and Tati asks Donna if she told Alex about her. She's not sure if Alex would be okay with them spending so much time together and having a flirty relationship. She doesn't want to be kept as a secret and be a side chick.
But Donna thinks Alex wouldn't have a problem with what they are doing. So she kisses and cuddles Tati.
Tati crosses the line.
It's the evening of Walt and Jess' engagement party. So everyone shows up to a skating rink to have a good time. Donna and Tati sneak off to the back to make out with each other.
Bae and Rok flirt a little when they see each other.
Puma grabs the mic and asks Walt if he's going to take Jess' last name. This annoys Walt. But the last straw is when Tati drunkenly grabs the mic and says she heard they are having a baby. She also asks how many baby mommas can Walt actually have.
Walt then goes off and flips over the table before storming out of the venue.
Jess and Puma follow behind to convince him to come back. But he refuses to do so and says that the gang never respects him or his events.
What are your thoughts on the episode?
View this post on Instagram
View this post on Instagram
View this post on Instagram
View this post on Instagram
No more misspellings ?

What do you think of Donna's second try? #BlackInkCrew pic.twitter.com/yufDKFBUHq

— Black Ink Crew (@BlackInkCrew) March 12, 2020