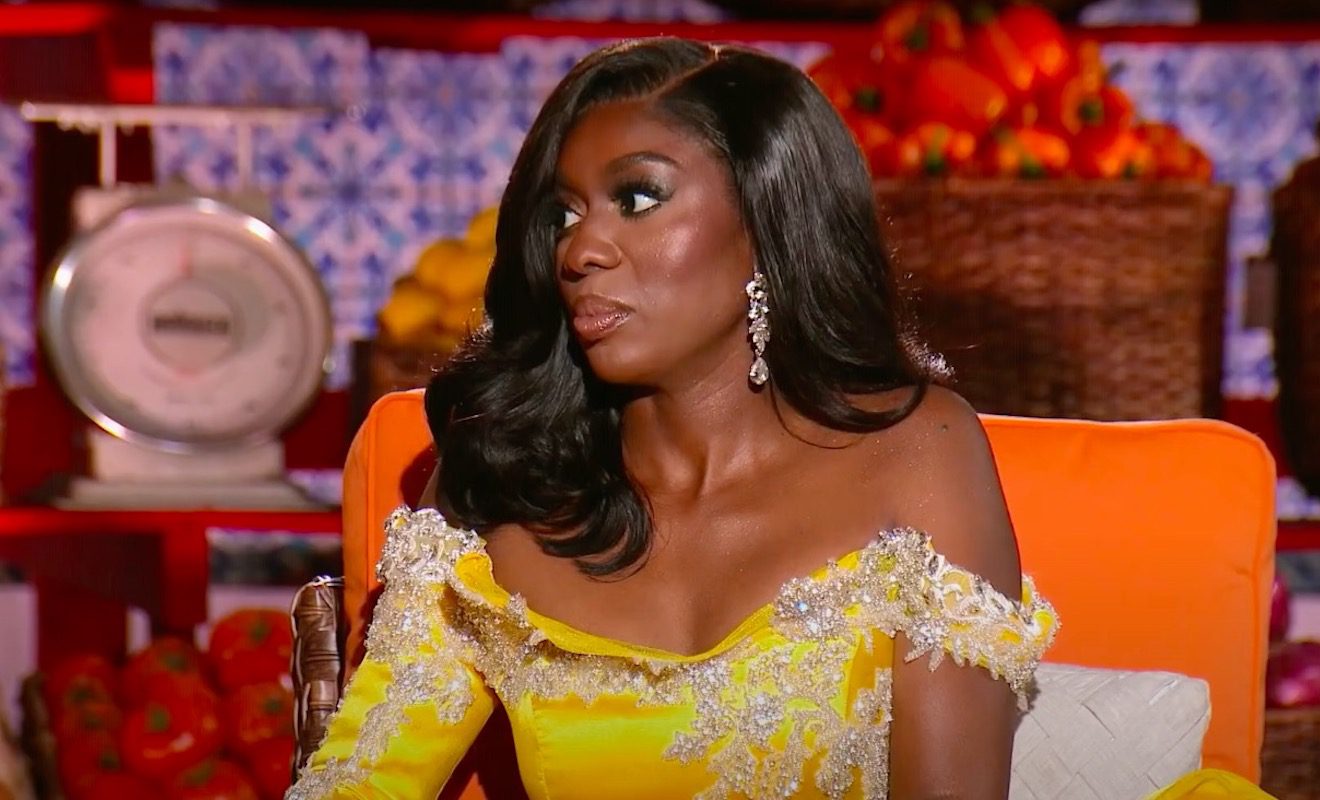 Monique Samuels was iced out after the altercation.
"Real Housewives of Potomac" fans have had a lot to say about the current season. To no surprise, the altercation that took place between Monique Samuels and Candiace Dillard has been a hot topic. While viewers have had strong opinions about it, so has the rest of the cast. In fact, it actually caused a division. And Gizelle Bryant, Robyn Dixon, and Wendy Osefo have refused to film with Monique. So when it was time for the ladies to throw events, Monique didn't score an invitation. Gizelle even said that being around Monique could be harmful to her reputation, as well as Jamal Bryant's.
While Monique was iced out, Ashley Darby and Karen Huger continued to film with her. Ashley even took her support a step further and agreed to write a character statement to help Monique's countersuit.
As a result of this, Candiace isn't in a good place with Karen or Ashley. She feels betrayed by both.
Some viewers feel the other women are being hypocritical.
Interestingly enough, some fans of the show have not been happy to see the women choosing sides. They have been very vocal about this on social media. They have accused the other women of being hypocrites and not bringing up past moments on the show when they have shown aggression and violent tendencies. So they take issue with them singling out Monique and refusing to acknowledge their own low moments.
Wendy has been getting called out a lot since she's new. There are viewers who don't like the fact that she shunned Monique and they have accused her of doing whatever necessary to be accepted by Gizelle and Robyn.
She addressed this and the altercation during a recent interview with "We Should Talk."
Wendy Osefo was surprised to see Monique Samuels had a lot of support.
In fact, she was surprised to see that so many viewers supported Monique after the altercation. Wendy said, "What's really interesting is I have also learned the fact that there are two sides of every situation. You go into these different environments and you take a position. And in your head, you take that position because it's right for you. But then when it plays out, you realize that just because you feel that way, there is a large swap of the population that feels a completely different way. And that has been an eye-opener for me."
Wendy continued, "It has been like, 'Wow.' I took this position because as a person, this is who I am. It's in me like this is where I stand on issues like this. And then you watch it, you see feedback, and you're like, 'Wow.' I didn't think of it like that. I didn't look at it like that." She added, "So it's been interesting to see things play out and see the other side of the situation."
Robyn Dixon and Gizelle Bryant's acceptance wasn't what Wendy Osefo was seeking.
She also isn't happy that some believe she took her position to get in good with Gizelle and Robyn, "If the roles were reversed, if let's say Robyn did the same thing, I would tell Robyn, 'You're wrong.' You know, if Gizelle did that, I would say that, 'You're wrong as h*ll.' And so for me, just coming in as a new person it's this narrative that, 'Oh, she may be doing this or she may believe this because she's trying to be friends with another side.'"
Wendy goes on to say that she's very independent and she's not afraid to speak her mind no matter who agrees or not. So this idea of her taking a side to be accepted just doesn't make sense.
She continued, "So to hear that and to hear people think that's the rationale it's really funny because if you pay attention, my relationships with Robyn and Gizelle did not really take shape until we wrapped up filming. So that's the funny part that no one knows."
The idea is just so baffling to her, "So for people to say that, 'Oh, she just wants to be with the green-eyed bandits.' Huh?! No! That was my position. I felt that way. "
Check out the "We Should Talk" podcast here.