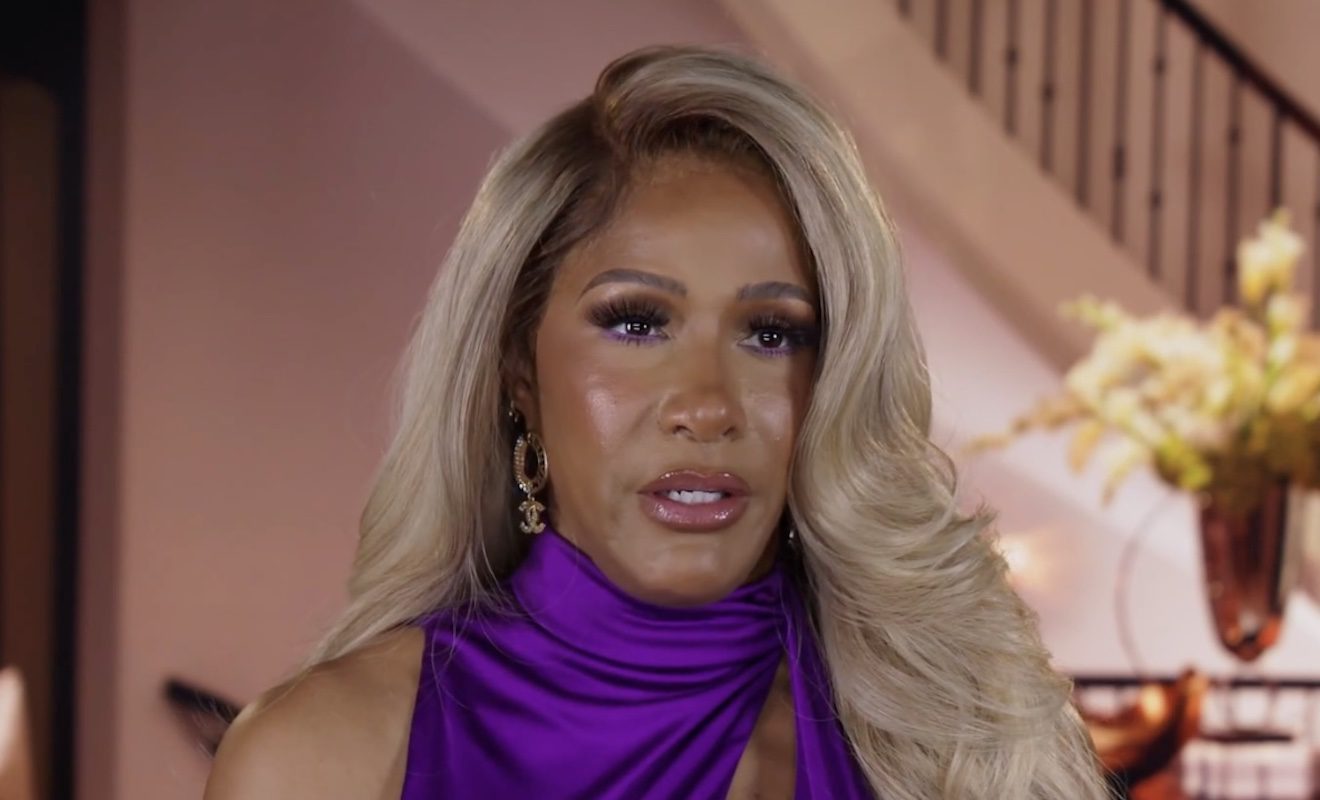 Sheree Whitfield defended Martell Holt's refusal to pay her birthday dinner bill.
"Real Housewives of Atlanta" star Sheree Whitfield has a lot of people talking about her romance with Martell Holt. On the recent episode, the "Love & Marriage: Huntsville" cast member was discussed. Kenya Moore was updating Shamea Morton and Kandi Burrus about Sheree's recent birthday dinner. She went on to say Marlo Hampton and Sanya Richards-Ross told her that Martell refused to pay the $1500 bill. Instead, he asked everyone in attendance to chip in via Cash App. So this had some of the ladies questioning Martell's finances and the legitimacy of his relationship with Sheree. To no surprise, this was brought up as the cast reflected on the episode during the After Show.
Interestingly enough, Sheree called out Marlo and Sanya. Both denied telling Kenya that Martell didn't want to pay.  But this didn't prevent Sanya and Sheree from having a heated exchange about what happened that evening. And Sheree took issue with Sanya not showing up with a birthday gift.
Sheree said, "At the end of the day, it was just a little much for anybody to come and think that they were gonna come to my birthday party and not bring me a gift. And not do this and not do that and then you think you're gonna get your meal paid. You know we're not married or anything…"
Marlo sided with Sheree, "I was about to say y'all have not been together for that long for him to pay the bill that we have for that whole table."
Sanya Richards-Ross responded to Sheree Whitfield shading her for not arriving with a birthday gift.
Sheree went on to explain why she felt Martell wasn't wrong, "I have not been to dinner with anyone whose guy paid for me period by myself…any of you guys. Typically when it's a birthday party, people chip in."
She added, "People can chip in when you're the birthday girl, especially when you don't bring a gift."
Sanya chimed in and admitted she did think Martell would pay for everyone. But she now understands they haven't been together long enough for that. But she wanted to clarify why she didn't have a gift to give Sheree.
"The thing is Sheree when we first heard about the dinner I thought it would just be me, you, and Ross. I didn't…"
And Sheree responded with some shade, "But when you got there and figured it out, you wanted your meal to be paid for when you got there and didn't know, empty-handed?"
This resulted in the conversation becoming tense as Sanya didn't think Sheree should have been bothered about not receiving a gift.
The conversation became really tense.
Sanya said, "Empty-handed? I literally found out about your restaurant party the day before…you're not 5 years old. I'm not gonna run to the store to go buy you a gift. You're grown." She continued, "I paid for y'all to eat at Ross' birthday party. I didn't ask y'all to chip."
At this point, Sheree assumed Sanya was calling her cheap. Sanya assured her she doesn't believe Sheree is cheap. But she just expected Martell to pay because husbands usually do that when she's with her girlfriends. But it only got messy from there.
Sheree then said, "Yeah, he did pay for me. But why would he pay for you and your husband? Ross shouldn't even want a man paying for him and his wife."
Sanya eventually asked Sheree, "You never been to a couples date where the man takes care of your dinner…"
After Sheree said this has never happened to her, Sanya breaks down how it usually goes.
"Ross went to go pay and the man told him it was already paid. I was in the club with Kandi and them and Todd paid. When I went to… remember that time? Todd…"
Sheree dismissed this and said this only happens when it's 2 or 4 people. Sanya responded, "No, no, no! It was like 8 of us!"
Marlo eventually intervened as Sanya and Sheree were yelling over each other and she told them to drop it. They then hugged it out.
Sheree & Sanya get into it over Martell not paying for Sheree's birthday dinner! 👀 #RHOA pic.twitter.com/Lf4zfuROmW

— jay (@JaysRealityBlog) August 14, 2023