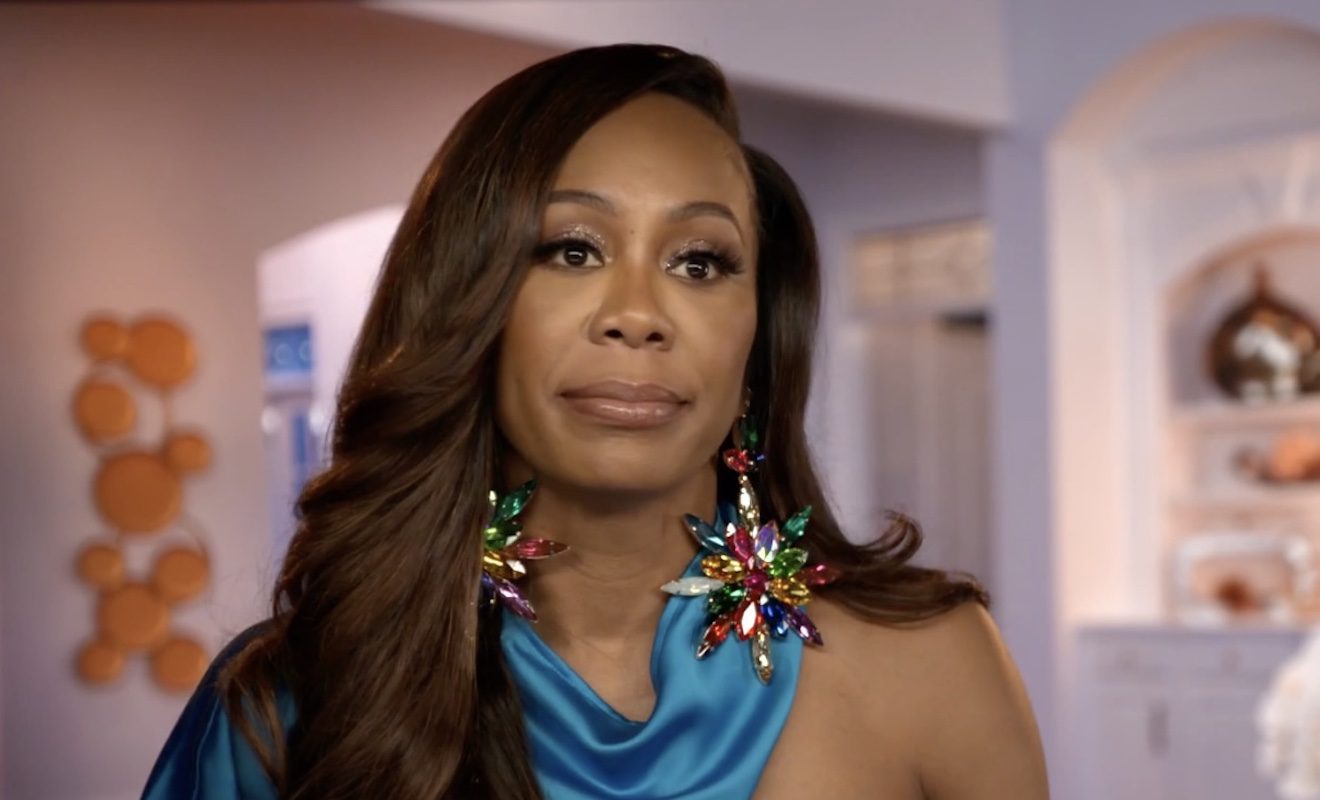 Sanya Richards-Ross has been accused of riding the fence and being fake neutral on RHOA.
"Real Housewives of Atlanta" star Sanya Richards-Ross has been receiving a lot of criticism on social media. Some fans have accused her of being fake neutral. In fact, they didn't like how Sanya handled Kandi Burruss and Marlo Hampton's ongoing feud. On the show, Sanya said she felt like Kandi wasn't trying to hear out Marlo. And she seemingly agreed when Marlo said Kandi didn't show much empathy about her nephew's death. Kandi's issue with all of this is she's been spending a lot of time with Sanya away from the cameras. They have been on vacations together as well. So Kandi didn't understand why Sanya didn't go to Marlo and try to get her to understand Kandi's perspective, too.
Well, this was addressed during Sanya's recent interview with "Way Up with Angela Yee."
Angela Yee asked Sanya, "The things about you that come up is people act like you go back and forth and who is she really friends with? She said she was neutral but she's not neutral. Do you feel like you were forced to kind of have to pick a side?"
Sanya Richards-Ross doesn't think she double-crossed Kandi Burruss.
Sanya answered, "It's a good question, Angela. So here's the whole thing about that. I feel like the fans and people who watch the show and are invested, which I love, forget that I've only known these women for the same length of time. So I'm literally trying to get to know everybody. At that point before Season 2 started and the off-season, I had gotten really really close to Kandi and Marlo. Those are the two I hung out with the most. So the first couple of weeks they get into this huge fight and I'm like, oh God!"
She continued, "I really was trying to be a good friend and trying to mediate the situation. I didn't pick a side."
Sanya added, "I went to Kandi, I said, 'Hey what is your perspective?' I told her Marlo's. Went to Marlo, did the same thing, and told them let's just try to squash it. I feel like people don't understand that's not riding the fence. That's what a friendship looks like when you're in a friend group where two of your friends have fallen out. So I felt like I wasn't trying to pick a side or come across like I was riding the fence. It was more about just trying to show up for the both of them."
She did confirm that she is now closer to Marlo, "As the season continues, I do become closer to Marlo throughout the season. But that's just organic."
View this post on Instagram
The drama with Kenya Moore was also brought up.
Sanya's fallout with Kenya Moore was also discussed. As we reported, Kenya recently unfollowed Sanya on social media. She told her Twitter followers that Sanya isn't really a friend and she's far from neutral. Apparently, Kenya didn't like that Sanya went on to shade her even though Kenya helped her raise thousands of dollars for her charity.
In response, Sanya told Angela that while she appreciates Kenya's help, she didn't like some of the things Kenya did that weren't shown on the show.
"One of the things that I love about the women on this show is regardless of what's going on with us if it's a good cause or something happens to someone, everyone shows up for that person. And that's just been my experience. What Kenya did, helping us raise $80,000, helping so far over 18 women who are suffering from homelessness with their children, I mean incredible. But while that's happening simultaneously, we're trying to build a friendship too off camera, on camera."
Sanya continued, "So I felt like, we talked about this at the reunion too, so I don't want to jump into it, but Kenya's amazing. And I love that she did that for my Mommi Nation but at the same time, there were things that she was doing to me personally that I didn't feel like she was trying to build our friendship."
View this post on Instagram