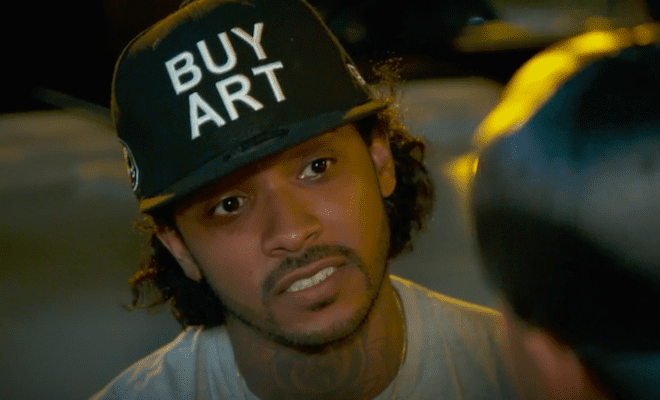 Ryan is staying focused.
Two weeks after Ryan took over Loyalty Ink's lease, he throws the first pitch of the season for the Chicago White Sox.
He never thought he'd be back at the shop, but he's still working hard for the 9Mag brand.
Phor, Lily, Brittany, Bella are the only ones that remain.
Charmaine, Don, Van and Danielle decided to leave.
Nikki and Phor have broken up.
As for Phor, he's back tattooing. He and Nikki broke up weeks ago after she found out he sent naughty photos to another woman.
Don is also upset with Phor for going back to 9Mag. Phor hopes they can get past this.
Lily says she has calmed down. She feels like the shop is just more professional when Ryan is in control.
Plus she gets along really well with Bella and Brittany.
Things are back on the mend for Don and Ashley.
Don and Ashley are back together. They even live under the same roof.
They take the kids to pick apples.
Money has been tight since Don decided to walk away from Ryan.
Ashley has been working to help pay bills. She wants them to buy a new house but Don feels like it's not a good time.
He's upset that Phor was with Ryan when Loyal Ink was killed off.
Regardless, Ashley is ready for home ownership and she's determined to make it happen.
Charmaine is still doing well at the radio station. She's also been doing the local news too.
So she doesn't miss working at the tattoo shop.
Van wants revenge.
Don, Ashley, Charmaine, Neek, Jen and Van hang out.
Phor shows up and tells them he shot that infamous video from the back because the woman told him she wanted to "suck it from the back."
This causes some tension with Ashley and Don after Ashley jokes she would never do that.
They change the subject and talk about where Phor stands with everyone. Ryan is still not on good terms with the others. And they feel Phor should have warned them about what Ryan was preparing to do.
He definitely feels like he's stuck in the middle.
Van is still upset with Ryan and willing to take the beef to the streets.
Charmaine decides to get some botox.
She starts with her underarms. Of course she's a nervous wreck.
It will take about a week for it to really work. This is disappointing to Charmaine who no longer wants to be sweaty or musty.
Phor and Don hash things out.
Don and Phor play some basketball.
It's clear there is still some tension between them.
After they finish, they attempt to talk.
While Don feels betrayed, Phor says that he really didn't know what Ryan was about to do. Regardless, Don feels Ryan should have told him what was about to go down.
"If you call me your brother, it's a way we should move." – Don
Rachel and Ryan call it quits.
Ryan catches up with his mom.
Apparently he and Rachel broke up.
He tells his mother that Rachel never forgave him for that happened with Kat.
So he had to move on.
There's also stress he's dealing with regarding his fallout with the others.
Ryan doesn't feel like they were ever real friends to do the things they did.
His mother says he should forgive but he doesn't have to forget.
Don and Ryan make progress.
The crew throws Don a birthday party.
When Ryan shows up, everyone is stunned. But he immediately speaks to Don and asks for them to talk alone.
After they get outside, they talk about Ryan's hostile takeover.
He explains to Don he had no idea Don was the manager of Loyal Ink.
While he didn't mean to hurt Don, Don was a casualty in the war unintentionally.
Regardless, he apologizes and tells Don that he wants him back at 9Mag. Don forgives Ryan and is now open to returning.
Charmaine catches up with Phor, Van and Jenn.
They talk about Ryan and Don going back to 9Mag.
Van is upset because it seems like everyone is getting an apology except him and Charmaine.
At this point, Van feels like it's time for him to run up on Ryan.
Jenn runs up on Lily.
It's the day of Lily's birthday party.
Meanwhile, Van and Jenn are on the way so Van can confront Ryan.
As for Jenn, she wants to run up on Lily for what went down last season.
When Jenn gets there, she makes her announcement at the gate.
"Lily, Happy Birthday b*tch!" – Jenn
After Lily hears this, she walks towards the gate. She and Jenn start throwing hands. Jenn gets in some good licks before they are separated. Not too long after, Jenn makes it clear she's up for another round.
Van is upset that Jenn made the whole moment about herself.
But he spots Ryan and decides to confront him.
He tells Ryan that he has a family to feed. So he feels it was wrong for Ryan to dead Loyal Ink.
However, Ryan feels no remorse.
"Whatever happened, happened. Motherf*ckers gotta deal with it." – Ryan
After Van gets in Ryan's face, the two men square up.
However, nothing happens since the police show up.
Ryan says it's on next time and the two men part ways.
What are your thoughts on the episode?