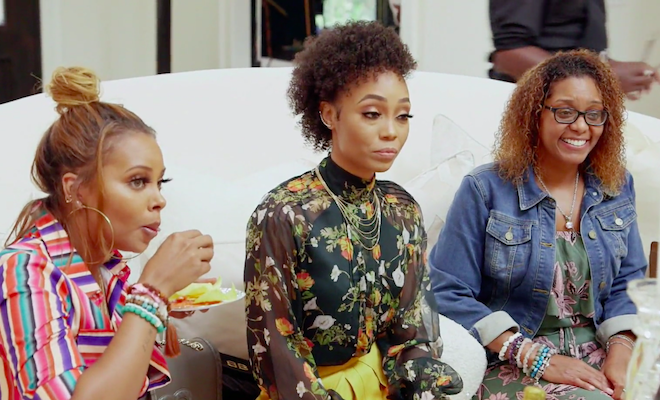 Cynthia secures a role.
Kandi and Todd are having auditions for her "Welcome to the Dungeon" burlesque show.
A lot of people came out to audition.
The show is in a few weeks.
In a green screen interview, Kandi says she's excited to see things actually coming together.
Cynthia surprises everyone by showing up to the audition. She plans on trying out.
She gives Kandi a lap dance.
The crew gives her a standing ovation.
Although Kandi doesn't feel like Cynthia is the best dancer, they give her a part in the show.
Yovanna returns.
Gregg came home early after surgery.
So NeNe is back working on her store in Atlanta.
Yovanna comes by to the store.
In a green screen interview, NeNe says she thinks the rest of the girls would like Yovanna if she wasn't an aggressive drunk when they first met her.
They catch up and NeNe tells her she's having a Bye Wig party.
All the women must show up with no wigs, weaves and hair extensions.
NeNe invites Yovanna and tells her that Eva will be at the party.
Yovanna apologizes for the drama with Eva but she has no remorse for feeling the way she does about Eva. So Yovanna doesn't want to apologize to everyone for her outbursts.
Regardless, NeNe tells Yovanna that she should apologize so everyone can move forward.
Eva blows her wedding budget.
It's two weeks until Eva's wedding.
Her wedding planner Elly comes over so they can discuss what's left to do on the checklist.
They discuss the fact that she doesn't have a reception dress.
When it comes to the guest list, she's went over her number of attendees. So that means she will have to spend even more money.
This stresses Eva out because they just put down a down payment on a house.
NeNe is prepping things for her Bye Wig party.
A chef is over as well as to prepare the food.
When it comes to the theme, NeNe says she just wanted to show that she and the other women actually do have real hair.
Cynthia calls and NeNe tells her Gregg was readmitted to the hospital. Turns out he had a blood clot in his leg. But he's doing much better.
Gregg texted Marlo and Cynthia about his status. The rest of the women will be told when they get to the party.
As NeNe sips her cocktail and spend around in a joyous state, producers flash forward to quick glimpses of NeNe having a meltdown at the party a few hours later.
Guests start arriving after 3pm.
Kandi is the fist to arrive.
Eva is next.
Then Tanya.
As they wait for the others to arrive, Kandi tells them about Cynthia's surprising audition.
Not to long after, Shamari arrives with two girlfriends.
NeNe comes down with her short, blond hair.
She tells them about Gregg's status.
Cynthia comes in with two buns. NeNe says she cheated because she used two big scrunchies to make her hair look fuller.
Yovanna arrives.
Eva and Shamari aren't happy to see her.
"Is that Yokanda or Yovanna?" – Shamari
When Porsha and Marlo's tardiness is discussed, NeNe says Porsha's pregnancy isn't a good excuse.
Kandi notices that NeNe seems really agitated.
Yovanna then apologizes to the group for her prior behavior. But she makes it clear that she doesn't regret calling out Eva. And Eva once again says that she doesn't remember meeting her in the past.
But still, Yovanna doesn't buy this and even shows off her "Dimepiece" tattoo she expected Eva to remember.
There's tension between Marlo and NeNe.
Porsha strolls in and shows off her engagement ring.
While NeNe is happy about Porsha's engagement, she's still salty Porsha was late.
NeNe tells the group that her and Marlo clashed after Marlo arrived to the house to check on NeNe the previous day. Apparently Gregg asked Marlo to go and check on NeNe. But NeNe didn't let her in because she didn't feel like talking.
This upset Marlo and they have been weird since.
Marlo finally arrives over three hours late.
She tells NeNe it's he fault she's late to the party because she had to cancel her previous hair appointment to come see NeNe who wouldn't let her in the house.
This leads to the two of them arguing.
But NeNe says that Marlo came to the house yelling and being aggressive.
Marlo then shows everyone the text Gregg sent her.
"Yesterday, I was in tears." – Marlo

"Marlo, support me, b*tch. I'm going through everything." – NeNe
When Marlo says that Gregg is hurting too, NeNe breaks down crying.
The other women console her, including Marlo.
In a green screen interview, Porsha says she's never seen NeNe break down like this.
After NeNe says Marlo doesn't understand what she's going through, Marlo she has to leave because she's doing everything she can to be there for NeNe.
But Cynthia and Porsha calm down Marlo and she decides to stay.
NeNe tells Marlo she loves her and she's devastated Gregg got a blood clot.
She and Marlo share a hug as NeNe continues to cry. Kandi also gives NeNe a big hug.
In a green screen interview, Kandi says she is just shocked at how emotional NeNe is being. NeNe decides to go to her room for a minute.
Shamari has had way too much to drink.
As everyone begins to calm down, the fun times begin.
Shamari starts drunk dancing with her friends.
A little later, Cynthia and Marlo go to NeNe's room to check on her.
Back with the others, it's clear Shamari has hard too much to drink.
She tries to kiss Eva's neck. She touches Tanya's crotch.
In NeNe's room, Marlo hugs on her and sends encouragement.
While the women are talking about Porsha's wedding plans, Shamari then walks off as no one notices.
As they go to check on Shamari, Eva sees she's feeling sick. She tries to give Shamari some water and crackers but it's too late. Shamari throws up on Eva's shoes and legs.
Eva is disgusted and tries not to throw up herself.
Tanya and Shamari's friends try to help clean up Shamari.
Shamari's friends then walk her outside to take her home.
NeNe's closet is off-limits.
Cynthia and Eva update Eva and Marlo.
NeNe is not happy to learn that Shamari threw up all over her bathroom. Regardless, she gives Eva some clothes to put on.
The rest of the women join NeNe in her bedroom.
Kandi tells NeNe she wants to see her closet. NeNe doesn't want anyone in there, but Kandi and Porsha walk in there anyway.
After the camera crew begins to walk into her closet, NeNe gets up and drags one of the camera men away from her closet. She then goes off on all the camera crew and demands everyone out of her closet.
Some screaming ensues and the episode ends.
What are your thoughts on the episode?
View this post on Instagram
View this post on Instagram
View this post on Instagram
View this post on Instagram