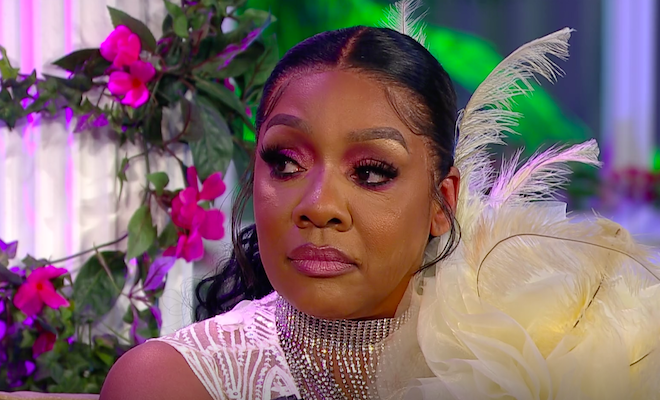 Karlie's lie detector test results are revealed.
The only thing that was inclusive is if she and Pooh ever did anything s*xual with each other.
However, the test says she didn't do anything with Hiram. Nor did she defecate on Pooh's sheets or do a th-eesome with the couple.
Karlie once again says she has always been honest about her s*xuality.
Scrapp and Stevie talk about their disagreement.
Stevie admits he was wrong to skip the speaking engagement he had at Scrapp's prison.
He apologizes and Scrapp says they are back on good terms.
Karlie says she visited Scrapp while he was locked up. Karen confirms this and says Karlie came many times.
Although Karlie says she just wanted to be supportive, Pooh says Karlie probably only did it because she wanted to sleep with Scrapp.
Karen, who is sitting one person away from Pooh next to Moniece, quickly snatches Pooh up by her wig.
This catches everyone off guard, including the audience.
Security happens to restrain them quickly and Pooh is escorted off the stage.
Karen regrets nothing and says she doesn't play about her kids. Scrapp says it was going to happen sooner or later because Pooh talks too much. It just happened that Karen was the one closet to Pooh.
Scrapp and Moniece discuss their relationship.
Both admit things didn't end the best way, and Moniece breaks down in tears.
She says that she doesn't want to ever be dumped like trash again. She wants to be in a committed relationship.
Scrapp apologizes for how things ended.
Sierra then talks about her issues with Pooh.
She admits she believes that BK did try to hit on Pooh during the trip.
Pooh is backstage and says Sierra came over her house. And Sierra said she wished she lived like her.
Sierra laughs and says this didn't happen.
At this point, it's clear there won't be a resolution anytime soon.
Akbar is in a better place with Tokyo and Spice.
She still believes she's the Queen of Atlanta.
Spice lets her know she's the Queen of Dancehall. And Tokyo has no interest in being the Queen of Atlanta.
So they all agree to move on.
Shekinah and Akbar clash.
They talk about having an ex in common.
Shekinah says that she doesn't understand why Akbar is mad because they were cordial.
Akbar even called her when she got pregnant and was considering terminating the pregnancy.
At this point, Akbar becomes irate and security intervenes.
Sierra says they should all get along because they are from the "Real Atlanta."
Akbar then gets on her knees and prays.
Nina ends the segment.
Kirk and Rasheeda give an update.
Rasheeda says she realized it was best for Kirk and Jasmine to communicate to effectively co-parent.
When Nina asks how Kirk feels about Jasmine saying he's only a father when the cameras are around, Kirk says she just expected him to be around as much as he would have been if they were in a relationship.
But he feels like since Jasmine chose not to terminate the pregnancy, so she has to accept her reality.
Rasheeda says Kirk never gave Jasmine the impression that he was leaving her, so Jasmine shouldn't have an issue with how things are going.
And neither regrets the comments they made about Jasmine's parenting.
Spice stands by her colorism campaign.
Although some didn't agree, she feels like she got her message across.
Joc agrees that colorism is huge in the music industry. He thinks it's interesting how he gets backlash when he changes up his hair and Chris Brown gets praise for doing it.
Regardless, Spice remains very "booked and busy."
Tokyo confirms she's gotten a handle on her depression.
And her current relationship has made her really happy.
What are your thoughts on the episode?
View this post on Instagram