"Love & Marriage: Huntsville" star Melody Shari is having another eventful season. Martell Holt isn't the only cast member she is at odds with. She is also not on good terms with Destiny Payton, LaTisha Scott, and Marsau Scott. Her friendship with Destiny soured after Destiny complained about their relationship at the reunion. She told Carlos King that Melody started calling her less after filming wrapped up. So she wasn't sure what to think about their friendship. This caught Melody off-guard. She said that she still texted Destiny often. Melody had no idea that Destiny had an issue. And to make matters worse, Melody overheard Destiny and LaTisha discussing her in a hotel room.
LaTisha and Melody's friendship went left after Melody backed up the cheating accusations Martell made about Marsau.
And Melody probably hasn't cared much for Marsau since his role in Miss Van's drama. So it probably wasn't surprising to see Melody have tension with all three in a preview for the reunion episodes. At one point, LaTisha accused Melody of having a "dark soul." She even said that she's the "devil" in "sheep's clothing."
One person who said they don't have any issues with Melody is Stormi Steele. In the preview for the reunion, Martell tells her to "retreat now" because that could likely change.
LAMH fans now think things have changed between Stormi and Melody. Melody tweeted her thoughts about the recent episode. And she said that a conversation had been recorded without her knowledge.
She tweeted, "Chhhimillleeeee so who the **** recorded this convo? Hmmmmmm #lamh #secretrecordingseh #alreadyknewthistho #whyistaytomyself #donttrustppl"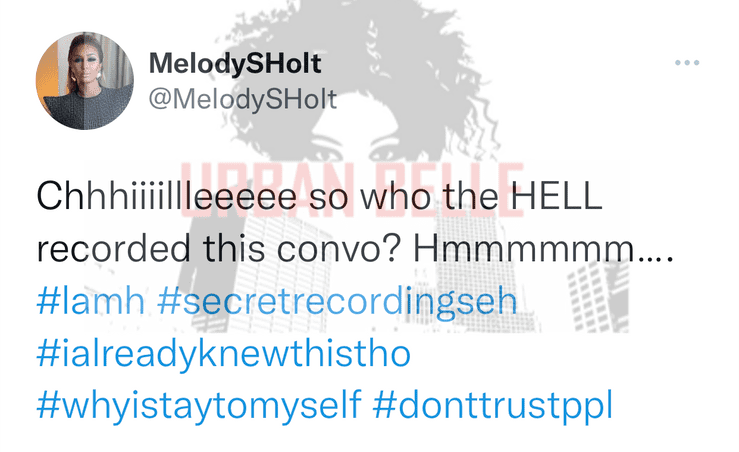 Some "Love & Marriage: Huntsville" viewers thought Melody was referring to Stormi since they filmed a scene together in Melody's home. Well, this apparently didn't sit well with Stormi and her mother Bettie Steele. They left some controversial comments in the Straight No Chaser Facebook group.
Bettie asked one fan, "Do you think Melody likes Stormi for real?" And she later wrote, "Mel been moving sideways for a moment with Stormi. She never wanted Stormi on that show from the beginning. Huntsville is a small town and people run in the same circle so be careful of who you run your mouth to."
After another person asked what Bettie was insinuating, she responded, "I'm not insinuating anything. I don't write in riddles. I am stating it clearly. It's always the same ones who jump on here like Captain Save a Garden Tool when they think Melody has an issue with someone."
Stormi then replied to Bettie, "Ma!!! Since I was a little girl, you've always told me how you felt about my friends even when I didn't see it. I've always prayed you were wrong. Today I have the same prayer 💕💕💕 most times almost always you were right…but maybe this time is different. Let's hope so."
And Bettie responded, "It's the same, I been warning you since day one. I haven't been wrong yet."
Well, Melody decided to set the record straight. And she said she wasn't referring to Stormi.
Melody wrote, "I've been super busy today enjoying family & working, BUT, let me say this considering I've already had the convo tonight with the person who wanted to have it. When I spoke of "secret recordings" on Twitter, I wasn't speaking on anybody who was currently in my home. There's a whole lot that has transpired/makes me protect myself including getting my home scanned for recording devices. And that's on Mary had a Little Lamb. 😘"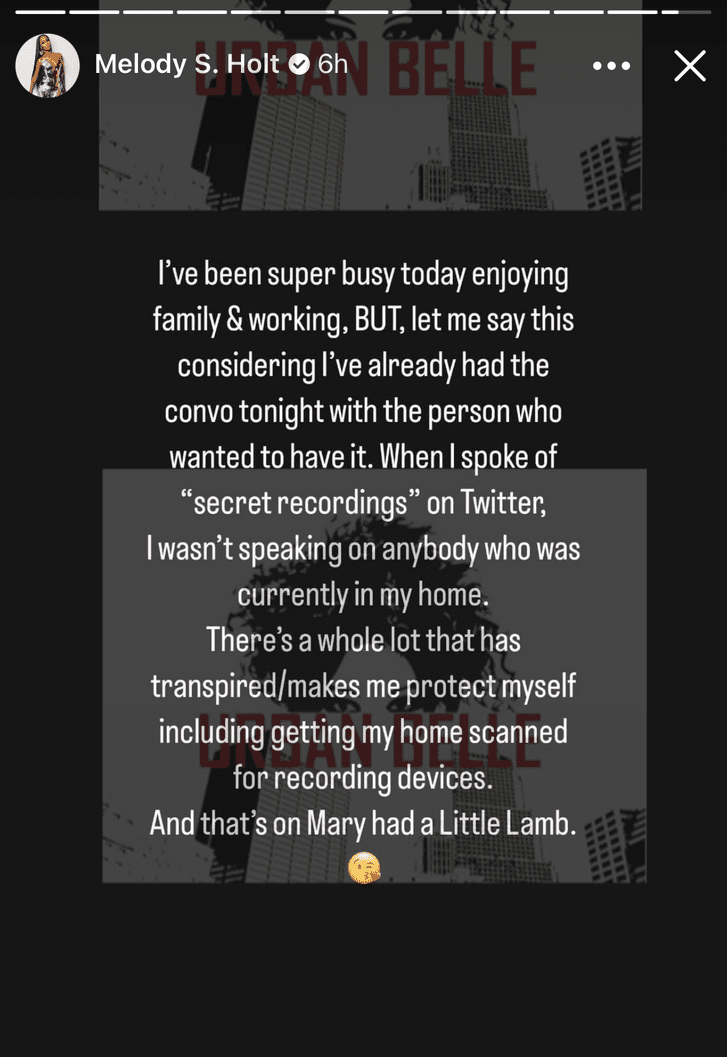 You can check out Stormi and Bettie's screenshots in the video below.