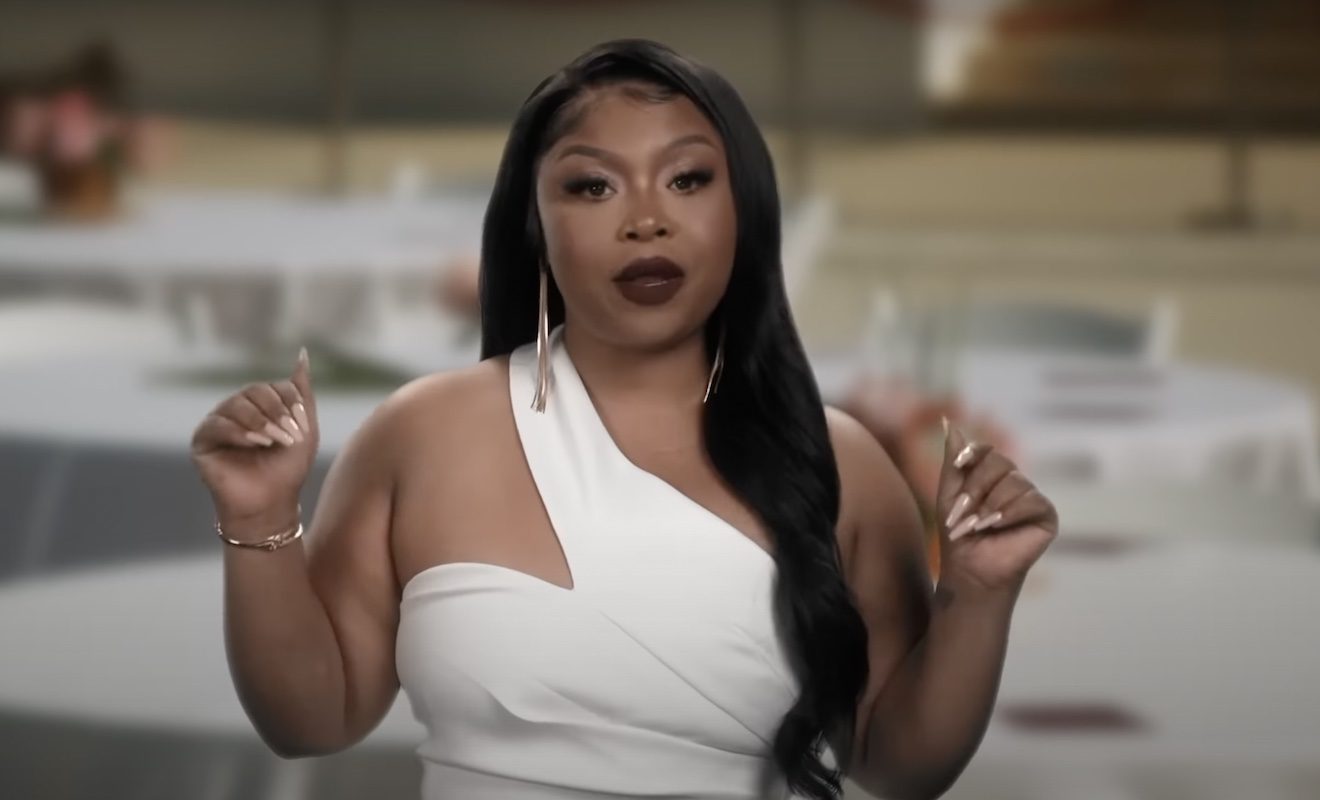 Shekinah Jo has been clashing with her "VH1: Family Reunion" costars.
"Love And Hip Hop Atlanta" star Shekinah Jo may feel the need to stay true to herself and speak her mind. However, Shekinah's ways oftentimes rub her coworkers the wrong way. This is hard to ignore during the current season of "VH1: Family Reunion." Shekinah immediately had tension with Lyrica Anderson the day she arrived in Jamaica. Spice was one of the hosts and Jamaica is her home. So she became a bit irritated as guests started to clash with each other. Shekinah not only had some drama with Lyrica, but they nearly came to blows. Lyrica feels like Shekinah started the bad energy by refusing to speak when they first saw each other.
In a green screen interview, Shekinah alleged that Lyrica sent her an Instagram DM asking her to promote her song. She was offended when she read the "Follow Back" prompt she saw when she pulled up Lyrica's profile bio. Shekinah mistook this to be Lyrica herself demanding that Shekinah follows her back on the social media platform.
Shekinah also had some drama with Teairra Mari and Chrissy Lampkin as well. Neither liked it when Shekinah asked if Teairra ever paid the money she owes 50 Cent via a lawsuit.
Spice and Shekinah Jo will butt heads on the upcoming episode.
Chrissy and Teairra both thought this was unnecessary and ridiculous. As for Chrissy, she was offended that Shekinah came to her with what she felt was some mess. In her opinion, Shekinah can be a bit of a troublemaker. And there have been times when Shekinah will pass on information that results in confrontations between other cast members. So Chrissy wasted no time telling Teairra what was going on.
Shekinah didn't think that she was wrong to ask Chrissy the question about Teairra. And she pointed out that she also asked Teairra the question directly as well. At the time, Lyrica said Shekinah was being messy. She went on to accuse Shekinah of always speaking about other people's business. Shekinah told Lyrica to go be a mother and they nearly came to blows before the others intervened.
On the upcoming episode, Spice and Shekinah end up clashing. In one scene from the trailer, Spice storms off from a conversation.
She tells Shekinah, "***** I don't give a **** about…y'all can keep shouting!" Shekinah responds, "Fine, I will."
In another scene, Shekinah screams, "You a messy *** *****!" Spice is confused, "Shekinah, what are you talking about?"
Shekinah has had enough, "Please stop talking to me!"
View this post on Instagram