Jennifer Williams has been receiving backlash.
"Basketball Wives" star Jennifer Williams is receiving plenty of strong opinions from fans on social media these days. In fact, some are loving this new side of her. Jennifer hasn't been holding back at all during the current season of the show. Originally, she was having some tension with Malaysia Pargo. As we reported, Jennifer thought it was shady for Malaysia to bring Zell Swag back around considering their history. Jennifer believes Malaysia just uses Zell to do her dirty work. During an attempt to get even, Jennifer alleged Malaysia lost her Atlanta house via foreclosure. While some fans didn't see an issue with Jennifer's choice of payback, some accused Jennifer of taking things way too far.
The reason Jennifer's critics felt like she was a bit too harsh with Malaysia is the timing of it all. Malaysia alleged her ex-husband Jannero Pargo allegedly wasn't financially helping her out much with their children. So she was really stressed out trying to do a lot of things on her own. Regardless, she decided to just end her time on "Basketball Wives" rather than get even with Jennifer. So Jennifer has been accused of being a bit of a "mean girl" on the show.
During the recent episode, Jennifer and Jackie Christie clashed yet again. Jackie invited all of the ladies to Sacramento to enjoy the city with her and Doug Christie. Doug is an assistant coach for the Sacramento Kings.
Jennifer Williams had a lot to say about the recent episode.
Jackie was in charge of booking the hotel rooms for all of the guests. And well, Jennifer wasn't happy about Jackie reserving a deluxe room for her. This resulted in a massive argument. Jennifer then decided that it would be best if she just went back home to LA instead.
Jennifer strongly believes Jackie does little things to get under her skin. It's the same thing she felt was responsible for Jackie's behavior at the fashion show they went to recently. Interestingly enough, Jackie said that Jennifer is the mean-spirited one. And she said that it hurt her feelings when Jennifer criticized her open house listing.
Well, Jennifer doesn't have any regrets about the way she's been handling things on "Basketball Wives."
And she had a lot more to say on Instagram. She wrote, "Just so we are clear! It's not about a room. The trips are paid for by production. This was Jackie's trip and she got to choose the rooms. She chose to put Brooke & I in a deluxe room. There are certain stipulations in my contract about accommodations. I can pay for a suite anywhere in the world. And there were no more suites in the Hyatt Centric Sacramento because it's not a high-end hotel."
She continued, "The point is the lady keeps trying to son me and I'm sick of it. FYI I started this franchise so put some respect on my name. Now back to my baecation in Miami. Enjoy the show tonight 💋."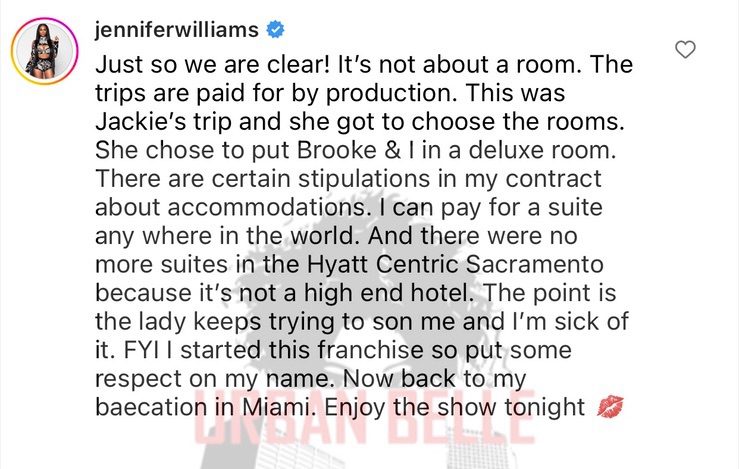 Jennifer also clapped back when someone said she's acting tough when she doesn't fight.
The Instagram user wrote, "Jen finally grew some balls, but u gotta know how to back it up! Women these days are knocking you TF out ijs 🤷🏽‍♀️ humble yourself!"
In response, Jennifer wrote, "Please name one person that knocked me out???? I will wait… and I am a lady. Who fights?!!! I didn't grow up like that, I grew up getting education and learning how to use my words!!"