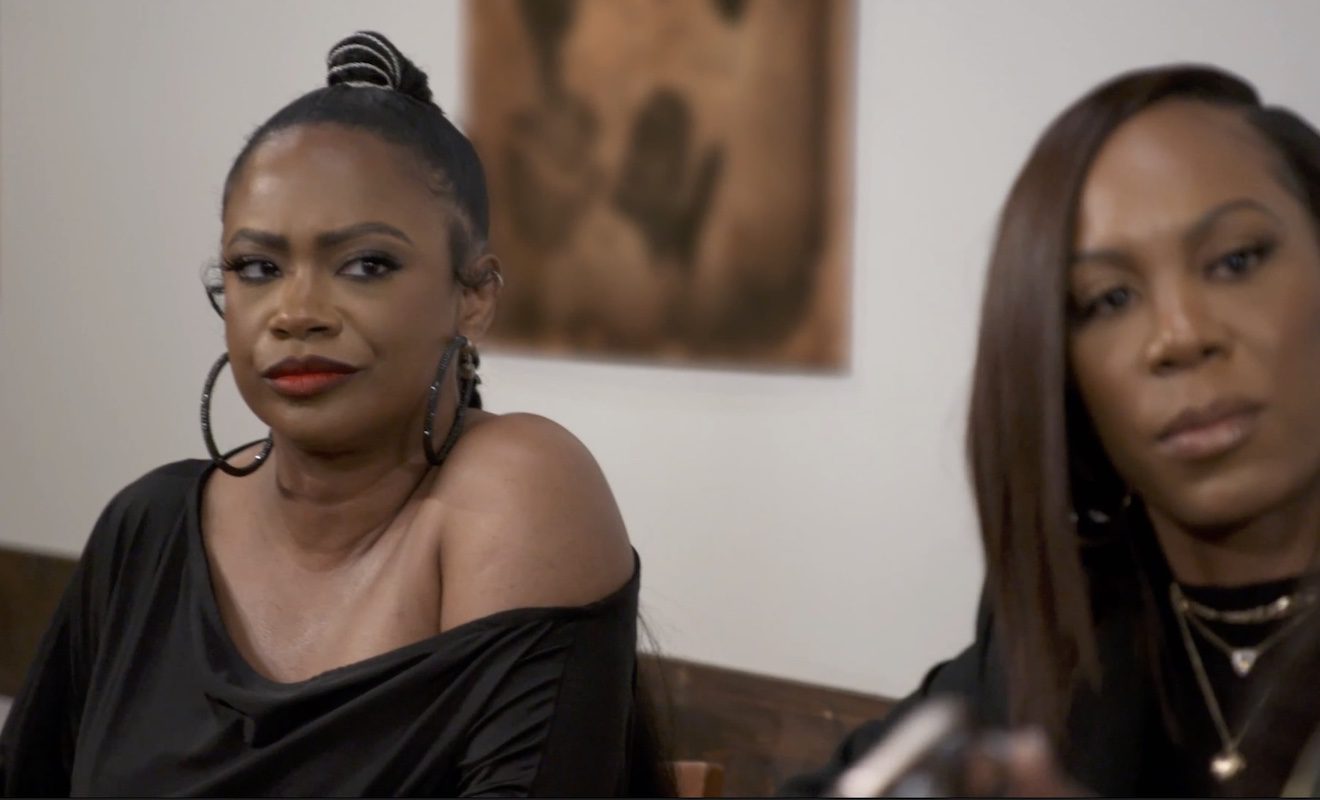 Kandi Burruss is livid about Marlo Hampton's latest actions.
"Real Housewives of Atlanta" stars Marlo Hampton and Kandi Burruss are currently at odds. Marlo said she was triggered by the incident that took place at Blaze Steak & Seafood. As we reported, Kandi's cousin Melvin Jones was shot outside of the restaurant by another employee. He survived and producers attempted to get Kandi and Todd Tucker to address the situation. However, they couldn't. They pointed out that an investigation was ongoing. So they weren't able to say what happened just yet. But in a green screen interview, Kandi explained what happened. And she said that an employee came to the restaurant drunk. They clashed with her cousin outside and then shot him.
Kandi also addressed the situation while talking to Kenya Moore and Monyetta Shaw-Carter in a scene. However, Marlo wanted Kandi to discuss the matter in front of her. And she took issue with Drew Sidora calling it an incident instead of a shooting.
When Marlo explained why the situation upset her, she said that her nephew was killed a couple of years ago. And he used to work at Kandi's other restaurant, Old Lady Gang. However, he didn't work there at the time of his death. However, Marlo alleged that the killer was her nephew's roommate. And they supposedly met at Old Lady Gang.
Well, Kandi clapped back at these comments on her YouTube Channel. She also stated that the killer never worked for her in any capacity. So she feels Marlo is being malicious and intends to hurt her business.
Kandi Burruss confronts Marlo Hampton on the upcoming episode of RHOA.
Marlo and Kandi will have an explosive conversation about all of this on the upcoming episode of "Real Housewives of Atlanta." Drew is there to witness it all considering she had a blowup with Marlo over this.
In a preview, Marlo tells Kandi, "I sent you a text but also at your house when we were packing for Riley's thing. I came to you, I was so emotional that day. But when I brought it up to you I could tell you didn't want to deal with it."
Kandi responds, "You tried to attach your cousin's shooting to me."
Marlo denies this, "No, I'm not…No, I'm not."
Kandi doesn't back down, "And it had nothing to do with me! I told you he no longer works with us. So I don't understand why you're running it back to her as if his shooting had something to do with me and my **** restaurant. Don't do that!"
She says more in a green screen interview. And she says Marlo is just trying to destroy her.
"Anything she can use to try to tear me down, she's just trying to run with it. And I have a problem with that."
As for Marlo, she says her bigger point is she feels Kandi ignores things, "I'm mad at you because you ignore things. And people allow you to get away with it."
#RHOA Sneak Peek: Kandi & Marlo get into it! 👀 (@BravoTV) pic.twitter.com/79NFFJ7kSH

— jay (@JaysRealityBlog) June 9, 2023