Although she isn't on the "Black Ink Crew" anymore, Dutchess seems to have the most buzz from the show. From her breakup with Ceaser, and her ongoing beef with Sky, Dutchess is more entangled in the show's plot than ever before.
As reported earlier this year, Sky's oldest son Genesis and his father were spotted at Dutchess' Charlotte, NC tattoo shop Pretty-N-Ink. At the shop, they conducted an interview and contradicted everything Sky has said regarding his adoption.
Genesis and his father claim Sky willingly gave him and his brother up for adoption and they each had a different father.
As we'll see on the show this season, Sky will try to reconcile with both Genesis and his brother. However, according to preview clips, things don't go well between Genesis and Sky.
Ceaser also has been calling out Dutchess for apparently trying to sue him for half of his company's value. Dutchess' mom and sister denied this, and claimed she financially supported him, including paying his child support.
Sky is furious at Dutchess for allegedly getting involved with her son, helping him blast her in the media. As Dutchess denies any malicious involvement, a former associate has stepped forward.
Yesterday on Instagram, Dutchess' former associate claimed that not only is Dutchess involved in making Sky look bad in terms of her children, but she's been plotting against her and Ceaser.
In fact, he claims her plotting goes all the way back to the end of season three.
Check out his post below.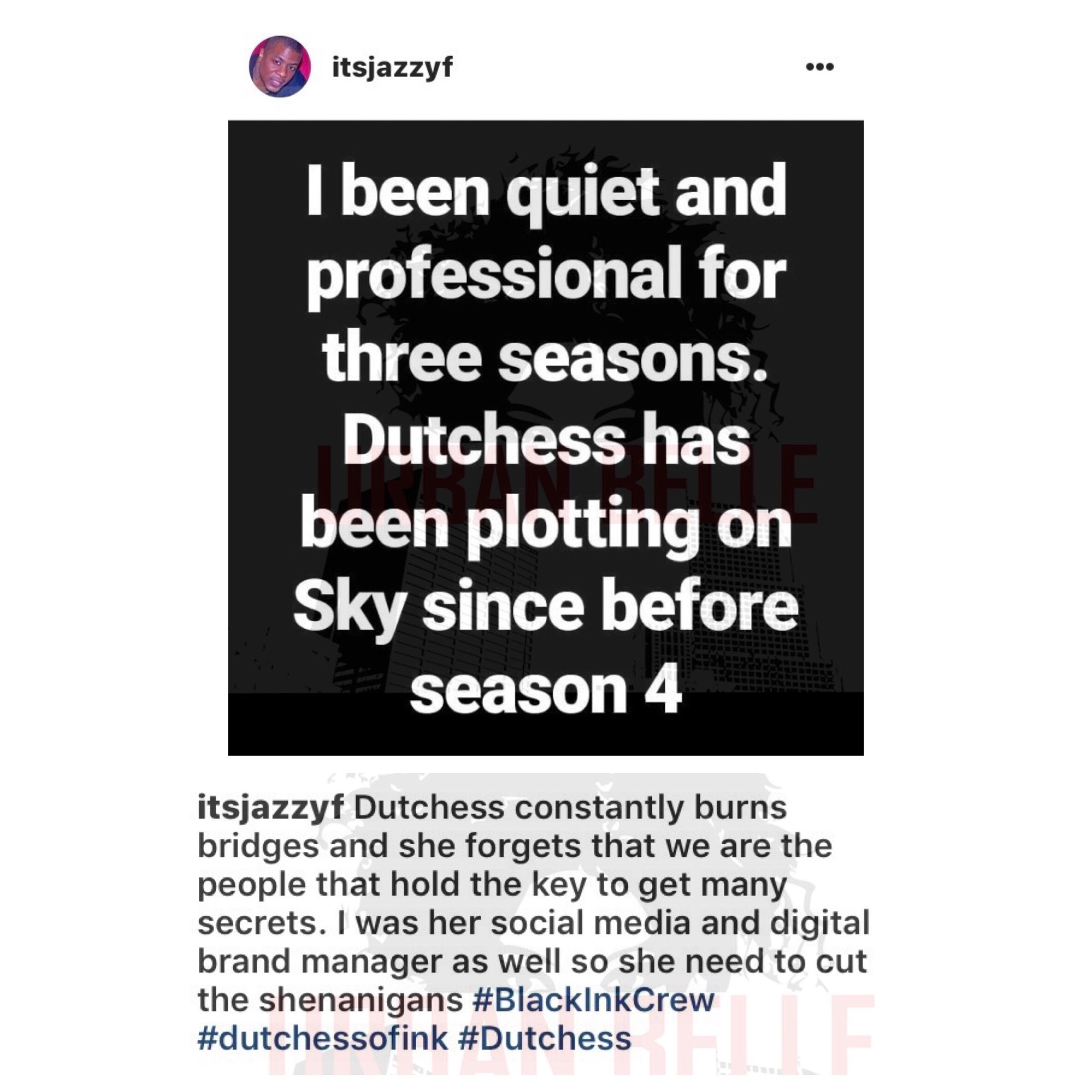 The former associate sent the posts over to Sky, who angrily reposted one of them. She also claims Dutchess did not quit "Black Ink Crew," but was instead fired.