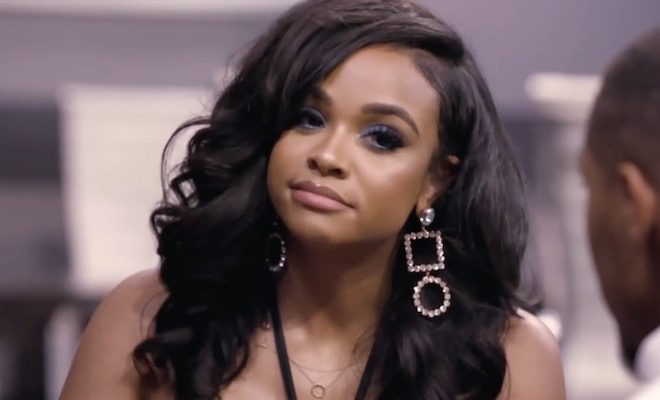 Jhonni Blaze fires Deb.
"A b**** is not safe in Atlanta!" – Jhonni Blaze
The episode begins at Jhonni's listening party at The Ivory. Jhonni's party erupted into chaos when Just Brittany and Stevie J showed up to the party causing trouble.
Just Brittany threw a glass at Jhonni and Jhonni went off. As Jhonni went off, the cast that showed up to the event left. Meanwhile, Deb's angry Jhonni reacted the way she did. Jhonni's angry Deb even invited the two LHHATL cast members despite their beef.
But despite the potential fight, Jhonni still performed. She performed her song "Bad Woman," and Deb's glad she still performed. When she finished performing just one song, she left in anger.
Deb followed her outside, and Jhonni let her have it.
"You're fired Deb." – Jhonni Blaze
Bow Wow ruins his Boys Trip to NY inviting Kiyomi to tag along.
The next morning, Jhonni's antics made it to social media and Bow Wow's watching the highlights. He's glad he didn't show up to the event. Bow Wow knows first hand about Jhonni's anger. Things go left somewhat when Kiyomi brings up learning about Bow Wow's fling with her.
He also invites Kiyomi to accompany him to New York to witness JD get inducted in the songwriter's hall of fame. Bow Wow tells her she needs to dress like she "got some sense." Kiyomi claps back asking for money to buy clothes.
A dejected Deb meets with Da Brat to recap the chaos at Jhonni's event. During the chaos, Deb realized that was the beginning of the end of her working relationship with Jhonni. Da Brat was shocked when Deb told her Jhonni Blaze fired her.
But despite this, Deb still has love for Jhonni Blaze. Da Brat feels she needs to move forward with being fired. Luckily, Deb agrees with her.
JD gets honored and Jhonni's feeling second thoughts.
Meanwhile, Jhonni's riding with her friend Sydnei to the radio station. Despite firing her, Jhonni's disappointed she hasn't heard from Deb. Sydnei says she needs management but Jhonni's going to do things on her own.
Regarding the interview, at Streetz 94.5 FM, she hopes the show host BT would stick to her EP and music. But she knows she'll be asked about the chaos. As this interview happens, JD's being interviewed at the Rickey Smiley Morning Show and Da Brat's glad he's there.
JD calls his So So Def 25th anniversary tour "important." All members of So So Def will be there, except for Bow Wow, for now. JD calls Bow Wow a diva and he doesn't want Bow's antics messing up the tour.
Ayana's setting up for a photo shoot for her clothing line. She's actually financing it herself. Things get tense when Kiyomi is over an hour late to the photo shoot. Ayana also realized her clothes are not properly fitted so she calls her dad DJ Hurricane to pick up safety pins for her.
Jhonni's interview gets under way at Streetz 94.5 FM in Atlanta. She tells him she's dropping 3 albums in a month and working with Remy Ma, Beanie Man and Fetty Wap. Her songs are inspired by her painful past, which is full of physical and emotional abuse. She mentioned she liked Fetty Wap but he was dating someone at the time.
When Deb comes up, she gets mum. She pulls out the infamous "no comment" line.
Kiyomi shows up late to Ayana's photoshoot.
Eventually, DJ Hurricane showed up with the pins. When he asked about why everyone's sitting around, she kicks him out. Kiyomi shows up too, blaming it on taking the wrong exit off the highway. Ayana side eyes this excuse. However, Kiyomi's excited to work with her.
Kiyomi's time in front of the camera went well for Ayana.
After the shoot, Shaniah showed up to hang out with them. Kiyomi and Shaniah got a little shady towards Bow Wow.
"I would've been on the plane anyway. I do pop-ups." – Kiyomi

"He is known for cheating." – Shaniah
Masika shows up looking for Deb to manage her music career.
Deb may've found a new artist to work with. She stopped by a studio to link up with none other than Masika Kalysha. Masika tells Deb she's in Atlanta the whole summer to work on her EP. Bow Wow slid in her DM's and convinced her to head out to the A.
She needs a manager and wants to work with Deb. Deb thinks she's talented but she doesn't want any more drama. So for now, she's not going to be managing Masika. Masika thinks Jhonni is why Deb said no, and brings up how she DM'ed Fetty Wap while they were still together.
Bow Wow and Kiyomi are packing for New York. Kiyomi's trying to get Bow's attention, showing him some fresh lingerie. However, Masika texts him, letting him know she's in the A.
Bow Wow and Lil Mama rekindle their "friendship."
When they land in New York, Bow Wow heads to the studio. He invited his home girl Natia to the studio to vibe. Natia's also known as Lil Mama. Lil Mama's working on an album and they may collaborate. He invites Lil Mama to his Rolling Out Magazine's cover release party.
She tells Bow Wow she's moving to Atlanta and he has to emphasize he's in a relationship with Kiyomi.
"F*** all that Lil Mama s***! That right there will get me in trouble." – Bow Wow
Kiyomi marks her territory, warning Bow Wow about Lil Mama.
It's the day of JD's induction and Shaniah eventually showed up with her Grandfather. All of JD's celebrity friends and family showed up to the ceremony. Eventually the man of the hour, JD, showed up and hugged his daughter. The photogs annoyed Shaniah when they pushed her aside.
Bow Wow and Kiyomi are getting dressed for the after party and Kiyomi's marking her territory. But Masika's still texting, inviting him to a party when he gets back in the A. He's trying to move very carefully because Kiyomi's got a temper.
Pimpin showed up to the hotel room and was shocked to see Kiyomi there.
Meanwhile, JD's disappointed Bow Wow didn't show up to the induction ceremony. It's a mark against him going on the tour. However, he shows up to JD's after party. Lil Mama was there too and Bow Wow headed over and hugged her.
This move angered Kiyomi, who warned him when he came back to her.
"Tell that b**** that if she don't watch her hands, she'll get beat the f*** up!" – Kiyomi
What are your thoughts on the episode?