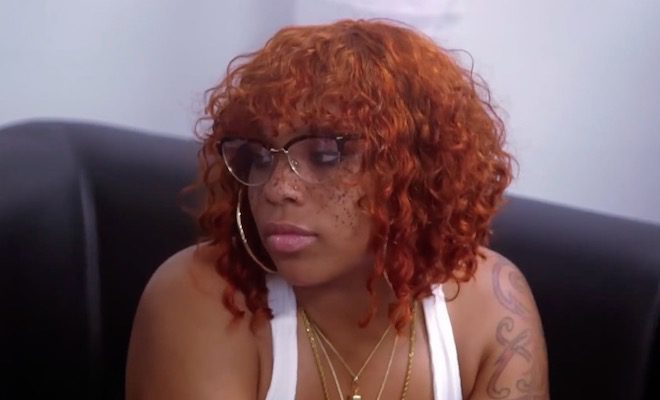 Romeo and Angela plan a double date.
The episode continues with Angela and Romeo in the park. Romeo just finished beating Bow Wow in a celebrity basketball tournament during Essence Festival. Both of them agreed to go on a double date.
However, Romeo and Angela are going to find one another dates instead of going on a date with one another. Angela says despite social media wanting them to be together, it's not going to happen.
"If this backfires, just remember this was your idea." – Romeo
Pepa decides what she needs to do about Aundre.
Back in LA, Tee Tee is back home and hanging with Egypt and Sam. Tee Tee recaps what happened in New Orleans and how Romeo and Bow Wow played against one another in the basketball game. Of course, Tee Tee tells Egypt and Sam how Romeo brushed her off.
She suspects Romeo is angry for missing his photo shoot. Sam thinks it's not a big deal.
"What you expect? He's a busy guy." – Sam
The mood changes when Pepa walks in. She tells them her manager Jimmy wants Pepa to break up with Aundre. Her relationship drama is costing deals. Not only does she have to break up with Aundre, she has to fire him from doing security.
Egypt's saddened by the news. Tee Tee invites Pepa to her singles party and Pepa takes offense. The stipulation of the party is anyone in a relationship has to bring a single friend. Of course, Briana is not invited.
Tee Tee doesn't know how Briana's going to react.
Dame puts Briana on blast in front of Boogie.
At Dame Dash's studio, Boogie and Damon are hanging out when Briana stops by. Dame wants to influence Briana to focus on her music. When Briana walked in, Dame calls her out.
"You look like and you're f***ing around and getting high." – Dame
Briana opens up about it, saying she crashed her car. Boogie's saddened by Briana driving under the influence. As Dame goes off on Briana, Briana suddenly feels empathic towards Boogie's relationship with Dame.
The next day, Lil Eazy-E, Boogie and JoJo link up at the bowling alley. While at the alley, Sam and his friend Sonny stop by. Sonny has been involved romantically with Briana. They all also talk about Tee Tee's singles party.
JoJo jokes about Briana wanting Boogie. Boogie's adamant he doesn't want Briana. JoJo then brings up how Lil Twist called Egypt pretty and Sam goes off. When Sam and Sonny leave, Sam tells Sonny Twist better chill out.
Meanwhile, Romeo's hanging out this his homies. He tells his boys about Angela wanting to hook him up on a double date. They also clown Romeo about Angela and his "beef" with Bow Wow.
His friends are surprised she wants to do this but tell him to go through with it.
Boogie tells Briana about the Singles Party and Briana's gonna crash it.
Briana and Boogie hang out at restaurant. She doesn't want Dame on her back. Briana built a studio on her own and is working but Dame doesn't see that. She and Briana can relate to Dame wanting them to do things on his terms.
Of course, when Boogie tells Briana about the singles party, Briana says she will crash it.
Tee's setting up for her singles party and she has Egypt and Sam helping set up. She also texts Romeo about the party and doesn't get a response. JoJo also texts Tee Tee and will bring Lil Twist. Tee Tee tells Sam and he tells Tee Tee about needing to check Lil Twist about Egypt.
The also think Pepa may show up after dumping Aundre.
Speaking of them, Pepa's greeted by Aundre who gifts her a bottle of wine. She loves him but their relationship has cost her a bunch of money.
So after sipping the wine Aundre brought them, she breaks things off. Aundre doesn't take it well but he's calm. He thought he had a developing family. Aundre also brings up how it's no longer a good idea they don't need to work together.
Before they leave, he gets one final butt smack and kiss.
Sam and Lil' Twist reach an understanding about Egypt.
Back at Tee Tee's loft, Boogie and Lil Eazy-E show up with a friend. Sunny shows up next with friends, followed by Lil Twist.
Overall, the party's going well until Lil Twist heads over to Egypt and Sam. Of course, this leads to Sam confronting Lil Twist about Egypt. Egypt and Tee Tee notice this and they're on edge. Lil Twist does tell Sam he has a pretty girl and to treat her right. He also apologizes.
As this goes on, Angela has her friend Shae as a date for Romeo. They're going to have the double date at a skating rink and Romeo's late.
Briana crashes the party and clashes with Tee Tee.
Back at Tee Tee's party, everything's going well. JoJo's clowning and Sam's cool with Lil Twist. When Briana and her friend show up, Tee Tee becomes irriated. Tee Tee confronts Briana and tries to kick her out. However, it just turns into a confrontation when she tells her to leave.
"B*tch, move me. Make me leave." – Briana
Lil Twist breaks the tension and gets everyone to take a selfie. This diffuses the situation and Briana gets to stay. Later on, Boogie notices Briana drinking at the bar with her friend and he's concerned. Sunny walks over and sees Briana is wearing the band for the "single" people. He on the other hand is rocking one for the "taken" people.
He then realizes that Briana has ended the relationship without telling him.
Sam walks over and sees this. In a green screen interview, he goes off on Briana for dumping his friend in such a cold manner.
Back at the skating rink, the episode ends with Romeo finally showing up seemingly with Angela's blind date.
What are your thoughts on the episode?