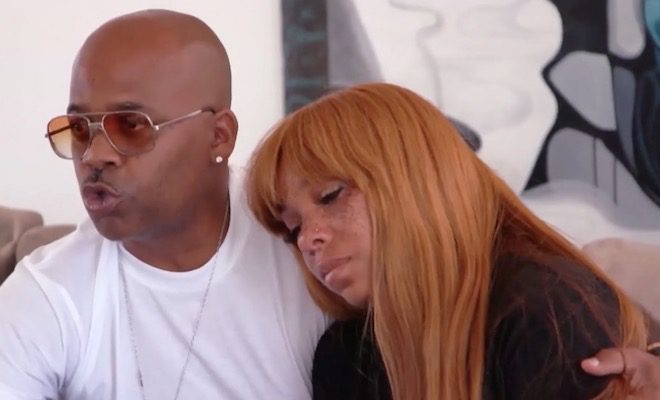 Romeo's frustrated with Angela toying with his feelings.
The finale opens with Romeo being shown photos of Angela out on a date with that NBA player. This shocks Romeo who's frustrated with Angela going off on him for not showing up to their double date. 
"Angela, she likes to play games. There's something she's not telling me." – Romeo
So he tells his friend it's time to have that talk with Angela about their feelings. 
Meanwhile, Briana stops by Dame's to have a serious heart to talk with him. Briana opens up and says that she's just doing the show because of the check. He asks her what happened with the person that helped Boogie.
"That person just isn't even here." – Briana
At this point, Dame opens up about her frustrations with the cameras and possibly doing drugs.  In her interview, Briana opens up and says there's so much that viewers don't see. 
As this goes on, Romeo and Angela are in a NYC park to finally have their talk.
Briana takes Dame's advice and seemingly quits the show. 
Dame's talk with Briana continues and he's giving her a hard lecture. After a while, Briana breaks down crying. 
He realizes Briana doing the show is starting to get to her and he tells her to quit if it's not good for her. 
So, Briana takes his advice and walks out flipping the bird to the cameras. She also pulls the same thing in her apparently final green screen interview.
"The show and whatnot has been real. F*** you very much, I'm out." – Briana
Before tragedy strikes, Romeo finally asks Angela out.
Back in the park, Angela and Romeo are still arguing. Romeo is still adamant he was late and Angela doesn't believe it. Even in their green screen interview together, they're still arguing. But eventually, Angela was able to get Romeo to say that he didn't show up because of his feelings for her. 
Romeo also asked her out on a date. For a response, Angela began teasing him. Despite the teasing, Angela seemed to be open to finally exploring their relationship beyond being friends. However, that won't happen.
A week later, however, Angela was with JoJo and Vanessa at their uncle's art event when they received the news about Sutton's sudden passing. Katrina passed the info to Vanessa and Sutton's friend Charles delivered the news to the family. 
Their immediate focus went to Angela. A few days after learning the news, Angela is visited by JoJo. JoJo's there for her but Angela doesn't seem to be taking it well. Although she's not crying in front of the cameras, she expresses stress of being a mother and father for Sutton Jr. 
Romeo stops by to see Angela and this is the first time they've seen each other since the news. 
He tells Angela he's here for her and Angela responds by telling him to really be there. In her interview, she's not concerned with dating Romeo or anyone else. Her focus is strictly on her son SJ. 
Angela vents to the guys that she's doing her best not to have her son see her cry and wants to be as strong as she can for him. But that stress of holding back is causing even more stress. 
The cast lends their support for Angela in light of tragedy.
Back in LA, Egypt gets help from Lil Eazy-E, Sam and Tee Tee put together a care package for Angela. Of course, they gossip about Sutton's death and how his friend turned himself in for the murder. 
Lil Eazy empathizes with SJ as his father's death still affects him to this day.
Meanwhile, as the cast shoots out text of condolences for Angela, Angela realizes the gravity of the situation. She's taking care of the final memory of Sutton; their son.
Romeo and Master P are flying back out to NYC and Romeo wants P to visit Angela. Master P openly says she needs to be vigilant for her safety and the safety of Sutton Jr. P also acknowledges that she isn't ready to be in a relationship, let alone date Romeo.
Romeo also acknowledges this and low-key calls out people on social media who keep saying he needs to be a father to Sutton Jr and be with Angela. 
Meanwhile, Egypt and Tee Tee are getting dressed when Pepa calls them from Las Vegas. Of course, the topic turns to the tragedy of Sutton's passing. They gossip about Rev Run allegedly not showing up to Sutton's funeral. 
"If it was me, I'd want the support of my dad." – Tee Tee
Angela's family has her back & Vanessa's hopeful Angela and Romeo will still happen.
Once in New York, Master P and Romeo head to Angela's place. It's been a few weeks since Sutton's passing but it still feels fresh for Angela. P definitely tells Angela to be mindful of who's around her. He also empathizes with Angela. He tells her how he dealt with his brother's passing.
Romeo lets Angela know that he and Master P will always look out for her and Sutton Jr.. 
In his green screen interview, he says that he's not thinking of anything romantic with Angela due to her situation. 
Next, Angela hangs out with her mom, JoJo and Vanessa for dinner. It's the first time they've been together since Sutton's passing. Angela's still processing everything. Vanessa acknowledges that Angela and Sutton's relationship wasn't the best at the time of his passing. 
A beautiful thing is how Sutton was able to put his voice in a bear that Sutton Jr. received before his death. 
Vanessa's still hopeful that Angela and Romeo will eventually find themselves together romantically. 
What are your thoughts on the episode?