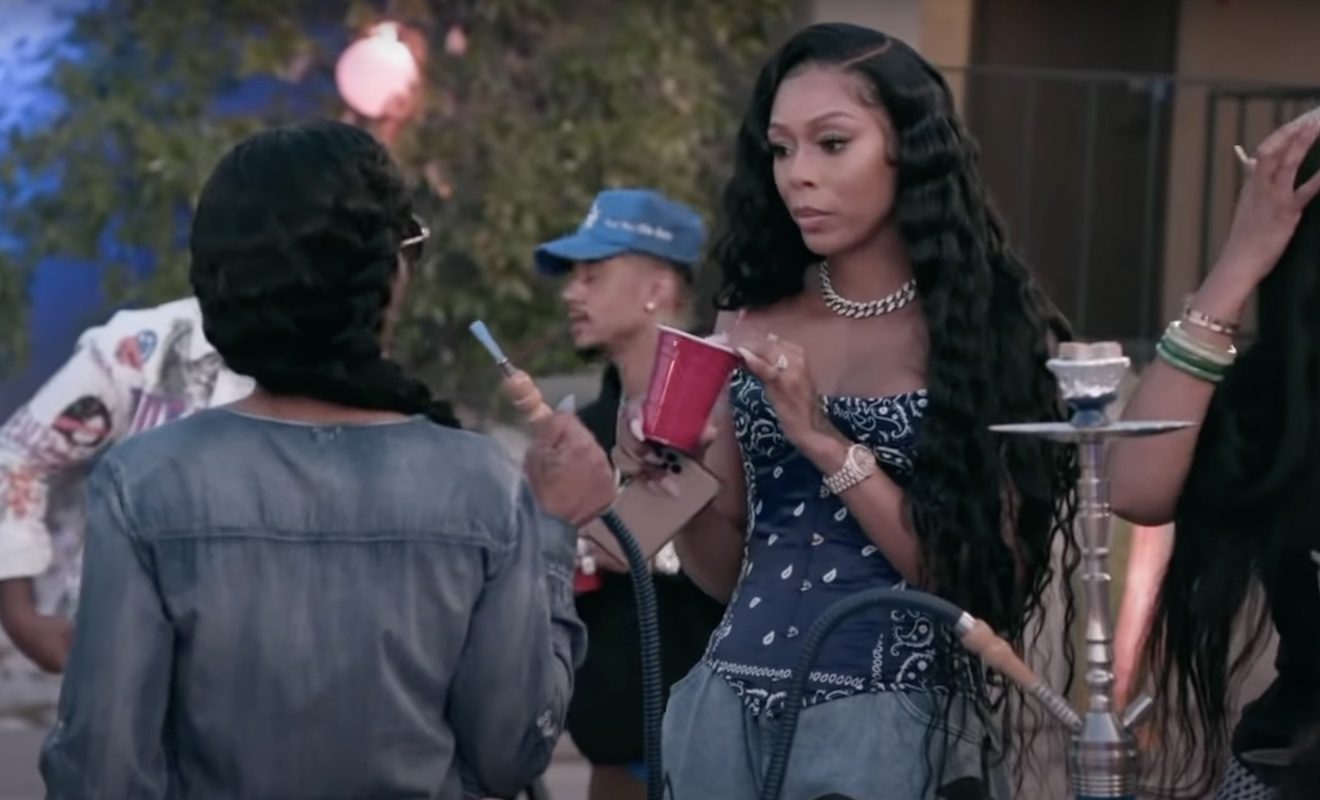 Scrappy and Bambi aren't in a good space.
"Love And Hip Hop Atlanta" stars Bambi and Scrappy have been in the headlines for months due to the speculation surrounding their marriage. As we reported, some were wondering if Scrappy and Bambi separated quietly. This is due to the fact that they were clashing a lot over Momma Dee. And Bambi hasn't been wearing her wedding ring. Momma Dee has been vocal about her dislike of Bambi on the show as well as on social media. In fact, Bambi said that Momma Dee befriended Scrappy's exes to get a rise out of her. Momma Dee even said she wished Scrappy made things work out with Shay Johnson during her appearance on "Love And Hip Hop Miami." Although some fans told Momma Dee she was being way too messy, Momma Dee refused to back down. And she continues to come for Bambi on social media.
Scrappy has expressed that he worried that Momma Dee's treatment of Bambi would cause her to pull the plug on the marriage. However, there is another source of drama that likely led to the stress in Scrappy and Bambi's marriage. And that happens to be Scrappy and Bambi's longtime tension with Erica Dixon.
In the more peaceful times, Momma Dee tried to push Bambi and Scrappy to move forward with Erica for the sake of her granddaughter Emani Richardson. And while they were able to have peaceful conversations while they filmed, "The Family Reunion," Erica later updated fans about where they all stand currently. And she said that she is no longer in a good place with Scrappy and Bambi.
Bambi's Instagram post led to chaos.
Well, a good bit of this will likely play out on the upcoming season of LHHATL. Recently, Emani caused a stir on social media when she checked her followers for asking her questions about Bambi. She told them to stop asking about her "stepmom" and pointed out that they don't see her around "that lady."
Hours ago, Bambi posted a selfie on Instagram and she captioned the photo, "It's giving 'That Lady' 😍🥰"
After Bambi's photo was reposted by the Neighborhood Talk, Emani replied, "Wasn't even being petty. But like I said, 'STOP ASKING ME BOUT THAT LADY' 😂"
Erica responded to Emani's comment.
She wrote, "Yean gotta explain **** you said about goofy *** ***. Big Charlie horse from Lamb-chop sing a long along ain't gone do nothing to you."
You can check out the screenshots here.
To no surprise, it went downhill from there. Bambi also replied and pointed out that her caption shouldn't have been an issue if Emani wasn't being shady.
Accusations were made.
Bambi responded, "Y'all mad I'm embracing 'That Lady.' Shade or NOT people were referring to me as 'That Lady' and I'm gonna wear it. Erica worry about losing your temper on your children because none of your baby daddies are in the home. Today you gonna wish you kept quiet. You been fooling the internet for far too long."
Erica clapped back, "@adizthebam Girl bye!!! You and scrap tried the abuse allegations to get my kids taken from me and failed. Shows just how miserable y'all were. I'm not worried about you or anyone else. You so bothered by me and I'm not even moved by you. Remember you're divorcing the same Babydaddy I left once I found out you were his side chick. Since you're embracing, embrace you sucking **** after **** Benzino, Stevie, then Scrappy to be on love and hip hop. I saved you by not exposing you as Scrappy's side chick. Since you're so worried about my other single Babydaddy, I can hook y'all up. He'll one and done ya like everyone else. Shall we embrace your other baby daddies as well?"
Bambi left another response in which she confirmed she filed for divorce, "And yes. I filed for divorce months ago. I'm also in therapy so I won't be two piecing my kids cuz I'm pressed about their absent dad. 🤷🏽‍♀️"
Erica Dixon addressed the police report posted by Bambi in a video.
It didn't end there. Bambi also posted some things to her Instagram Story. She wrote, "Y'ALL MAD CUZ I'M REALLY "THAT LADY" BUT YOU'LL NEVER BE ANYTHING OTHER THAN "THAT ***** BABY MOMA" @MSERICADIXON SINCE YOU WANNA PLAY WITH ME.. THE REASON WHY I NEVER LIKED YOUR *** IS BECAUSE SINCE YOUR CHILD WAS 8 YEARS OLD SHE CONFIDED IN ME ABOUT YOU BULLYING HER AND TWO PIECING HER ***! I LET PEOPLE THINK OTHERWISE AND NEVER SPOKE UP BECAUSE SCRAPP WAS HANDLING IT WITH THE COURT AND SHE WAS UNDERAGE BUT ***** **** YOU! IT'S UP. AND HERE IS ONE INCIDENT REPORT OF MANY … NOW PIPE TF DOWN & SHOW SOME RESPECT TO THAT LADY THAT CONSOLED YOUR BABY AFTER YOU BUSTED HER **** ALL THOSE TIMES."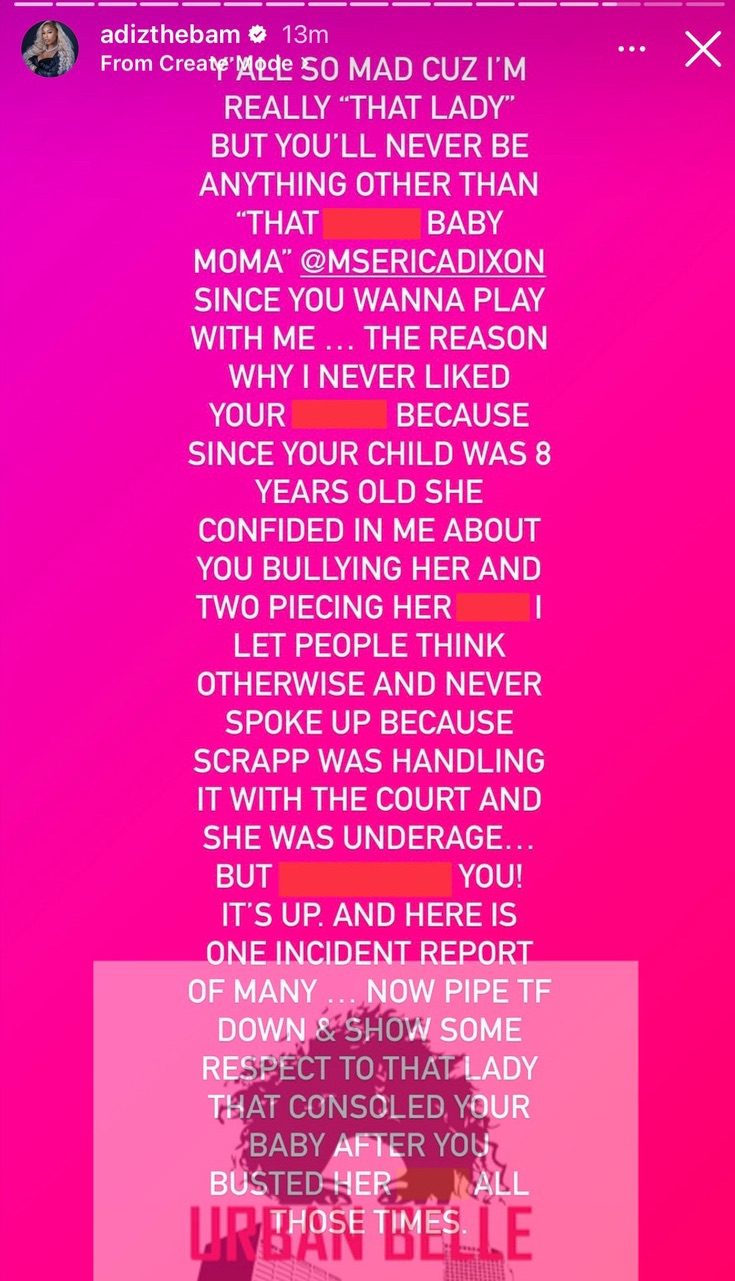 She also posted a copy of a police report and captioned it, "PUBLIC RECORD…PLEASE STOP PLAYING. I LOVE THIS CHILD AND KEPT MY MOUTH CLOSED BUT Y'ALL DOING THE MOST! YOU SENT THE COPS TO MY HOUSE BEING PETTY AS USUAL…AND THEN YOUR CHILD WANTED TO TALK TO THEM AND TELL THEM THIS **** ON HER OWN."
Bambi followed up with, "USING YOUR GROWN CHILD FOR A LOVE & HIP HOP STORYLINE IS PATHETIC. HANG IT UP! I'M NOT FIGHTING WITH Y'ALL. GO FIGHT WITH YOUR OTHER BABY DADDY'S WIFE GIRL. THE END"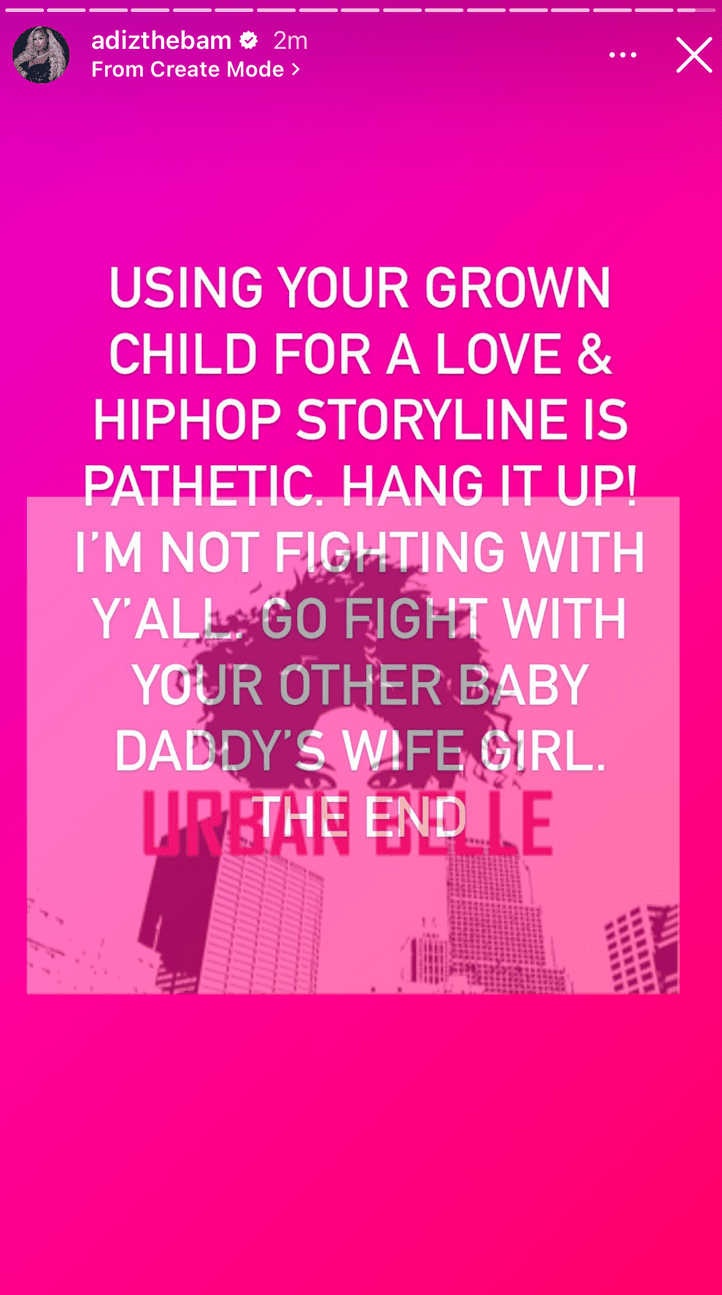 Emani and Erica then made videos to address the accusations made by Bambi. Emani denied that Erica abused her and said she was "popped" for "being grown." She also labeled Bambi as an awful mother who can't take care of her children outside of needing help from Scrappy and a nanny. And Erica denied being abusive once again and confirmed that she and Bambi did film a sit-down conversation recently for LHHATL. So it's likely that all of this will be addressed on the upcoming season.