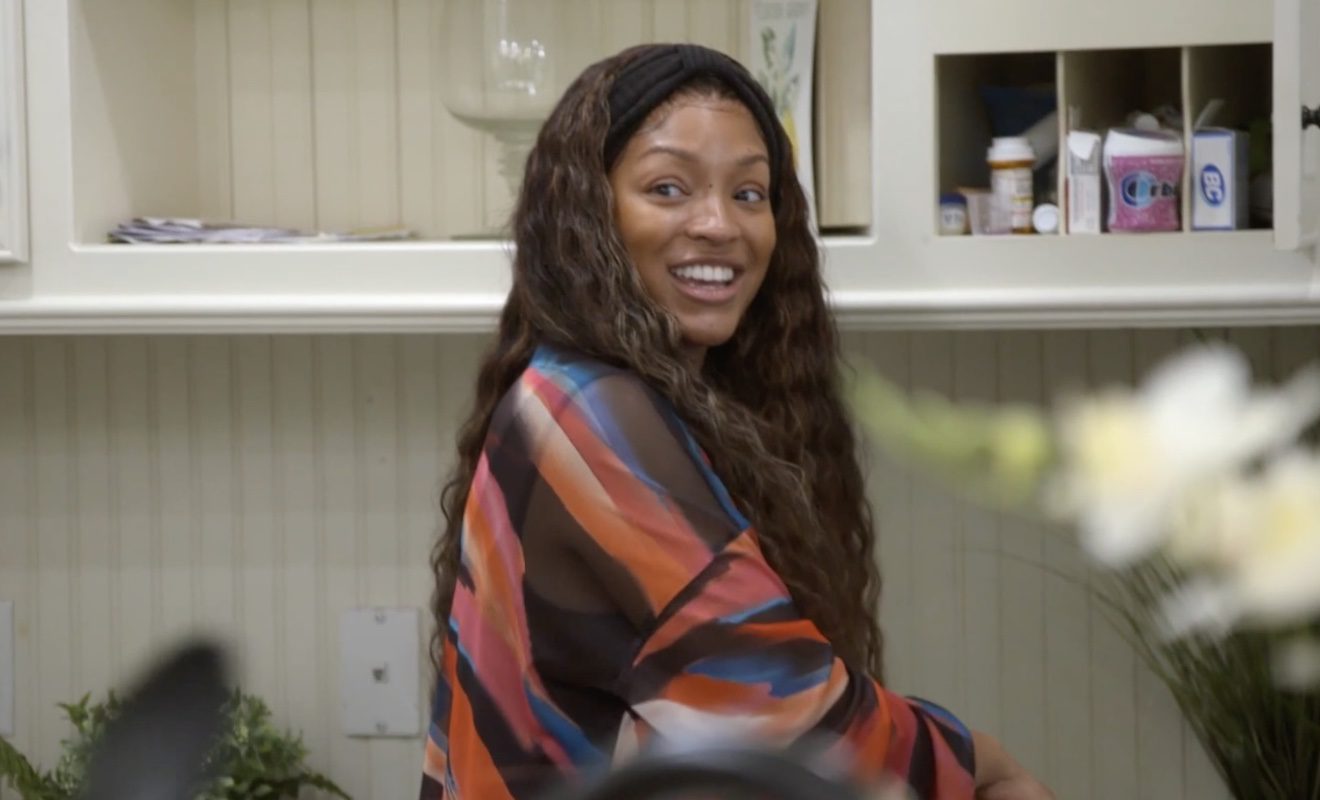 Marlo makes an interesting revelation.
Ralph throws a brunch for all the ladies and their men before they take off for their Portugal trip. Marlo brings Scotley. Things have been going well between them since their blind date. And Marlo really likes him. 
After Kenya arrives, she glows when Roi FaceTimes her. She's been enjoying herself since Monyetta introduced him. 
Marlo takes the time to tell Kenya and the others that she went on a date with Roi.  She later clarifies that they met after he sent her a DM one day. They went out on a lunch date once and nothing came from it. Kenya says she's glad Roi realized Marlo wasn't the right one for him so it made room for her getting to know him. In a green screen interview, Marlo taunts Kenya about dating her "sloppy seconds." 
Sanya later accuses Kenya of hypocrisy for calling out Martell for sending her a DM but being fine with Roi sending Marlo one. 
Courtney and Kenya clash.
Sheree and Drew also have a shady moment because Sheree asks Drew about a woman suing her and Ralph. The woman alleged she wasn't paid for the chef services she provided. Drew denies not paying the woman and insists she was never hired, just interviewed. 
Kenya and Courtney have some tension after Kenya tells Courtney not to touch her because they aren't cool enough for that just yet. 
Eventually, Sheree encourages all the women to address all the tension within the group. Courtney tells Kenya that she didn't like the recent exchange they had. And Kenya says that she just felt like Courtney was being condescending to her. So it was just about boundaries for Kenya. Courtney is realizing that she is going to have to take her time to get to know everyone in the group. 
It all becomes too much for Drew.
Drew takes the moment to let Sheree know that she didn't like how she was blasted about the lawsuit. Sheree tries to say that Drew did the same to her when she accused her of not paying her bills. However, Drew says these are very different scenarios. And the lawsuit affects her and her family. So it isn't cool that Sheree would use this to embarrass her. This is especially the case since Sheree told Drew that they were moving forward from their previous issues. 
Sheree is dismissive of Drew's feelings. So Drew breaks down in tears. She walks out of the restaurant. Sheree and the others follow her as the episode ends on a cliffhanger. 
What are your thoughts on the episode? 
View this post on Instagram
View this post on Instagram
View this post on Instagram
View this post on Instagram
View this post on Instagram
View this post on Instagram
View this post on Instagram