Kandi Burruss hasn't been feeling Drew Sidora as of late.
"Real Housewives of Atlanta" star Drew Sidora continues to be a hot topic on social media. As we reported, her divorce from Ralph Pittman has already taken a nasty turn. Ralph has been backing up the messy accusations made by his play cousin, Courtney Rhodes. Courtney accused Drew of trying to talk Ralph into adopting her oldest son so she could romance women while Ralph was the breadwinner. Courtney has also accused Drew of having an affair with WNBA player, Ty Young. Interestingly enough, when Drew called Ralph out for not taking issue with the comment about her son, Ralph accused Drew of playing the "victim role." And he made it clear that he shares the same stance as Courtney.
Another person who seemingly thinks Drew isn't honest and plays the victim is Kandi Burruss. Kandi alleged Drew kissed LaToya Howard seasons ago during the controversial Bolo night. LaToya has confirmed this as well as denied this multiple times. However, Drew has consistently denied kissing LaToya. And Kandi didn't like being labeled as a liar. So it has fractured the budding friendship that she and Drew were building at one point.
This was addressed at the reunion. Kandi and Drew both stood firm on their perspectives. Drew said Kandi was telling "Kandi Koated lies." And Kandi accused Drew of being a gaslighter. She also said that she now suspects that Drew was gaslighting Ralph this whole time.
While some RHOA fans understood where Kandi was coming from, others were outraged by her comments. They think Ralph has been despicable to Drew on and off of the show. And they feel it's inappropriate for Kandi to seemingly side with him in any way.
Well, Kandi made it clear that she stands by giving Drew the gaslighter label.
An X user wrote, "The way you sat on this chair and lied I feel you be gas lighting Ralph" #RHOA Jesus kandi."
In response, Kandi posted, "The way she lied with a straight face, then called me a 'Kandi Koated Liar' & then said 'we're still good right'… That was the definition of Gas Lighting."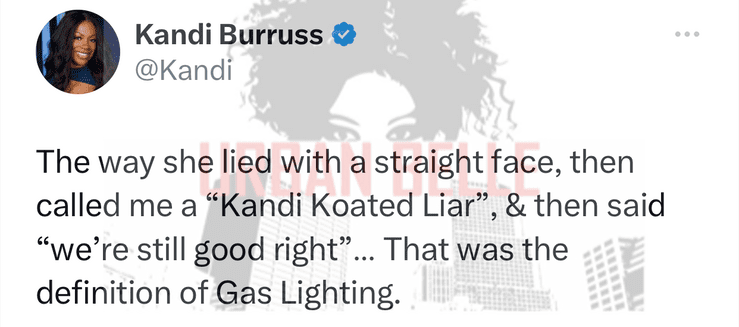 Some RHOA fans dragged Kandi Burruss on X.
Again, some fans are siding with Kandi. They have been labeling Drew as a "compulsive liar." Interestingly enough, some are disgusted. These people didn't hold back in Kandi's replies either. And they believe Kandi has shown a toxic pattern of misogyny. Phaedra Parks came up often in these responses.
One X user wrote, "You literally said what happened at Cynthia's bridal shower shouldn't be repeated during the Bolo saga yet here you are. One thing about? You will side with abusive men, you did with Phaedra and Apollo so we're disappointed but not shocked."
Another person said, "l used to love Kandi but she proves when her friends are going through it she's not a girls girl…. she gone sneak you for a ***** real quick."
And, "It still doesn't justify you saying he gaslights Ralph. Same Ralph we all watch on TV who's extremely mean to his wife for no reason. Same way you supported Apollo the thief over phony phae phae."
Others accused Kandi of siding with an abuser, "That woman is in a very emotionally abusive relationship. I would never defend a ****** man just to get a read in idk this was disappointing."
Another wrote, "And what does that have to do with her marriage and now divorce with Ralph? Kandi, you're misogynistic and have always presented yourself that way in the show. It might be subtle but we see it, you wide-mouthed miser."
The "Speak On It" with Courtney also came up in some of the responses.
An X user said, "The way you used your issues with her as an excuse to support her abusive husband…That's the definition of being an abuse apologist. The way you questioned her sister's mental health issues solely be she looked 'normal'…That's the definition of ableism. #RHOA"