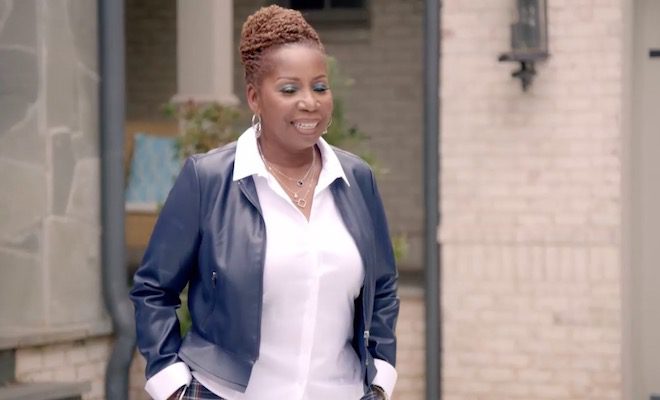 Iyanla learns about Ray's medical issues.
The episode begins with Jillian, age 36 and Ray, age 37 walking into their first session with Iyanla. The two met online and dated for a few months before getting engaged.
Iyanla begins with both of them together. They are newly engaged and Iyanla is beginning acting as their wedding planner. Iyanla learns they are well prepared for the wedding so Iyanla wants to see if they are prepared for marriage.
After moving in, Ray's Type 2 Diabetes resulted in his right knee being amputated. At that point, he weighed near 474 pounds. He lost 257 pounds afterwards from managing his Diabetes.
Jillian feels resentment from having to be more involved in the financial success of their household and taking care of Ray.
Iyanla learns of Jillian's resentment towards Ray.
So Ray gets an assignment from Iyanla and Jillian meets with Iyanla one on one.
Iyanla digs into Jillian's dating history. Jillian is used to being taken care of financially by men.
"Sometimes I have resentment that I have to take care of him." – Jillian
Iyanla gets Jillian to speak out loud. She feels everything is on her shoulders, including carrying groceries up or paying bills. She's also sad they can't have children the traditional way.
When Iyanla asks what she loves about Ray, Jillian and Iyanla begin to clash. This happens because Iyanla questions Jillian about how she feels loved. Jillian then accuses Iyanla of trying to break her and Ray up. Their s*x life is discussed.
Because he's on diabetic medication, Ray and Jillian can't conceive the traditional way. He also can't get an er*ction.
Ray tells Iyanla where he isn't performing.
Next, Iyanla and Ray sit down. She sees he's dealing with unresolved trauma. He reveals he previously had all of his toes amputated.
She writes Protect, Provide, Perform and Please on a card and asks Ray if he can do any of those things. Next, Ray expresses frustration with Jillian's control issues. Ray tells Iyanla examples of how Jillian does things, like pick out clothes.
Iyanla tells Ray that it's two different things to love and respect him. That seem to strike a nerve with Ray.
To lighten the mood, Iyanla next plays a game with Jillian and Ray. Ray was the first to say I love you in the relationship 3 weeks after dating. They had an argument over Ray drinking the last can of soda.
Ray also feels she talks too much and Jillian doesn't like being corrected. Next, Jillian says Ray's biggest fear is another amputation and Jillian's biggest fear is losing him.
Jillian and Ray seem closed to coaching and begin to get confrontational.
Things get surprisingly tense when Jillian doesn't answer certain questions given for homework. Ray gets tense with Iyanla a little bit also when she pulls out the card from their one on one. Iyanla stands her ground and gets it to come out that Ray feels Jillian is controlling.
This gets Ray and Jillian to open up about their frustrations. Jillian cries when she takes in what Ray says as he's not feeling like a man.
As their day ends, Iyanla separates the couple for the evening. They both seem okay with Iyanla and her plans.
It's day two and Jillian clashed with Iyanla's staff. Before they deal with that, Iyanla sits with Ray. Iyanla focuses on Ray being passive yesterday. She also pulls out film where Ray says he can't perform, contradicting Ray saying Iyanla said it.
"I want to set you up to win. I promise you, baby." – Iyanla
After hearing that, Ray says he's ready for a reality check. At this point, Ray learns about Jillian's "nice and nasty" altercation with the staff. Ray apologizes for her and Iyanla tells him he doesn't have to apologize.
Iyana learns the extent of Jillian's "Nice-Nasty" attitude.
It comes out during their talk that Jillian had Ray detained in a wheelchair by authorities over that soda he drank. Ray blames Jillian's actions, sending Ray to jail was caused by Jillian's drinking. To get it off of his record, they both have to go to classes together.
Iyanla seems to suspect that they don't deal with critical issues head-on. She says he's so focused on the wedding, he's not knowing of exactly what to do in a marriage itself.
Finally, Iyanla meets with an extremely agitated Jillian outside. Jillian is on the defensive, bringing up how Iyanla's staff was unprofessional for leaving her waiting in the hotel lobby for over 2 hours.
Jillian thinks they were trying to agitate her for the cameras. During their back and forth, Iyanla says she will not be disrespected. However, Jillian stands her ground.
So Iyanla decides to cut everything short. She gets Ray and he stands by Jillian's side.
Feeling like there's no trust, Iyanla ends the session.
As a result, they leave before the session is supposed to end. They are still engaged to be married but haven't responded to the show for an update.
What are your thoughts on the episode?