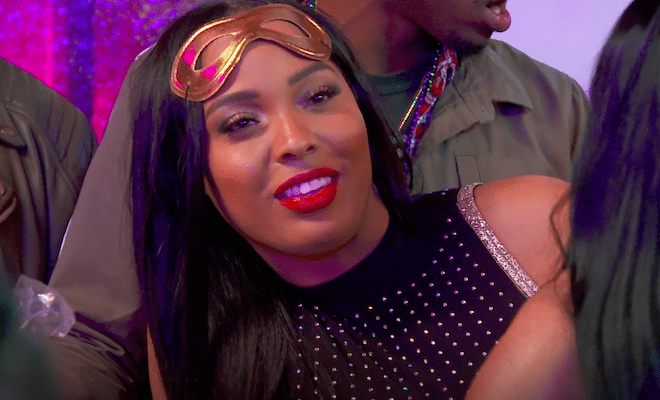 Charmaine returns to the shop.
Ryan meets with a marketing consultant.
Now that he has a second shop, he wants to figure out some ways to expand brand awareness.
Meanwhile, Charmaine returns to the old 9Mag shop.
Everyone tells her that Lily was fired.
Of course, Charmaine is happy to hear this and says Lily should have been forced out a long time ago.
She asks for her job back and Van welcomes her back. But he tells her she has to actually bring in some celebrity clients. Charmaine agrees to this and the gang decides to throw a party for her return.
Lily and Bella meet up with Evenita.
She apologizes for attacking Bella at a tattoo convention.
Evenita then says that while they were in Vegas, she heard Van and Charmaine having s*x together in a hotel room.
She claims she heard them because she was in the bathroom that was linked to the room.
In a green screen interview, Evenita says that she came back to get even for being fired as Van's apprentice.
Don wants a redo.
Since he and Ashley have been through so much, he wants to propose to her again and have another wedding.
So he goes shopping and takes their son with him.
Van takes his daughter Briana on a tour of Northern Illinois University's campus.
When they get there, they meet with a tour guide.
And they watch some of the Black Greek Letter Organizations step.
Briana tells Van that she wants to go to the National Guard before she goes to college.
He's disappointed she didn't talk to him about this sooner.
She's sure this is what she wants to do and Van isn't happy about this.
Don romances Ashley.
When she gets home, dinner was already prepared by a chef.
Don gets on one knee and asks her to marry him again.
She says yes and he tells her he wants her to pick out the ring she wants.
And they are going to get married again in Africa.
Ashley is so touched by this and hugs Don passionately.
TI's niece comes by the old shop.
She wants a tattoo to honor her deceased mother, Precious.
Van is touched she flew in to Chicago to give him the honor of doing the tattoo.
She gets a tattoo of Precious' face on her arm and loves it.
Evenita causes drama at the party.
It's the night of Charmaine's welcome back party.
Charmaine is happy it's a Mardi Gras theme.
Minutes later, Evenita rolls in with a friend.
While hanging out with Kitty from the New York crew, Charmaine notices.
She then calls Jenn over to see that Evenita is in the building.
Van tells Jenn to stay where she is and he will handle it.
After a few minutes, he's able to get Evenita to leave.
The accusations come to light.
Bella then tells everyone that Evenita said Charmaine and Van slept together in Vegas.
And Lily was the one who set up the meeting.
Neek and Jenn aren't buying this. And Charmaine and Van deny it.
In a green screen interview, Charmaine said she didn't do anything with Van and she was actually on her period.
The rest of the gang doesn't really know what to believe. And Don can't help but laugh at the allegations.
What are your thoughts on the episode?
Phor low-key just read Charmaine's job performance for filth…? ☕#BlackInkCHI pic.twitter.com/ltvohQg2nA

— Black Ink Crew (@BlackInkCrew) July 24, 2019
Van doesn't like the idea of his daughter joining the National Guard, but should he just support her now that she's getting older? #BlackInkCHI pic.twitter.com/DP359u551f

— Black Ink Crew (@BlackInkCrew) July 24, 2019
I love how far Ashley and Don came in their relationship.

RT if you LOVE to see it! ??? #BlackInkCHI pic.twitter.com/vhTQm43VVf

— Black Ink Crew (@BlackInkCrew) July 24, 2019