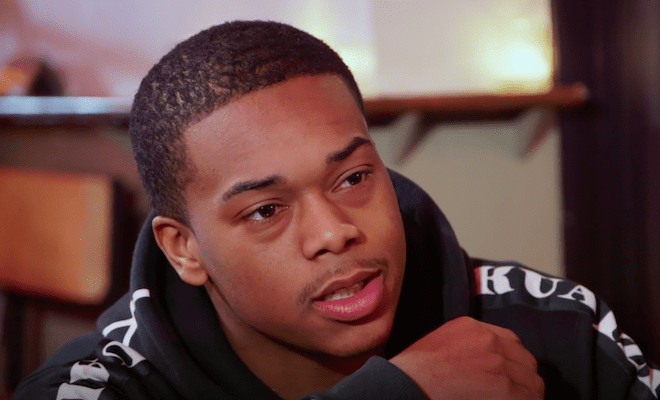 There have been changes made at the shop.
He hired Donna back after apologizing to her. Puma is back too and he's now half-owner There's a bachelorette party going on at 113. And the bridesmaids are going to also get some tattoos. Cease thinks this idea was genius.
"I ain't gonna lie, Puma. This is a really great idea." – Cease
Things feel like the good old days.
Meanwhile, Walt isn't sure it's the best idea for Puma to be back. But he's going to trust that Cease made the right decision.
Tati and Teddy are on good terms.
They aren't back together but they are friends, again.
Bae tries to hook one of the bridesmaids up with Cease. He's turning 40 soon and Bae feels like it's time for him to settle down.
Minutes later, Sky decides to Skype the crew for an HR check up. She's in Miami running her boutique. For now, she's still splitting her time between New York and Miami.
Kitty FaceTimes Cease and says that her mother's chemo treatment is in process. The gang wishes her the best.
DMX then enters the shop. Apparently, the bride is DMX's fiancee.
Bae and Rob are having issues.
She tells Donna they really haven't been getting along. And she's starting to feel like they rushed becoming parents. Rob got hurt at work and she feels like Rob has been taking his stress out on her.
"I just feel like he don't love me anymore." – Bae
Bae gets emotional and breaks down in tears. She just wants to be strong for Nikko.
Quani still isn't here for Cease.
Back at home, Puma tells Quani about his day. He feels like working with Cease will help him get back to his own thing. He wants to own multiple shops one day. But Quani isn't hearing this. She can't get past the drama that happened several years ago.
Puma thinks Cease has changed. Quani thinks Puma is being naive.
She also can't forget that a woman wearing Black Ink Crew gear assaulted her in a movie theatre. She believes Cease was the one who set that up.
Sky and Des are having problems.
She tells her bestie Allison that things soured after she asked him to pay $150 a week for rent. He was staying with her mother and Sky just wanted him to help out.
He's been distant since.
She also noticed that some money has gone missing. Sky is convinced Des stole it.
Sky doesn't know how to handle this.
"I can't believe this." – Sky
Des decided to go stay with Genesis. And he's now been taking shots at Sky on Instagram. He's also acting different and posting drugs and guns on his page, according to Sky.
While Sky knows Genesis will be Genesis, she is surprised by Des' actions.
She worries about the influence Genesis has on him.
Sky knows she needs to talk to Des soon.
Cease has a bash for his 40th.
Everyone is in attendance. Even Alex, Cease's daughter and baby momma are there.
Quani walks up to Cease and wishes him a happy birthday. She tells him the last time they saw each other, he had his intern attack her.
Cease says he doesn't remember this. But he recalls this in a green screen interview and says that he didn't even know the woman who attacked her.
He does admit that the woman was wearing Black Ink Crew gear.
Quani wants Cease to admit he set this up. But Cease says he didn't and the woman was just overzealous.
Quani is mad because when you Google her, the first picture that pops up is of her with a black eye.
This is why Quani doesn't trust Cease. She doesn't feel like he can be trustworthy. But Cease says that his partnership with Puma is a good one.
Annoyed with it all, Quani tells Puma it's time to go home.
Sky confronts Des.
She flew him into Miami so they can finally hash things out.
When he gets there, Sky accuses him of him being high and tells him to put some water on his face.
This really rubs her the wrong way.
She tells him that she knows he stole money from her. Des denies this and tells Sky she needs to watch her mouth.
Sky doesn't back down and threatens to smack him.
Security intervenes. Sky continues to go off on Des. She tells him she did a lot for him and he hurt her. Des then accuses Sky of just using him for money and a storyline on the show. He says he pities her and he looks at her differently now.
He tells her he's getting a hotel room and Sky says she's disowning him.
After he leaves, Sky breaks down in tears.
What are your thoughts on the episode?
Let's send Kitty & her mother some positive energy!!! ??? #BlackInkCrew pic.twitter.com/c0A1uhQhHv

— Black Ink Crew (@BlackInkCrew) August 15, 2019
Stop, drop, shut 'em down, open up shop!!!!!

DMX IS IN THE BUILDING and he's boo'd up! ??? #BlackInkCrew pic.twitter.com/YAHPEBWdYe

— Black Ink Crew (@BlackInkCrew) August 15, 2019
Even if Bae's love life is falling apart, she's determined more than ever to hold it down for her son! #BlackInkCrew pic.twitter.com/Qtthy0UFGP

— Black Ink Crew (@BlackInkCrew) August 15, 2019
Should Quani let the past be the past?

OR

Is she right to hold a grudge against Ceaser? #BlackInkCrew pic.twitter.com/ke7BHrLj5v

— Black Ink Crew (@BlackInkCrew) August 15, 2019
Was it THAT unreasonable for Sky to ask Des to contribute money to her household? ???#BlackInkCrew pic.twitter.com/fgnJ09A3lA

— Black Ink Crew (@BlackInkCrew) August 15, 2019
How did Bae do on this tattoo? Are you booking her for your next piece? #BlackInkCrew pic.twitter.com/FrWawzI0oT

— Black Ink Crew (@BlackInkCrew) August 15, 2019
Ceaser's 40th birthday present DEFINITELY fits hit ego ???#BlackInkCrew pic.twitter.com/LRUOrl5NVq

— Black Ink Crew (@BlackInkCrew) August 15, 2019
For those of you who have been rocking with us since SEASON 1…

Y'all know QUANI DOESN'T PLAY WHEN IT COMES TO HER MAN!!! ???#BlackInkCrew pic.twitter.com/4mZ9lrUXr3

— Black Ink Crew (@BlackInkCrew) August 15, 2019
…I had a lot of hope for Sky's relationship with her sons… ???#BlackInkCrew pic.twitter.com/aRdbLy4MJX

— Black Ink Crew (@BlackInkCrew) August 15, 2019
"It's not a fairytale"…

Sky is seeing that entering into her children's lives isn't the happy reunion she thought it would be…??? #BlackInkCrew pic.twitter.com/0LNO6SQ3A0

— Black Ink Crew (@BlackInkCrew) August 15, 2019