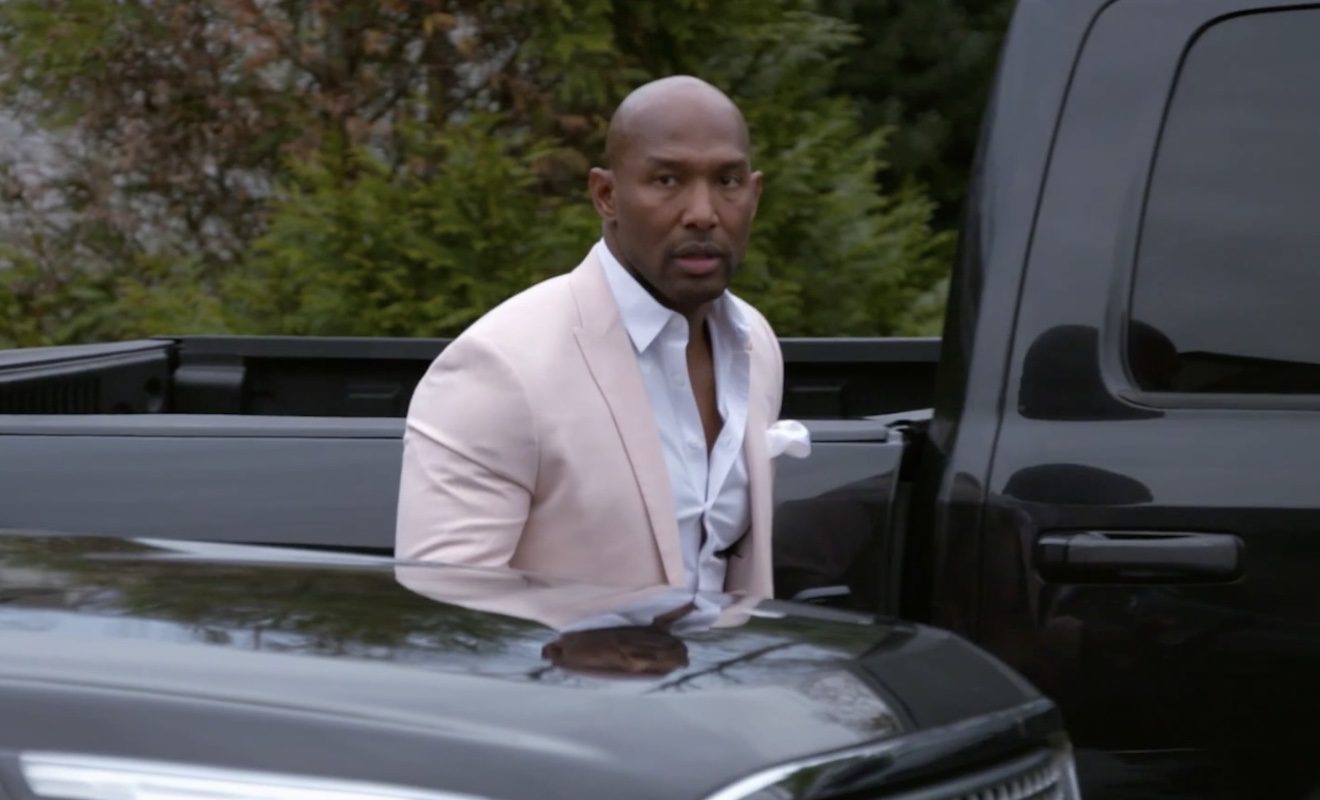 Drew's acting skills are praised.
Sanya and Ross take Deuce with them to their first doctor's appointment. The doctor confirms Sanya is six weeks pregnant. Dr. Jackie Walters informs her about her technically having a geriatric pregnancy because she's over 35 years old. So she has to play it safe. In four weeks, Sanya and Ross will learn the sex of the baby.
Drew, Monyetta, and Kandi film scenes for Todd's movie, "The Pass." In a green screen interview, Drew says she is nervous because it's the first time she had ever had a romantic scene with another woman. 
Courtney is discussed. Monyetta once again accuses Courtney of calling Drew the b-word. They look at the footage. Drew and Kandi question if Courtney was referring to Drew or Sanya because they aren't clear. Either way, Kandi says Courtney did lie because she told them she doesn't even call other women the b-word. 
Everyone is impressed by Drew's acting abilities. She's grateful the role has allowed her to push herself in multiple ways.
Bob meets Martell.
Marlo and her manager put together an event to reward movers and shakers from the foster care system. Scotley attends the event to support Marlo. And things are still going really well between them. 
Ralph comes to visit Drew on the set of Todd's movie. In a green screen interview, Drew says it's been weird filming the movie at Todd and Kandi's house. In fact, the love-making scene was filmed in Kandi and Todd's bed. However, this is what they wanted to do to save on filming costs. 
She becomes irritated by some of Ralph's questions after she explains she did kiss the other actress because the role called for it. 
It's the day of Sheree's sip and see for her granddaughter Mecca. Bob shows up, as well as Martell. It's their first time meeting. And things go smoothly. In a green screen interview, Sheree says Bob is a very hands-on grandfather. 
Kenya and Martell move forward.
Drew arrives but decides not to walk in when she learns her former assistant Anthony is there. She alleges he threw a shoe at her the last time they came face to face. So she doesn't feel comfortable enough to go inside. 
Sheree later asks Anthony if he threw a shoe at Drew. He confirms he did. But he claims he only threw a shoe because Drew hit him with her purse first. 
Kenya hashes things out with Martell. She admits things went too far between them when it came to their disagreement over the DM. And Kenya was just trying to look out for Sheree. She apologizes for their blowup. He accepts her apology. 
When it's time for Sheree, Bob, and their family to take a group photo, they notice a younger woman steps in with Bob. Eventually, Bob confirms the young woman is his daughter. Apparently, she's the daughter Sheree never knew he had. 
What are your thoughts on the episode?