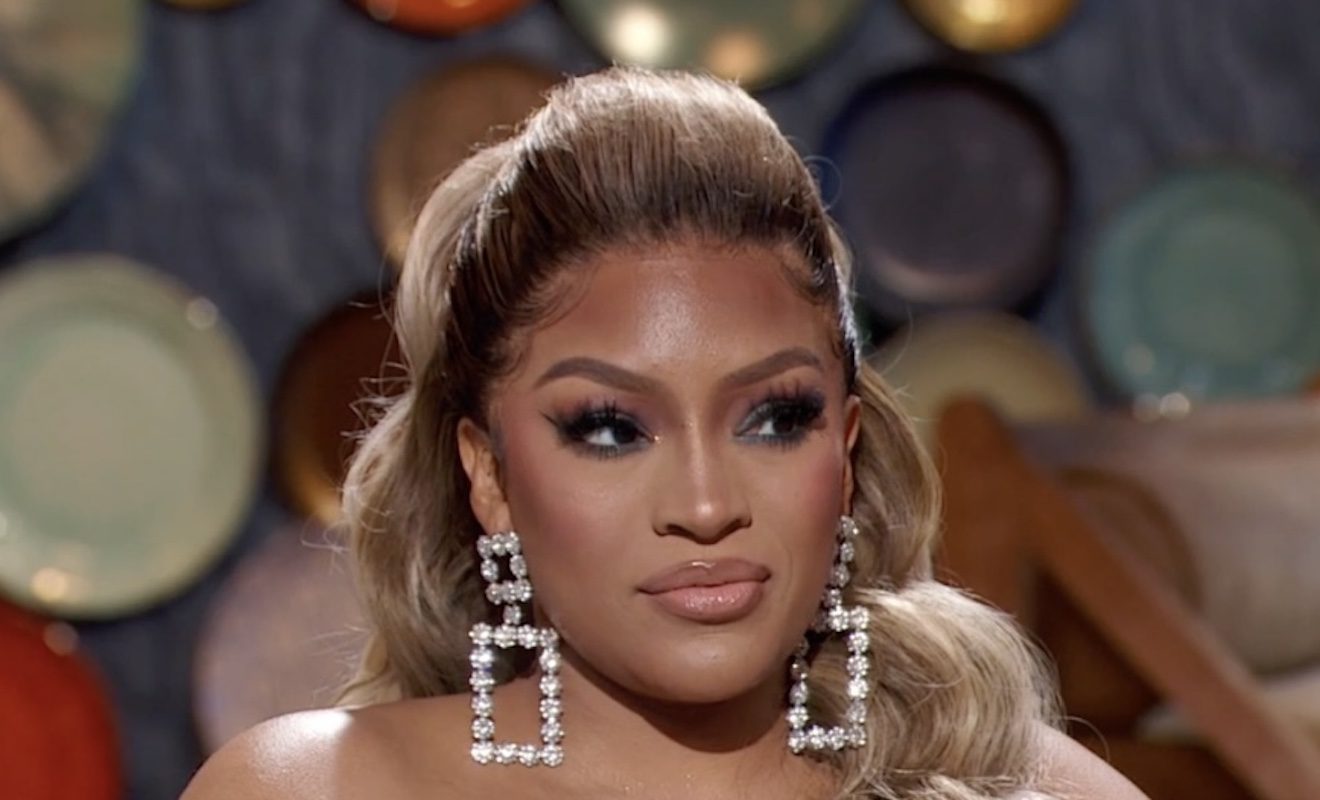 Sheree Whitfield needed space from Martell Holt's drama.
Part 1 of the "Real Housewives of Atlanta" reunion aired tonight and the ladies did have a few heated moments. The episode began with Andy Cohen asking Sheree Whitfield about her controversial romance with Martell Holt. Martell is a cast member of "Love & Marriage: Huntsville." His messy divorce from Melody Shari has resulted in quite a reputation. Melody filed for divorce due to Martell's longtime affair. He went on to father a child outside of the marriage with his mistress. Interestingly enough, Sheree told Andy she had to cool off on the romance with Martell. And the reason why is she kept getting dragged into the "mess" and controversies he's been linked to. So it's time to put herself first.
Kenya Moore asked Sheree if she decided to back off because it was alleged that Martell threatened to leak old videos of him and Melody being intimate as a form of revenge. Sheree said she's not sure what's true and what's not. So it just made sense to focus on her at this point.
A blank legal document didn't quite land for Kenya Moore.
Andy moved on to Kenya's ongoing divorce from Marc Daly. Kenya confirmed the divorce still isn't final. They are currently going back and forth in court. Marc recently tried to file contempt charges against Kenya. He has accused her of trying to keep him from seeing their daughter Brooklyn Daly. Kenya also alleged that Marc cited the scene of Marlo Hampton kicking down the door during the Alabama trip. He is claiming this is proof that Kenya's work environment isn't safe for Brooklyn.
Marlo said she felt bad about the moment being used to hurt Kenya in court. She attempted to apologize but this didn't move Kenya. Kenya then said when she subpoenaed Marc's phone records, she saw Marlo's phone number in the text history. And Marc told her she asked for dirt on Kenya.
She hands Andy what she claimed is a copy of a subpoena for Marlo to appear in court. But Andy noticed it was blank. Kenya said this was an error made by her team. But Marlo will be served soon, so she needs to prepare to show up to court. Marlo and Sheree Whitfield laughed.
Kandi Burruss and Sheree Whitfield clashed.
Well, Sheree wasn't feeling it when Kandi Burruss and Drew Sidora laughed at the shade Andy threw her way. He said that Sheree has a "very interesting relationship with bills." Sheree and Kandi began arguing about She by Sheree. Kandi alleged that Sheree didn't pay the designer who made her fashion show fashions. So they weren't ever put for sale on the website. In response to this, Sheree told Kandi to mop the "dirty floors" at Old Lady Gang. And she said Kandi needs to focus on her businesses because she "keeps having shootings." Despite the tension, Sheree ended the segment by giving Kandi a She by Sheree bag. Kandi wondered if someone had been writing Sheree's reads.
Drew and Kandi argue yet again about the alleged kiss with LaToya Howard. At this point, Kandi is fed up with Drew suggesting she's telling "Kandi koated lies." She said she now believes Drew was the gaslighter in her marriage and Ralph Pittman was the one who was gaslit.
Drew Sidora let Courtney Rhodes have it.
Kenya's dating life is addressed. A fan wrote in to ask why Kenya's new boo Roi Shlomo wasn't around much during the season. Kenya blamed this on comments Marlo made in a season teaser. However, Andy pointed out that the teasers were aired after they wrapped filming for the season. And Roi didn't come around much while they were filming. Marlo laughed and said she thinks Roi only came around to promote his business on the set of Kenya's commercial.
The most intense moment of the episode was the screaming match that took place between Drew and Courtney Rhodes. Drew went off on Courtney for accusing her of wanting Ralph Pittman to adopt her son so she could run off with women on his dime.
Courtney denied speaking on Drew's son. Andy then reminded her that she actually did.
Drew told Courtney not to ever speak on her children again. And she's nothing more than an "unverifiable" cousin to Ralph. As far as she's concerned, they are done. Courtney is despicable in her eyes.
What are your thoughts on Part 1 of the reunion?