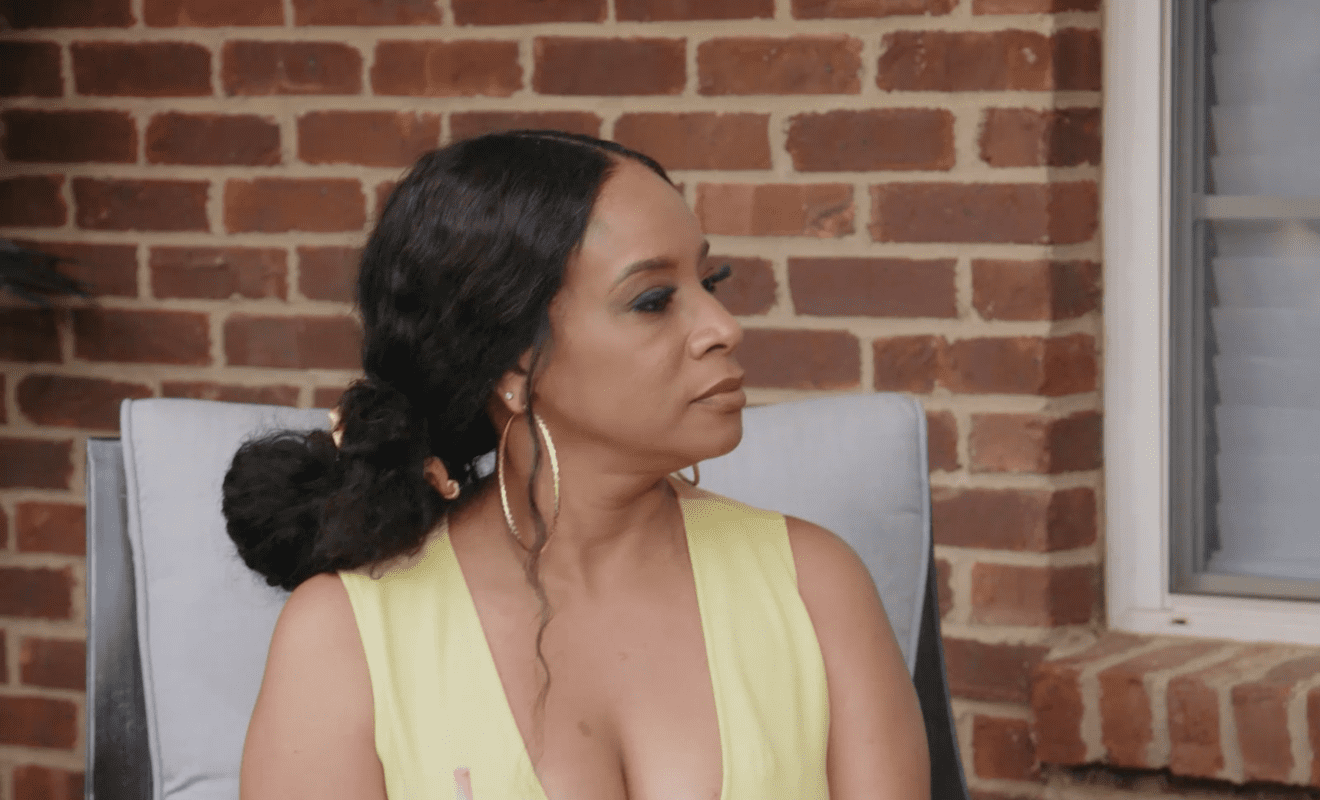 The guys get together to play basketball.
The husbands join Martell for a pickup basketball game at a local gym. Stormi's husband Courtney invited everyone out as a way to smooth things over after everything that occurred at MaDonni.
After the game, Courtney tells the guys Stormi's planning a meet-up for Melody and all the wives. They're hoping everything goes well. Martell mentions Melody invited him with the family to Destin, Florida for a family vacation. He ensures the guys that the kids know he and Melody aren't together.
Melody's nervous about Stormi's event.
Meanwhile, Melody and Stormi meet up for another conversation as they shop at Dreamcatchers. Melody tells Stormi about her perspective during Martell's dinner with the former Comeback Group. Stormi asks Melody if she's friends with LaTisha. And Melody says she isn't looking for friends.
Stormi then tells Melody she's planning a peace event. Melody, Destiny, and LaTisha were all invited. She's unsure if she'll show up to Stormi's event.
The next day, Courtney meets Marsau at one of the first hotels Scholt built. During their meeting, Courtney explains how he and Stormi will be involved. He explains that if Marsau and LaTisha worked together, they'll double the amount of money they make. Marsau disagrees, joking that they'll be divorced, making half.
Kimmi reveals she found lumps on her breast.
Meanwhile, Maurice brings treats to Kimmi in their brand-new theater at home. While hanging out, Kimmi tears up. She reveals she found multiple lumps in her beast. Maurice consoles her as she tells him. In her interview, Kimmi reveals she almost stepped away after this. But she feels her story can help inspire viewers.
Lastly, Kimmi wants Maurice, Monster, and their family to stay strong. Maurice agrees.
Stormi's Peace Party begins peacefully.
Eventually, it's time for Stormi's Peace Party and she's excited. She's hopeful all of her guests leave manifesting peace with one another. Tiffany and Melody arrive first. Stormi's other guests trickle in, including Kimmi.
Destiny is the last to appear and she shows up with her cousin Demi. Melody jokes that she brought Demi as security. Stormi didn't know this was happening but it doesn't bother her.
As Stormi's dinner begins, Stormi apologizes for making things go left during Kimmi's Galentine's Day dinner. Stormi feels if she and Destiny could bury their hatchet, she's hopeful others can too.
Next, Stormi gives everyone rolled sage and speaks about their manifestations. Melody says she wants to manifest love and peace, and Destiny gets annoyed.
When it's Kimmi's turn to speak, she tears up as she struggles to keep in her finding. Melody notices something is wrong.
Destiny, LaTisha, and Melody are unwilling to move forward.
For the next part of the event, Stormi has them play a game called, "What I Said, What I Heard, What I Meant." Tiffany feels Stormi is asking for trouble doing this.
This conversation leads to tension between Destiny and Tiffany to bubble up once more. Tiffany reveals there were multiple times when Destiny didn't understand what she said. A flashback is shown when Tiffany tried to remind Destiny how they met. This was the moment Tiffany revealed she saw La'Berrick with another woman.
Destiny says this was messy and it was wrong. And she reveals the woman Tiffany got confused with as Destiny was Melneka. And La'Berrick and Melneka have never dated. They just received an award during an event.
Next, Destiny and LaTisha sidestep the question. LaTisha didn't want to dig up any old issues with Melody.
When it's Melody's turn, she brings up how Destiny felt she didn't speak at the MaDonni reopening which caused tension. Melody emphasizes she did speak. However, it doesn't change how Destiny feels about the situation or Melody.
What are your thoughts about the episode?
View this post on Instagram
View this post on Instagram
View this post on Instagram
View this post on Instagram
View this post on Instagram