The recent episode of RHOP was very controversial.
"Real Housewives of Potomac" alum Monique Samuels has been a hot topic despite her exit from the show. On the recent episode, Wendy Osefo brought up Monique. After Mia Thornton assaulted her, Wendy didn't have much patience when it seemed as if Robyn Dixon and Gizelle Bryant had empathy for Mia. She mentioned that they handled Monique's assault of Candiace Dillard Bassett very differently. In fact, Gizelle and Robyn refused to film with Monique. Gizelle even hired a bodyguard because she said she feared for her safety. However, Gizelle wasn't afraid to be around Mia despite the chaotic night. She checked on Mia but not Wendy. Robyn even told Wendy that she antagonized Mia.
Monique Samuels knew it was going to be this way for Wendy Osefo.
Well, Monique made some interesting predictions after she decided to leave the show. She said Gizelle likes to destroy marriages. And she believed that Wendy would be her next target. The following season Gizelle questioned if Wendy got work done due to cheating rumors about Eddie Osefo. Eddie and Wendy denied that he was unfaithful. And Wendy accused Gizelle of intentionally bringing the rumor up on the show. They haven't been on good terms since. Despite this, RHOP fans still feel like Gizelle and Robyn should be able to admit that Mia's treatment of Wendy in Miami was atrocious. Instead, Gizelle and Robyn seem to hold Wendy and Karen Huger more accountable.
Monique has moved on to "Love & Marriage: DC." And while she doesn't like to talk too much about RHOP, she did share her thoughts about the recent episode. She did so during a recent interview with the Neighborhood Talk.
"I don't know the entire story but I applaud Wendy for not getting physical as I did after I was hit in the face with a glass." She continued, "She had every reason to defend herself after being splashed in the face and then apparently hit with a purse and she chose to use her words instead."
Candiace Dillard Bassett clapped back.
While Monique is proud of Wendy for staying true to her promise to only fight with her words, she said she did warn Wendy that she would be attacked next. But there wasn't anything Wendy could do to prevent them from icing her out eventually, "One thing Wendy should understand is that it's not about her actions or lack thereof. She could have sat there quietly and they still would have found reason to ice her out. The same ladies who told me words or even antagonizing someone is not grounds for getting physical are defending a person who got physical over Peter Thomas? LOL!!! Just Wow."
After Monique's comments went viral, Candiace had some things to get off her chest on Twitter.
She wrote, "The unemployment line will really have you saying anything for access to a check or the prospect of one. We are STILL bored."
Candiace also responded to Jay's Reality Blog's tweet about the interview. She tweeted, "This **** is still…NO ONE HIT YOU WITH A GLASS. LET THE LIE GO."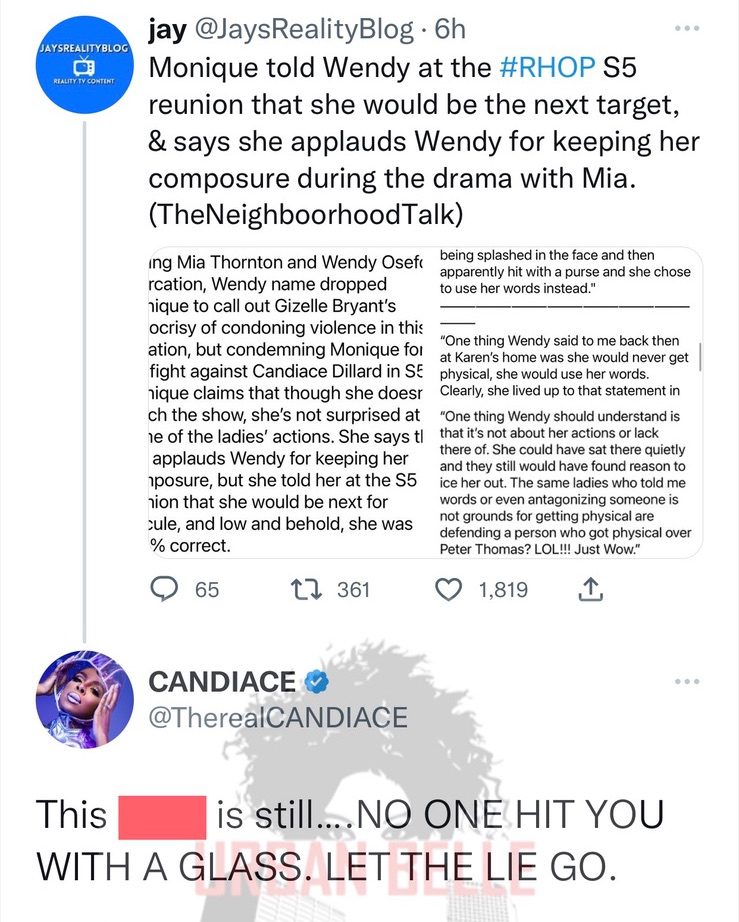 A Twitter user replied, "She must be talking about Big Foot because Monique is paid." In response, Candiace tweeted, "Kept*"