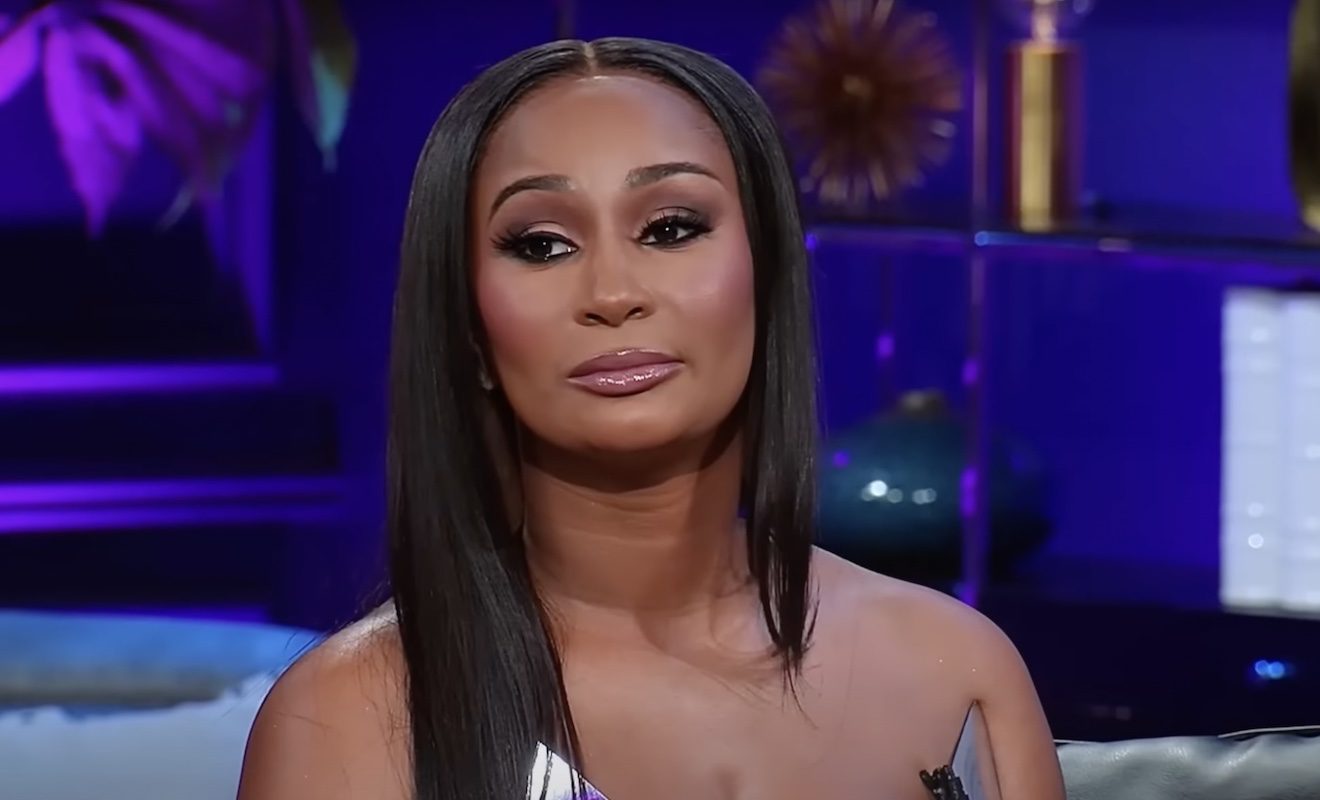 Melody Shari isn't on the best terms with some of her LAMH coworkers.
"Love & Marriage: Huntsville" star Melody Shari is no stranger to taking to Twitter to vent her thoughts about what has unfolded on recent episodes. In fact, she had some things to get off her chest after Marsau Scott and LaTisha Scott addressed Martell Holt's romance with Sheree Whitfield. Marsau said that Martell dating the "Real Housewives of Atlanta" OG is "leveling up." And he truly suspected that the relationship bothered Melody. LaTisha agreed. She also said that Melody is the type of person to not show her real feelings. So she didn't think Melody would actually admit to the romance getting under her skin.
Well, Melody clapped back at Marsau and LaTisha. She thinks both like to discuss her too much on the show and they are lacking actual storylines. Melody also said that she has no issue with Sheree or her romance with Martell. In fact, she thought it would be clear to people that she doesn't want Martell since she's the one who filed for divorce. So in her opinion, certain people are just being messy and trying to pit her and Sheree against each other.
Melody also had something to say in response to the scene of Destiny Payton replaying Melody's interview for Martell. The whole scene was shady in Melody's opinion. And she tweeted about not being able to trust someone who would record her conversations.
Stormi Steele's mother had some strong words for Melody Shari.
Interestingly enough, the tweet about the conversation being recorded triggered Stormi Steele and her mother. In fact, they thought the tweet was in reference to Stormi. In response to this, Stormi's mother Bettie slammed Melody on social media. And she told LAMH fans that Melody is a snake who can't be trusted.
These comments may have been brought to Melody's attention at some point because she later clarified that she wasn't referring to Stormi. And she and Stormi were able to hash things out via a phone call.
Well, it seems as if Stormi's mother still isn't over the misunderstanding. During an interview with Miss Wanda, Bettie said that she has no regrets about coming for Melody. She made this clear after Wanda asked her if there was any truth to the rumor that Bettie was replacing her on LAMH.
Bettie answered, "Wanda, nobody on this planet can take your place. There's only one Miss Wanda. Okay?" She added, "And no, I don't operate like that. You know? And I'm one of the ones like, why get rid of her? What has she done? But they'll see. Nobody can take your place."
Bettie continued, "You solid. But do I regret what I said? No."
She also clapped back at the people who vowed to no longer support Stormi's haircare line.
"You know, they can target it all they want. But as long as the consumers are happy with what they're getting, as long as all these retailers for her…long as all these retailers are happy with her products, and she's affecting their bottom line, and it's doing what they want it to do, there's no problem."
The Blackout was a failure according to Stormi Steele's mother.
Bettie also said she doesn't think the Blackout hurt the show at all, "Me personally, I don't think the whole Blackout plan has affected anything. It's just whatever's going to be on that show that night, people go, 'Oh well I don't want to watch this. This boring. It's not about us, it's about who's appearing on that show that particular night, what the subject matter is about."
Wanda agreed, "And I feel exactly the same way."
She continued, "When I'm on the show, it blows up. It gets more views when I'm on the show. Blacking out or not blacking out. And I feel like whatever they see coming up, if they wanna see it, they gon look at it regardless. Even the people that's blacking out gonna still look at it. And they want other people to not look at it. I don't think it's fair for the other people not to look. But they can see."
For what it's worth, it's probably not accurate to label the boycott a failure since LAMH did drop to its lowest ratings ever during the current season.