Melody Shari won't be repairing her friendships with LaTisha Scott and Marsau Scott.
"Love & Marriage: Huntsville" stars Marsau Scott and LaTisha Scott have no problem sharing their opinions about Melody Shari and Martell Holt. Even though Martell and Melody are no longer married, the drama hasn't died down between them. In fact, their co-parenting relationship has had many ups and downs. Melody attempted to focus on encouraging peace by inviting Martell and their mothers to vacation with their children in Destin, Florida. The trip had its shaky moments. Regardless, Martell was grateful to have the whole family together just like in old times. However, he went left when he invited Marsau and LaTisha to join them. Turns out, LaTisha and Marsau were already in Destin vacationing with their children as well. So Martell didn't think it would be an issue to hang out with them for a bit.
Melody played nice with LaTisha and Marsau during the Destin trip. However, she later told Martell that she didn't like that he invited the Scotts over without talking to her first. She's not in a good space with Marsau or LaTisha at the moment. So they aren't people she wants to spend time with during her vacation.
Marsau Scott accused LaTisha Scott of being jealous.
LaTisha has similar feelings about Melody. So she took issue with Marsau meeting with Melody without talking to her first. Marsau wanted to recap his and Maurice Scott's conversation with Mark Scott. Mark called out Miss Van on social media because she wouldn't confirm that they allegedly had a romantic past.
When LaTisha found out that Marsau was getting ready to talk to Melody, she went off on Marsau for doing this without her. And she said that her issue is Melody has said that they are enemies. So she's not okay with Marsau meeting with Melody on his own.
Marsau responded by accusing LaTisha of being jealous. And she wasted no time letting Marsau know he crossed the line with the accusation. Regardless, LaTisha and Marsau moved on quickly from their tiff over Marsau's meeting with Melody.
Melody Shari clapped back in a few tweets.
And on the recent episode, LaTisha and Marsau discussed Martell's romance with Sheree Whitfield. For months, it's been reported that Martell is dating the "Real Housewives of Atlanta" star. He even filmed scenes for the upcoming season. Martell reportedly clashed with Kenya Moore while filming. Kenya and Kandi Burruss aren't exactly impressed with Sheree's latest boo.
Well, Marsau and LaTisha are very impressed. In fact, Marsau said that dating Sheree is "leveling up" for Martell. In response to this, Melody tweeted, "Daaannnngggg talking about us again? Sheesh #lamh." She continued, "Are you kidding me? Lol 😂 #lamh. He should really just shut up…"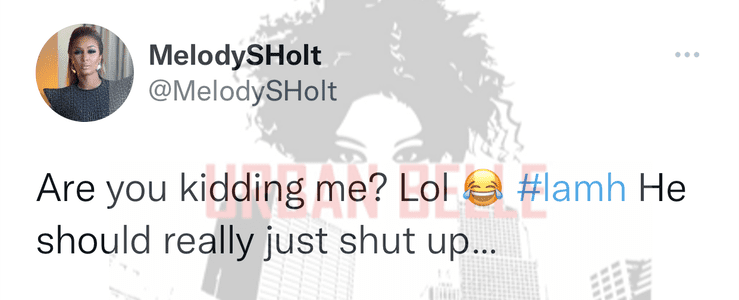 Melody was also irritated with LaTisha alleging that Melody doesn't like to show her real feelings. In response, Melody tweeted, "Girl you don't even know my feelings because you ain't even in my life for real #lamh."
She also questions the logic behind LaTisha and Marsau's theories, "Why would I care about someone I gave away 🤣 🤣 #lamh."
Melody later added, "What's YOUR storyline!? Somebody help em PALEASE! #lamh"