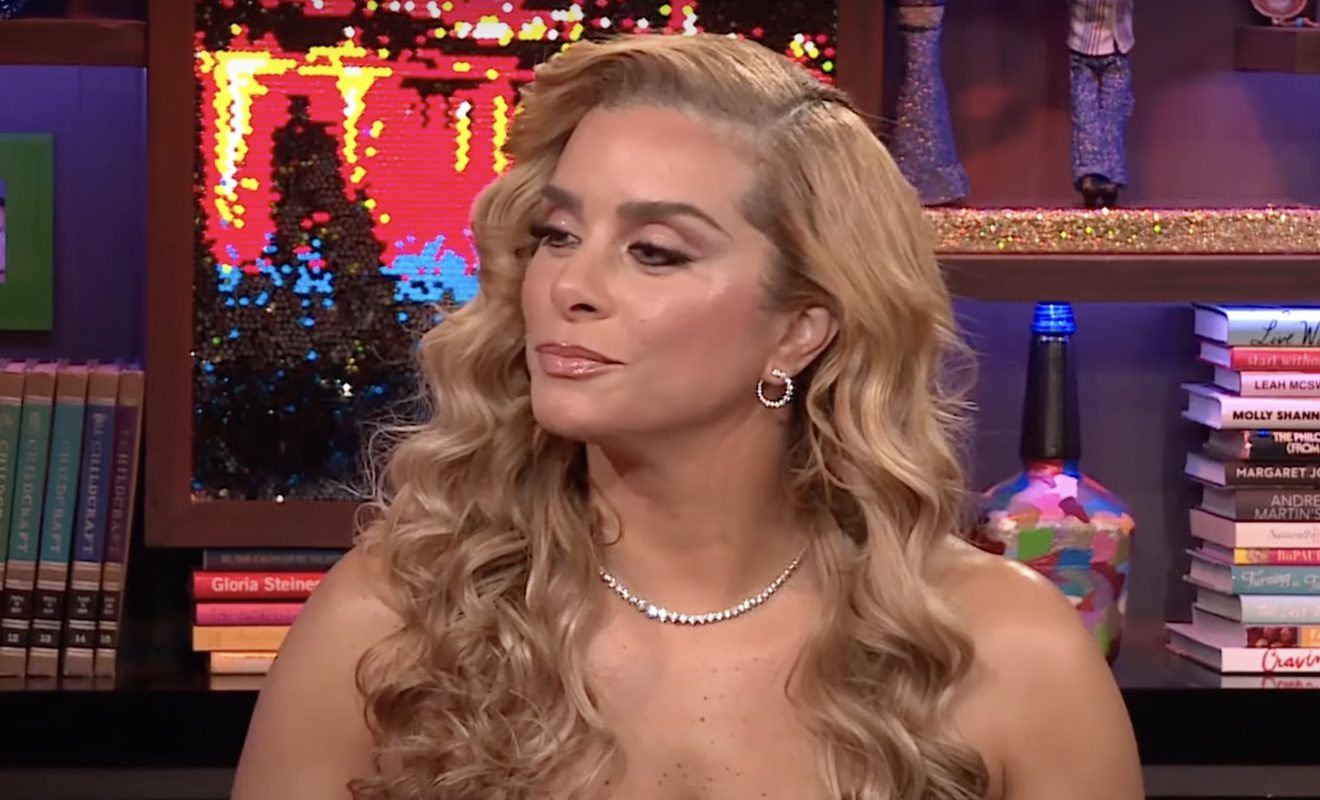 Robyn Dixon was in the hot seat on WWHL?
"Real Housewives of Potomac" star Robyn Dixon is currently caught up in one of the show's biggest controversies. As we reported, fans didn't get too long to congratulate Robyn and Juan Dixon on their recent wedding before the drama began. Hours after the wedding news went viral, a woman came forward with some messy accusations. She alleged that she had been dealing with Juan up until January 2022. The woman also gave Blogger Segio Says a copy of a hotel invoice. And the invoice had Juan's personal details on it. So RHOP fans began to suspect that there is some truth to the woman's claims.
Robyn addressed the claims on her and Gizelle Bryant's "Reasonably Shady" podcast. She said that it is true that Juan did have communication with the woman. However, he didn't date her. And he didn't fly her out anywhere. While she doesn't think Juan did anything physical with her, Robyn said the issue was still one they had to work through. So it's safe to say that it played a role in why it took some time for them to officially remarry.
What didn't sit well with Robyn's critics is the fact that Robyn said she may explain more on Patreon. And she was waiting for one of her RHOP costars to bring this up to her during Season 7. Apparently, the woman reached out to Robyn, Gizelle, and other cast members. Regardless, Robyn didn't take cheating accusations made by Karen Huger seriously while they filmed.
Well, Andy Cohen had some questions for Robyn during her latest "Watch What Happens Live" appearance.
Juan Dixon is innocent, according to Robyn Dixon.
He asked, "Robyn, this week you admitted that Juan had been involved with another woman during Covid and that you knew about it ahead of Season 7 and that the situation had been quote, 'handled.' Obviously, I have questions. You mentioned on your podcast that Juan and this woman didn't date. And he didn't fly her anywhere. Can you clarify why she had a hotel receipt with Juan's name on it?"
She answered, "I really don't wanna give her this attention but she lives in Canada. Canada was clearly on a strict lockdown during the pandemic. So the hotel receipt comes into play because for whatever reason she decided that she wanted to fly to Maryland. And she had told Juan that she was dating a Baltimore Ravens player. So she's telling him she's flying to Maryland and he's like okay whatever."
Robyn continued, "But some time along the way, she gets to Maryland. She's reaching out to him, she tells him she lost her wallet in the casino and she can not pay for her hotel room."
According to Robyn, Juan felt sorry for the woman.
"So he feels bad for her. Apparently, she was really stressed out, really distraught. He feels bad for her, he goes to the hotel, puts his card down at the counter or whatever. And that's it. So…"
It didn't seem like Andy was buying any of this, "So that was the only time they met in person? I guess…this could sound like BS to a lot of people."
Regardless, Robyn says she believes Juan told her the truth.
Robyn Dixon defended not addressing the matter on RHOP.
Andy then questions why this situation wasn't addressed on the show, "Here's my thing. You're on a reality show about your life. And infidelity has been the hot topic of the season and you've played a part in the conversations. So how do you stay silent through the season?"
And Robyn says they had already worked past the issue, "It was so in the back of my mind. We dealt with it, we moved on from it. I don't know what I would say, hey guys, pick me? Let's talk about my issue."
Andy reminded Robyn that her job is to share her reality, "Well, the expectation is that you're sharing everything that's going on in your life. So that's why. It's not about pick me, wait to be picked. It's hey, we went through something. And this is what's happening in our lives."
Robyn still didn't see it that way, "But it wasn't an issue at that moment while we were filming. If it was an issue while we were filming…"
Andy stood firm, "But it had been an issue in your relationship." But so did Robyn, "Cause it wasn't relevant to where we were in that present time."
Ashley Darby didn't know?
He also brought up Robyn's comment about sharing more details on Patreon, "Another big criticism is you withhold the truth from the reality show that you're on, but then you sell it behind a paywall."
Robyn responded, "Well, I talked about it on the free podcast."
Andy then said, "And then you said…"
She went on to tell Andy that she revealed the situation because the woman went public with her claims, "I didn't withhold…it's not about withholding information, it's because this information was given like last week or the week before…"
Andy said, "That's why you brought it up now? Okay." He eventually followed up with, "I think that's called withholding information…"
There were other interesting moments from the interview. Robyn said that she didn't tell Ashley Darby about her situation with Juan. And Gizelle was the only one she told. But she still didn't think that Gizelle needed to bring it up during filming because real friends don't operate this way. This led to Andy getting Robyn to admit that this is a "double standards" issue since Gizelle attempts to expose the other ladies regularly.
To no surprise, RHOP fans had strong reactions on social media. Some have expressed that they still don't think Robyn is being truthful.
One person wrote, "Robyn is not that stupid that she believes this bs excuse! Even if you lose your wallet/card, the room is reserved with a pre-approved credit card that is still on file and the charges are guaranteed! They don't need the card, even if it's canceled due to lost. Liars…Please fire Robyn, ASAP! 🤬😡"